These five Halloween treats for kids using Jack Links jerky are sure to be hit. Use them for a party, lunchbox, or a fun snack.
Disclosure: This post is sponsored by Jack Links.
Jay and Marisol love Jack Links jerky. It's become a staple snack in our house for them, so I thought it would be fun to come up with a few Halloween lunchbox treats using it. Any excuse to come up with fun Halloween food 'cause you know this is my favorite holiday.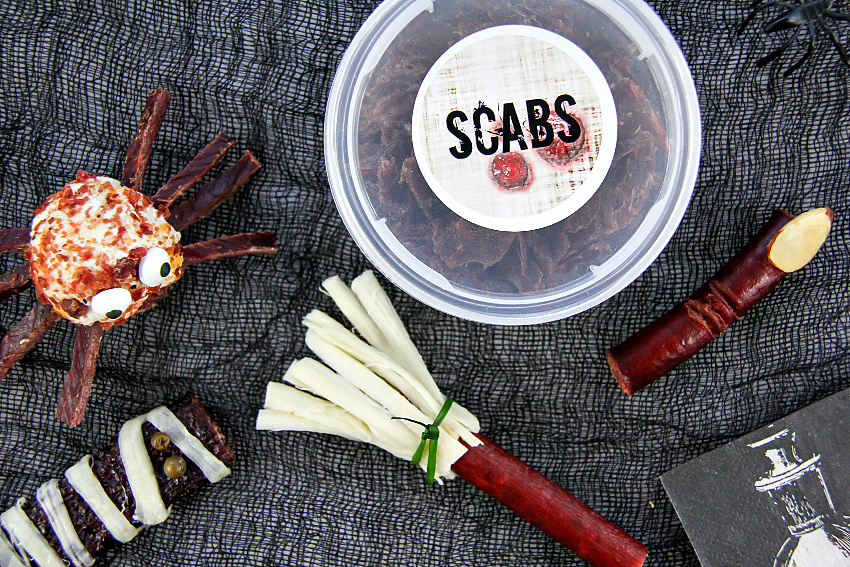 Aren't they adorable? And so quick and easy to make.
What you need to make these Halloween treats
Jack Links Jerky – regular bags, sticks, and strips
String cheese sticks (pulled apart for the broomsticks and mummies)
Capers or edible candy eyes
Chives
Almonds
Cream cheese
Parmesan cheese
Sharp cheddar cheese
Worcestershire sauce
Onion powder
Garlic powder
You can find the step-by-step instructions in my YouTube video below.
If you want to make the container of scabs I've made a printable sheet of labels for you. I printed them on Avery 22807 round labels. There are 12 labels per sheet, so these would be a fun treat for a classroom or Halloween party. You can purchase small plastic containers with lids at Smart & Final if you have a store close by.
Note: If you happen to have labels at home already, great, but if you don't, just print these labels on paper or card stock, cut them out, and use a glue stick to attach them to the containers.
What are some of your favorite Halloween treats to put in kids' lunchboxes?
Please pin this post for later.