As promised I'm back sharing more of the fun activities the kids have been doing over the summer vacation.  We are having such a fun summer, but I'm wondering if I can keep coming up with fun activities for them for the next 8 weeks. 
We are trying to keep the television off as much as possible, although they've been allowed to watch just a little Lego Ninjago (little man's favorite) and The Mr Men Show (baby girl's favorite), and aside from spending a little time each day doing their 'learning activities' on Rusty and Rosy, it's been a computer free break too.
Imperial Beach Kids Fest
A friend invited us to meet her and her children at the Imperial Beach Kids Fest, which was a completely free event.  I had never had a reason to travel south to Imperial Beach before, but we were thrilled to find that it was quite a lovely area.  There's a beautiful beach, a long pier, and a couple of park areas right by the sand. 
We weren't quite sure what to expect from the 'free' event, but it was fantastic.  A number of local organizations had banded together with craft projects, tumbling, hula-hooping, a cardboard play area for kids to draw on and climb through, there was a band, performers, and stilt walkers.
The kids painted beautiful works of art on canvas, walked a tightrope, and entered a hula hooping contest (we've now purchased hula hoops for home after discovering how great they are at it).  They made bird puppets, watched a variety of performances, tumbled over gym mats, had handprint animals made, walked on the pier, played in the sand, and had yummy homemade ice-cream from Cow-A-Bunga.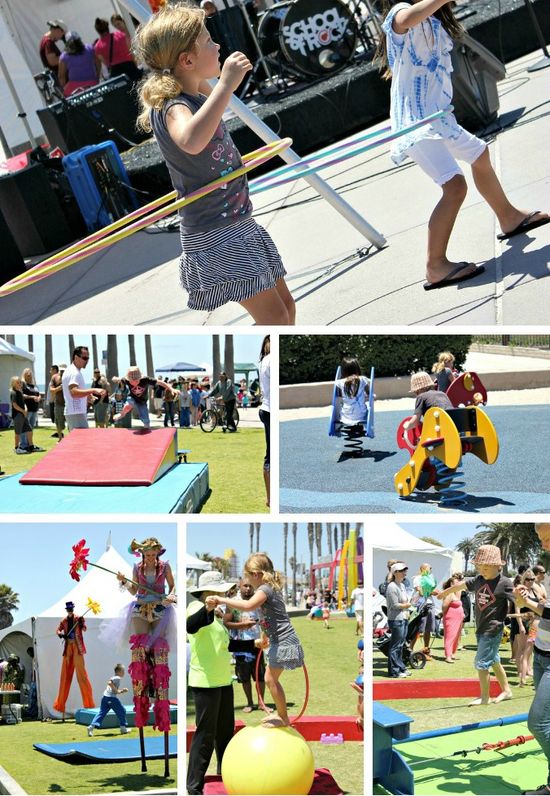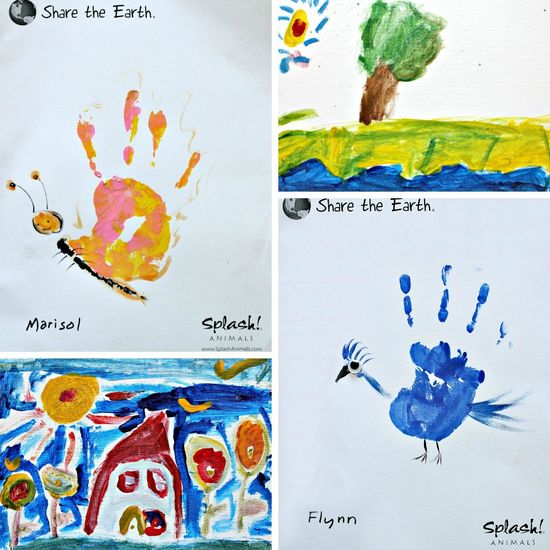 Torrey Pines Lil Rangers Program
We found out through a local friend that Torrey Pines State Natural Reserve are holding free Little Rangers Programs for kids on Tuesday's from July 10 until August 23rd.  I can't pass up free outdoor programs for the kids, although I would have been happy to pay for them too.  The only cost to attend is paying the day use fee for parking in the reserve (if you choose to park in there and not walk in).  The first session was Plant Pals where the kids learned all about the native plants, insects, and other things too.  The kids were each given a little magnifying glass when they arrived so they could look at small flowers and insects more closely, which of course they loved.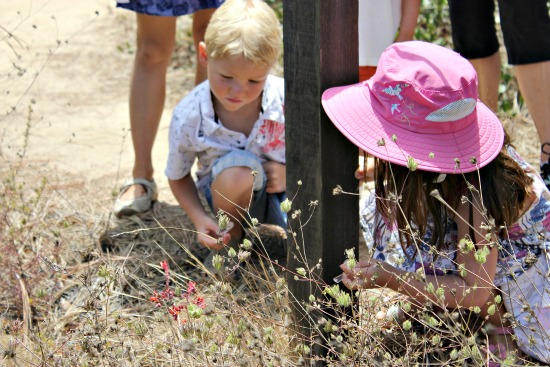 They learned not to pick these off branches.  They are wasp galls.  You can learn more about them here.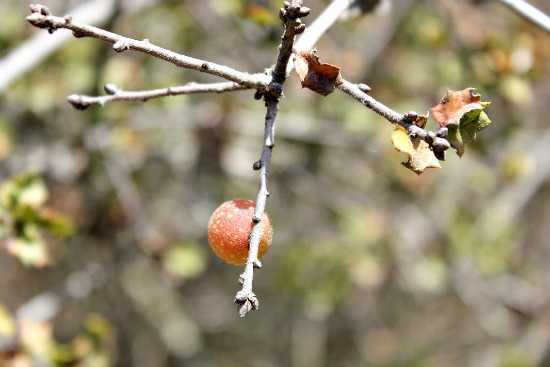 And investigated lots of flowers and plants such as Buckwheat (pictured below), Sagebrush, and Golden Tarweed, to name just a few.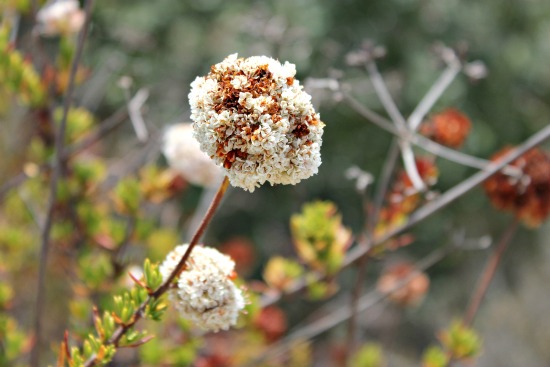 They were amazed at the size of a pack rat nest of sticks.  It was almost bigger than they are.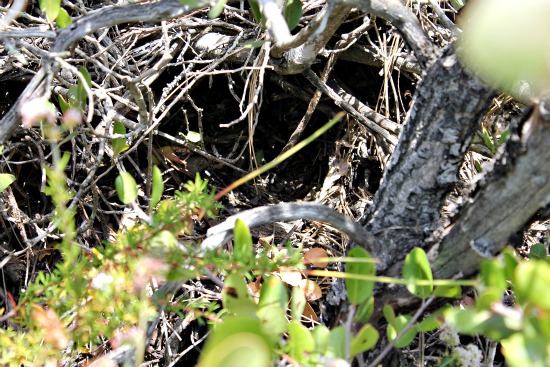 Then they investigated a Torrey Pine cone more closely, and did a fun pine needle rubbing.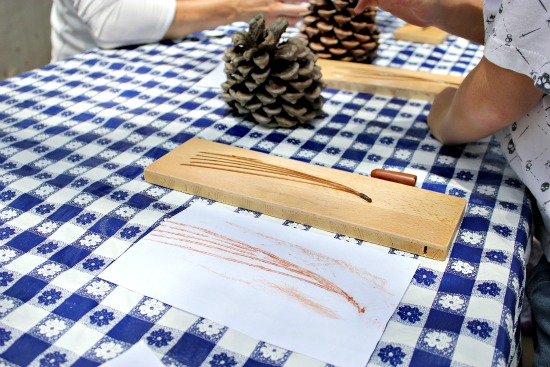 I think the highlight of the little man's morning though was the fabulous view of the railway line, and a train going past while we were there.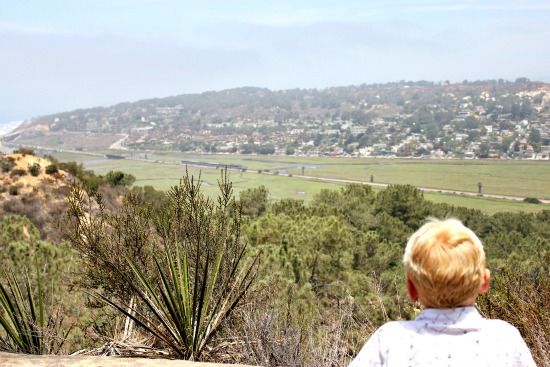 You don't need to sign up for these fun programs, just show up at the time and location listed.  Hope to see a few of you there.
Del Mar Beach Luau
Hubby's work had a Luau one day at Del Mar Beach in Camp Pendleton complete with Hawaiian food and dancers.   The kids had a great time playing in the sand, bodyboarding, and eating sno-kones.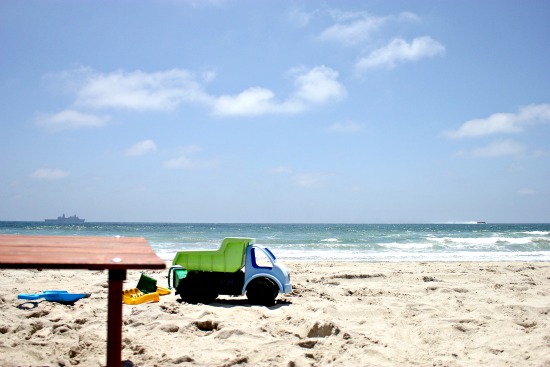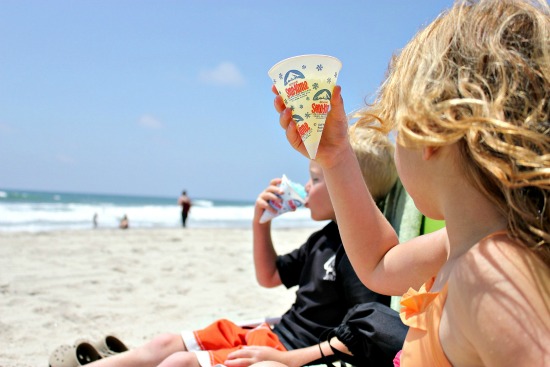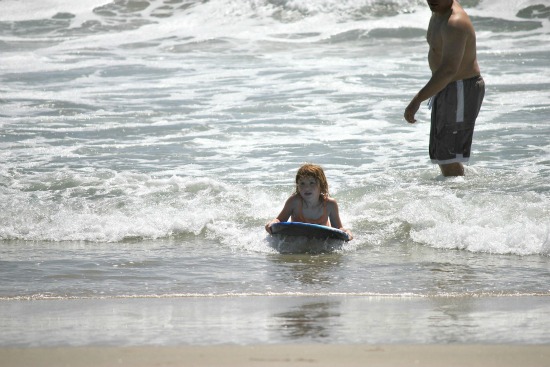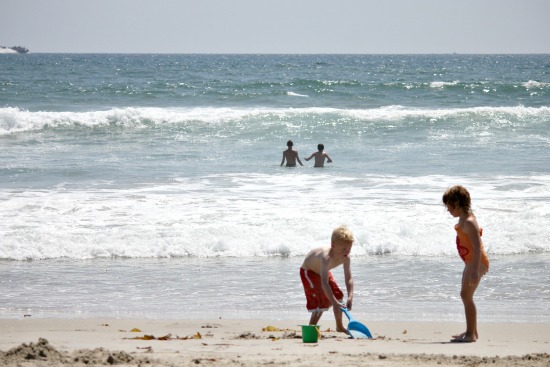 Birch Aquarium 4th of July Celebration
As I've mentioned before we are members of the Birch Aquarium here in San Diego.  So when I received a notification that they were hosting a family friendly 4th of July event for members only I immediately signed us up.  The aquarium normally closes at 5pm, however this day they re-opened at 6:30pm.  They had planned ahead and had only allowed a certain number of families to RSVP which was perfect, and although the Tide-Pool Plaza which overlooks La Jolla and the Pacific Ocean was full of families with picnic blankets and chairs, it wasn't jam-packed to the point of people being uncomfortable. 
The kids had such a great night.  We packed sandwiches, and snacks, and of course some festive beverages, complete with red, white and blue ice-cubes.  We enjoyed our picnic as soon as we got there, then took the kids through the Birch Aquarium to look at all of the sea life and play outside for a little before it became dark.  We saw three fireworks shows from the comfort of our picnic chairs.  It was a great night.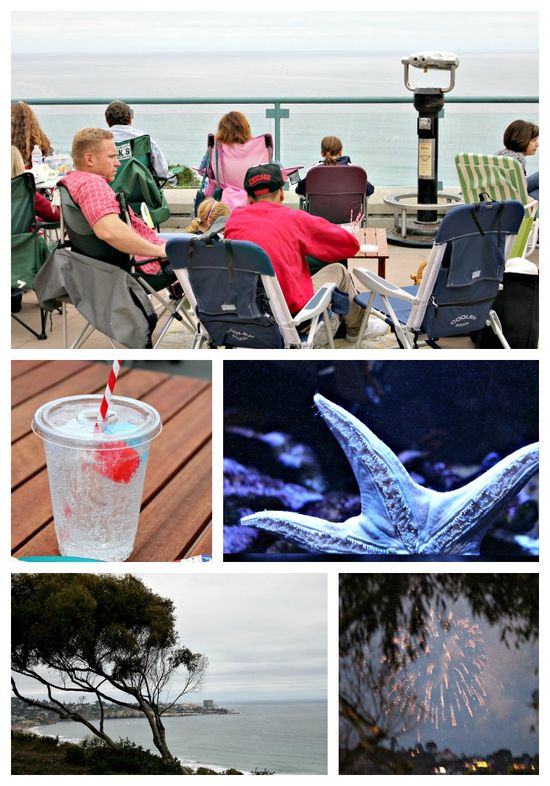 Belmont Park, Mission Beach
On the 5th of July we got the kids up bright and early and headed down to Belmont Park where I Love a Clean San Diego had set up a tent with bags, and gloves for a big 'Morning After Mess Clean-Up'.  I thought this would be a great opportunity for the kids to give back to the community and hopefully stop them from littering our lovely city in the future.  We took little gardening gloves for the kids though because we knew they wouldn't have kids sizes there.  For an hour we picked up so much trash it was ridiculous.  You can read more about the successful clean up here, and it really did feel like we picked up over 8000 cigarette butts.
After cleaning for an hour we took the kids on a 2 mile walk along the Mission Beach Boardwalk, stopped for brunch at the Wavehouse North Shore Cafe, then took the kids to Belmont Park to go on a few rides, and before we left indulge in giant waffle cone ice-creams from The Sweet Shoppe.