*******************************
We have a backyard pool and spa, so over the summer we like to entertain.   I noticed though that parents were using our downstairs bathroom (which is closest to the pool) to get their kids changed into swim gear and back into their regular clothes to go home.   This bathroom is fairly small, but large enough to move around in, so for a while now I've been wanting to give it a bit of a makeover and make it a space that guests can feel comfortable in, especially while getting their kids ready to go swimming.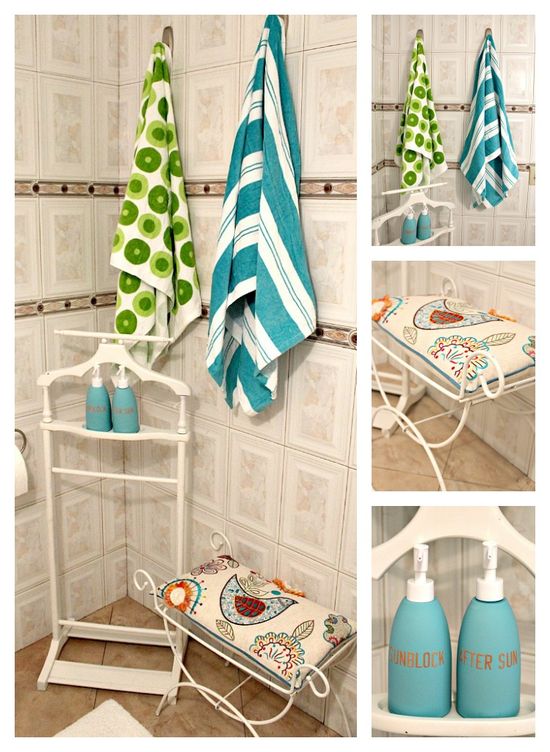 I paid a quick visit to my favorite vintage and re-sale shop Treasures & Beyond Re-Sale Shop and found some fabulous items to use.  The bench seat was only $29, it came with a different cushion on it, that was not my style at all, but in perfect condition, so I headed to Marshalls where I found a new cushion that was much more my style.  Now kids have a place to sit while their parents are putting on their shoes, fixing their hair, or applying sunblock.
The floor stand was only $15.  Parents can hang their child's clothes on the rail, I have bottles of sunblock and after-sun lotion on the shelf and the small bar at the top is perfect for hair ties, bracelets, necklaces, headbands, watches, and other assorted items that kids love to wear.
I applied alphabet labels in orange to the bottles for sunblock and after-sun lotion which can be re-filled as often as needed and are perfect for my own kids to use, instead of our current system, which involves a little game called, let's find where we left the sunblock last.
A couple of hooks on the wall were the final addition so that towels could be hung up.
Now to convince my husband that those hideous tiles need to be removed, and the wall painted.
Disclosure: I was selected for participation in this campaign as a member of Clever Girls Collective.