How to make fun and healthy turkey themed snacks for kids fall season.
Looking for the perfect healthy snack for kids this fall?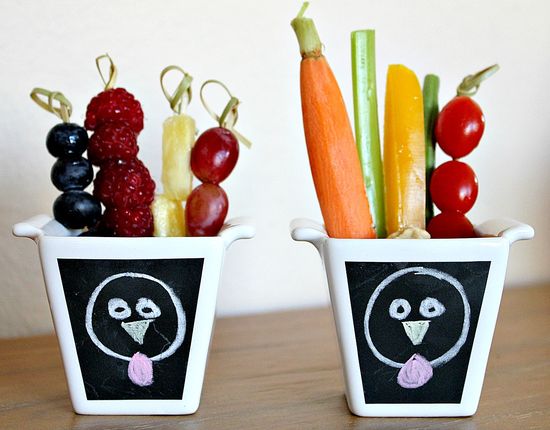 I purchased these chalkboard taste testing cups, but they are very easy to make. Take a plain bowl or cup and either attach a pre-made chalkboard label, or paint on a small chalkboard surface using chalkboard paint, which is available at most craft stores.
Next, decide what you want to fill them with.
Fruit cups
Fill the cup with yogurt, then using appetizer picks (if needed) make turkey feathers with fruit such as grapes, blueberries, clementines, pineapple, pears, and peaches – or any other fruit your child loves.
Veggie cups
I filled mine with hummus, but you could do an assortment of cups if hosting a party, or if making these just for your kids fill with their favorite dip. A lot of veggies can be cut into longer strips and won't require appetizer picks.
Set out a tray of these fun turkey cups as appetizers for a Thanksgiving party with friends and family. Have the kids make them, it will not only take one thing off your list of things to do on Thanksgiving day, but it will also keep the kids busy and allow them to contribute to your Thanksgiving day celebrations.
Do you have a favorite fun and healthy Thanksgiving treat that your kids love, please share it below in the comments.
Save