I had a little chat with Santa a few weeks ago.  I asked him if he wouldn't mind buying from Ikea asking his elves to make art easels for the twins for Christmas.  He said that wouldn't be a problem and he'd even throw in some paint, markers, brushes and paper.  What a lovely man Santa is.  He's making my children's wishes come true.  So because he was so kind and generous I thought I'd help him out a little and got to work in my workshop decorating containers for the twins paintbrushes.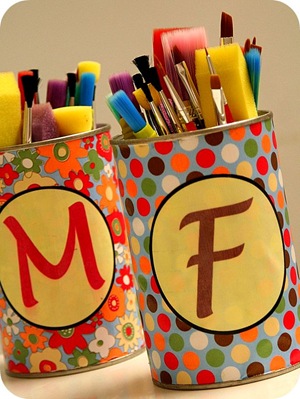 What you will need to make these:
empty coffee tins (or in my case Chai latte tins)
Scrapbook paper
Mod Podge
Computer & printer (basic Word program required)
How to make:
Remove the lid from the coffee tin and put aside (the kids might want to use the tin to store other bits and pieces in or to use as rattles by filling with dry pasta or rice). 
Measure circumference and height of the tin.
Cut paper to fit and affix to the tin with mod podge
Using a basic word program draw a circle using the 'shape' tool.  Then draw a 'text box', type in the first initial of the child and adjust the color and size.
Print and affix with mod podge.
Allow to dry for a few minutes then apply a coat of mod podge over the entire exterior of the tin.