Kids are going to love these DIY beaded Christmas ornaments to hang on your tree. This is a wonderful fine motor skill activity for them.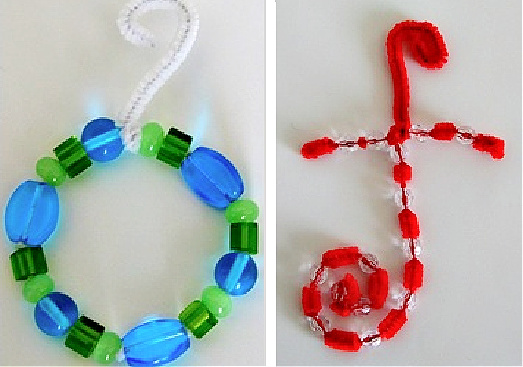 Beaded Christmas ornaments
This is a fantastic activity for kids. Not only can they try color matching and alternating colors to make a pattern, but they can also count the beads they put on, and work on their fine motor skills.
Make sure you supervise little ones though so that beads aren't swallowed or shoved places they shouldn't be.
Supplies
Assorted beads – I purchaesd bags of assorted beads in the clearance section of Michaels for 50c to 99c a bag
Pipe cleaners
Instructions
Decide on the shape you want to make. We made two shapes and a letter.
Thread your beads onto the pipe cleaner in a pattern, leaving a couple of inches without beads to shape the hook.
Bend the beaded pipe cleaner into your shape or letter.
Fold any exposed wire ends over so nobody gets hurt. 
More DIY Christmas ornaments
Are you looking for more homemade ornaments to make with kids? You need to check out these:
Please pin this post for later: