While at home with sick babies today I whipped up these cute little stockings to put on each of the kids trees.  Santa will be leaving a special little candy treat in these every year (along with his gift under their special tree).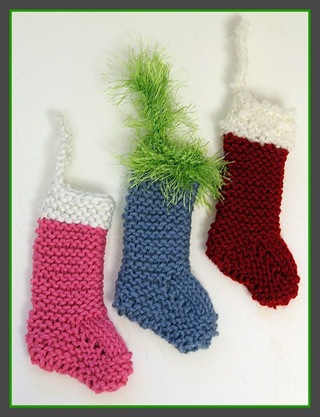 I have been making these ever since I can remember.  A very close friend of our family gave the pattern to my mother who in turn gave it to me.  It's a great way to use up remnants of yarn and also great for 'wrapping' small gifts instead of using gift wrap.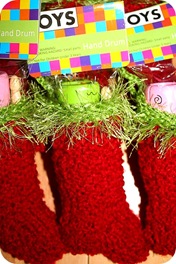 Last year I knitted about 60 of these and popped a small wooden drum in each before sending them off to children we love. 
A couple of years earlier I held a knitting party (okay it was a party of food and wine, but we knitted too) for some girlfriends.  We made similar little stockings and popped a cigar in each for our husbands.
Without further ado, here is the pattern:
What you will need:
Instructions:
Cast on 23 stitches
Work garter stitch for 2 rows (knit only)
3rd row increase 1 stitch, knit 12, increase 1 stitch, knit 11, increase 1 stitch, knit 3
Knit garter stitch for next 5 rows
9th row (shaping the foot):
Knit 15 stitches, knit 2 together, turn

Purl 6, purl 2 together, turn

Knit 6, knit 2 together, turn

Continue until 17 stitches remain

Knit to end of row
Knit garter stitch for a further 24 rows
Change color if you want for the top of the stocking.
Knit garter stitch for 6 rows
Cast off loosely to last stitch
Knit last stitch 20 times to make loop for hanging
Cast off.
From inside out stitch back seam of stocking and attach the loop for hanging.
N.B.  This pattern can be adjusted.  For example, I occasionally use a thicker yarn and size 4 needles if I want to make a slightly larger stocking.  If I have a fluffy yarn to use on the top such as the green above I double the yarn over when knitting.
As seen on: