Do you remember the planting kits that the twins received for Easter, but planted for Earth Day: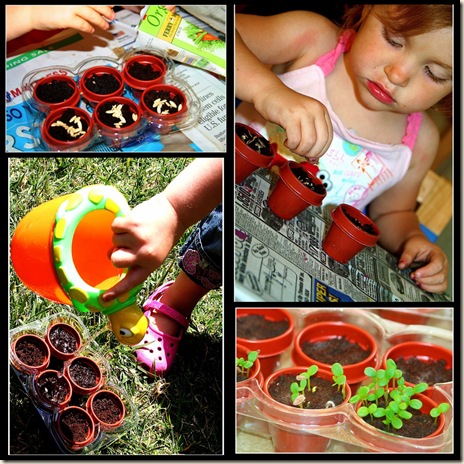 Well this mummy may have a black thumb, but so far she's managed to keep a few things alive and kicking … although the carrots are looking a little sad.  So even though we are moving house shortly, the twins plants had outgrown their little pots and needed new homes. 
What?  Doesn't everyone pot plants right before moving house and hope that they'll survive the trip to their new home … or in our case, come on a 2 week road trip with us and hope they'll survive in the car.  They are going to need your prayers … and shhh, don't tell daddy they are coming on vacation with us.  I'm hoping to sneak them into the car without him seeing.  Why must I be so sentimental.
So instead of packing, or even cleaning the house for daddy's arrival home today, this mummy spent last night decorating paint tins pots … well they couldn't possibly come on a road trip looking the way they did, or being stuck in a disheveled old pot could they.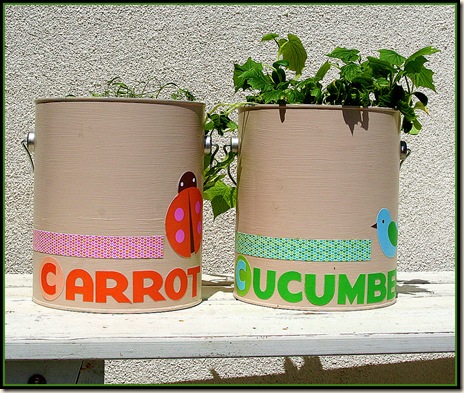 What you need:
Paint tins
Outdoor paint (specifically one that works for metal)
All purpose varnish
Mod Podge
Scrapbook paper (I used Martha Stewarts playground multimedia pad)
River rocks
Soil
Hammer & screwdriver (just don't tell your husband)
Spray bottle with water.
Instructions:
Turn the pain tin upside down.

Using the hammer & screwdriver (don't tell your husband) put a few drainage holes in the bottom of the paint tin.

Paint the outside of the tin using the Outdoor paint.  I found it easier with a sponge brush as opposed to a paint brush which left lines on the first coat.  It took 2 fairly thick coats.

Once the paint is dry attach your scrapbook pieces using mod podge.  Don't forget to apply a coat of mod podge over the top, just for added protection.

Leave for a few hours to dry, then apply a layer of varnish.  Set out to dry overnight.

Put a thin layer of river rocks in the bottom of the tin (to prevent the soil from falling straight through the holes) then fill with soil. Put in your plants and spray gently with water.
P.S.  To all of you gardeners shaking your heads at me, I'm well aware that vegetables need to be planted in the ground so they can have room to breath and grow, but I couldn't stand to leave them behind when we move house (these were the first plants the twins grew from seeds) so I think for now until my black thumb forgets to water them, they'll be quite happy in their new home.
These pots would work beautifully with flowers planted in them.