This penne pasta recipe with a quick ground turkey and tomato sauce is perfect for a weeknight meal when you have little time to cook.
A staple dish in our house is pasta with a meat sauce. I recently adjusted my standard recipe by using ground turkey instead of ground beef and added more fresh ingredients to lower the calories and make it a little healthier. Everyone agrees that it makes a much lighter, healthier meal and they don't feel so full or heavy afterward.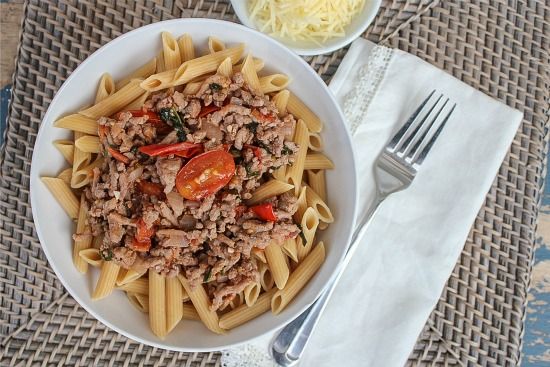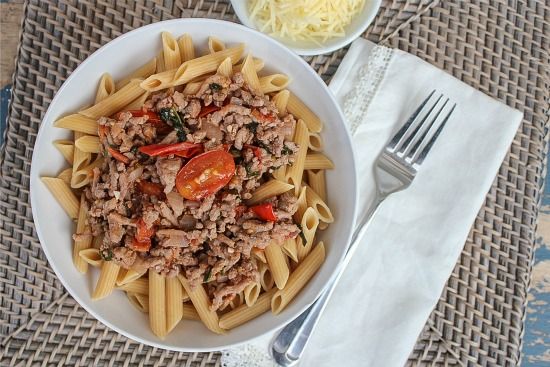 Ingredients
1 pkg ground turkey
2 1/2 - 3 cups tomatoes (diced)
1 cup baby spinach (roughly chopped)
1 yellow onion (diced)
3/4 cup vegetable broth
3/4 cup red wine
1/3 cup tomato sauce
2 tbs fresh thyme
1 heaped tsp chopped garlic
1 tbs extra-virgin olive oil
pinch of salt and pepper
Instructions
In a large, deep skillet, add onion and garlic to a tablespoon of olive oil and cook until softened.
Add the turkey, and cook until browned. 
Toss in the tomatoes, spinach, and tomato sauce and cook until the tomatoes are softened.
Pour in the red wine and vegetable broth and turn the heat down to simmer.
Start cooking your pasta.
Add the thyme, salt, and pepper and simmer until some of the liquid is absorbed (about 10 minutes).
Have I told you about the tomato plants growing in our front garden?
A while ago we hired a gardener to clear the awful hedges out of one side of our front garden and install sprinklers. We found a packet of wildflower seeds so I let Miss M scatter them around the garden bed. I thought they would grow (or not), flowers would bloom (or not), and then they would most likely die off before I was ready to get to some serious planting. Instead, tomato plants began to grow, and grow, and grow. They are now hanging over our driveway, the neighbor's driveway, and they are out of control.
There are still many more tomatoes that we are waiting to ripen so the kids can pick them. So, my pretty garden is left on hold for now until I find a way to transplant them to the backyard.
Please pin this post for later: