Make these bright, colorful, and fun pom-pom monsters using the Klutz Pom-Pom Monster Salon kit. Kids will love this fun monster craft.
Disclosure: We received a copy of Pom-Pom Monster Salon from Klutz
I think the lovely folks at Klutz knew about my obsession with adorable monsters when they asked me if I'd like a copy of Pom-Pom Monster Salon.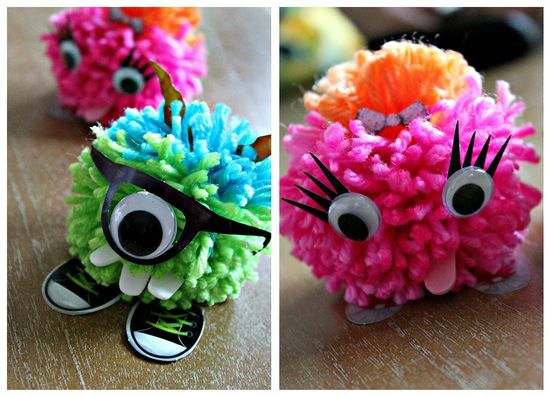 Pom-pom monsters
Aren't they just as cute as can be? They are so easy to make too.
Before you get started, check out this video for a start to finish look at how to make them (it's only 47 seconds long).
How to make pom-poms

You can see from the images above that if you change colors in just a small section, it will make a colorful tuft of hair on top of your monster's head. Then you can add a bow or horns on top, or just leave it as it is.
Grab some cardboard and glue and create your own accessories for your monsters. For example, you could attach eyes out of the top of your monster's head. Or how about making different hair accessories, arms, legs, or clothing accessories such as a tie? The possibilities are endless and will provide hours of fun for kids as they make a whole collection of monsters.
How many monster color combinations and fun facial features can you make?
Honestly, I don't know who was more excited about this kit, the kids or me. They love their little monsters and cannot wait to make more in different colors. I can finally throw away the cardboard circles I cut out years ago that I've used over and over to make pom-poms. The pom-pom maker that is included in the craft kit makes it so much easier. Being a knitter I have baskets and bags full of yarn, so we can curl up on the couch in front of the fire and make pom-poms all winter long. 
About Pom-Pom Monster Salon
With Pom-Pom Monster Salon, anyone can make pom-poms and turn them into stylish monsters. Use the exclusive pom-pom maker and follow the cutting and styling instructions to create perfectly coifed mop tops, afros, pigtails, and mohawks to name a few. Add tiny hair bows, punch-out feet, and foam horns and teeth for the final touches.  
Arts, Crafts & Laughs! KLUTZ books are the Perfect Holiday Gift for Any Child!
More pom-pom crafts
Are you looking for more pom-pom crafts for kids? Check out these:
Please pin this post for later: