UPDATE: This giveaway has ended and the two winners Megan and Kathy have been notified.
********************************
I think my friends at Klutz knew about my little obsession with adorable monsters when they asked me if I'd like a copy of Pom-Pom Monster Salon.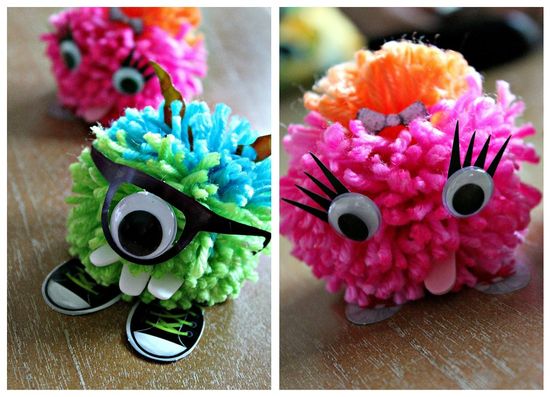 Aren't they just as cute as can be.  And super easy to make too.

Also, check out this video for an even better look at how to make them (it's only 47 seconds long).
Honestly, I don't know who is more excited about this kit, the kids or me.  Sure they love their little monsters and cannot wait to make more, but I can finally throw away the cardboard circles I cut out years ago that I've used over and over to make pom-poms.  Now I have a fun pom-pom maker … I mean the kids have a fun pom-pom maker.  Being a knitter I have baskets and bags full of yarn, we could curl up on the couch in front of the fire and make pom-poms all winter long.  We can decorate gifts and attach them to scarves and hats. 

And guess what, I'm giving two of these Pom-Pom Monster Salon kits away, and if you are looking for the perfect gift for the holidays I have a coupon code too.
With Pom-Pom Monster Salon, anyone can make pom-poms and turn them into stylish monsters. Use our exclusive pom-pom maker and follow our cutting and styling instructions to create perfectly coifed mop tops, afros, pigtails, and mohawks to name a few. Add tiny hair bows, punch-out feet, and foam horns and teeth for the final touches.  
Sweepstakes Details:
Winners: Two (2) will be chosen via random.org

Prize: Pom-Pom Monster Salon

Value: $16.99 each

Entry requirement:  Leave a comment below letting me know which other Klutz products you love.
This sweepstakes is open to entrants with US mailing addresses only , who are over the age of 18. No purchase necessary. Void where prohibited by law. Ends Monday, December 12, 2011 at 9pm PST.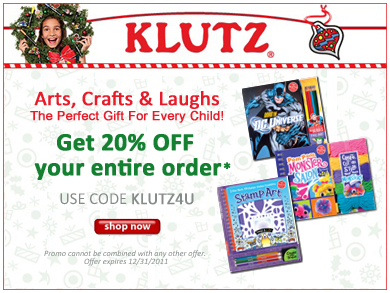 Promo cannot be combined with any other offer. Offer expires 12/31/2011

Don't forget to follow Klutz on Facebook
 Arts, Crafts & Laughs! KLUTZ books are the Perfect Holiday Gift for Any Child!
Disclosure: Sample & Prizing courtesy of Klutz