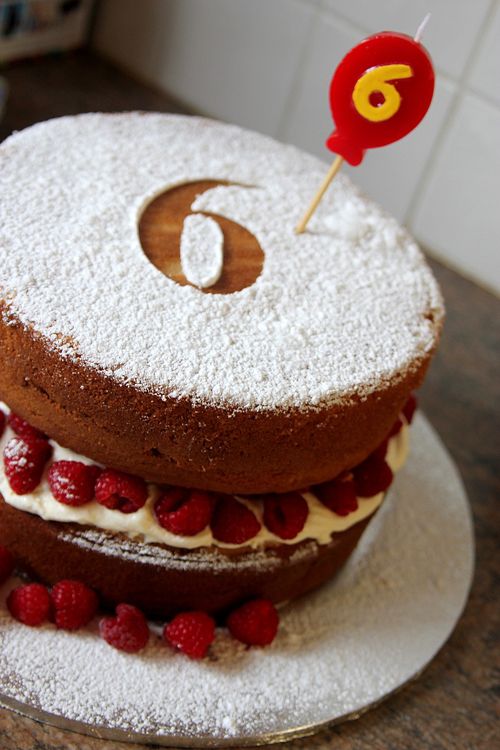 My sister decided to throw a last-minute dinner for my nephews birthday.  His 6th birthday isn't until the end of the month, but with us being in Australia for only a few more days we needed to throw an early celebration.
Of course I volunteered to make the cake.  Although not one of my more elaborate creations, my nephew loves raspberries so I decided to make a simple Raspberry Vanilla Swirl cake and then fill the center with lots of freshly whipped cream and fresh raspberries.  Then I placed a wooden number six on top of the cake and sifted icing sugar all over.  When I took off the wooden letter a perfect number 6 was left behind.
I only wish I had taken a photograph of the lovely raspberry swirls inside the cake.
How to add a raspberry swirl to your cake:  Prepare your normal Vanilla cake mix leaving a couple of tablespoons aside in a bowl.  Pour the rest into a cake pan.  Crush some raspberries and combine with the remaining cake mix.  Drop small spoonfulls on top of the cake mix in the pan, then using a knife swirl it around in a pattern.
Cream filling: Combine 1 medium-sized container of heavy whipping cream with a couple of tablespoons of caster sugar and 1 teaspoon of vanilla essence.  Whip until thick.