Here's our weekly grill night recipe. Have I mentioned how much I love grilling night, mainly because my husband has to share in the cooking, so with him outside at the grill and me inside making the sides, my time spent in the kitchen goes so much smoother (and so much quicker too). This weeks dish is:
Cajun Chicken with Rice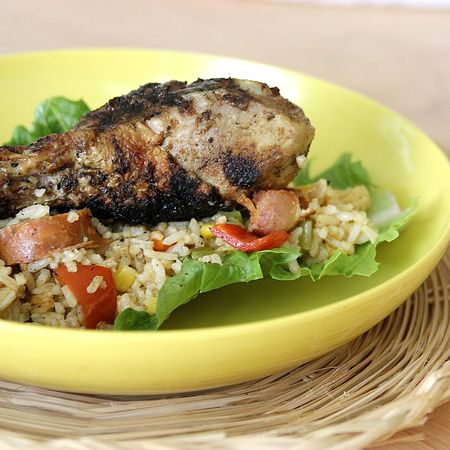 Ingredients:
CHICKEN
6 Foster Farms Chicken Drumsticks
3tbs butter
1 1/2 tbs TradeWinds Cajun Seasoning
RICE
1 cup First Street Long Grain Rice
1 1/2 cup Sun Harvest Organic Chicken Broth
1/2 cup Water
6 slices Bacon (cut into small pieces)
1 tbs Olive Oil
1 sml Red Pepper (diced)
1 Jalapeno Pepper (finely chopped)
3 Celery Stalks (diced)
3 Green Onions (finely diced)
4 Andouille Sausage (sliced into 1/2″ pieces)
1/2 cup First Street Corn Kernels (frozen)
1 tbs TradeWinds Cajun Seasoning
1 tbs Tabasco Sauce
CHICKEN
Melt butter and mix in the Cajun Seasoning. Brush over each of the drumsticks, ensuring each is coated. Cook on the grill.
RICE
Cook your rice however you would normally do it using 1 cup of chicken broth and 1/2 cup water (I used the rice cooker to cook ours).
While the rice is cooking, place the olive oil into a large pan and fry the bacon. Once cooked add in the celery stalks, red pepper, corn and jalapeno chili. Stiry fry for a couple of minutes. Next, add in the tabasco sauce and andouille sausage. Continue to stir fry for a few minutes. Mix in the cooked rice and remaining 1/2 cup of chicken broth. Add in the green onions and Cajun seasoning. Mix until everything is combined.
Serve Cajun chicken drumsticks and rice with large leaf lettuce.
Tip: If you want your rice to have a bit more bite to it, just add in a little more than the tablespoon of Tabasco.

Some of the above ingredients (Foster Farms bone-in chicken, First Street Long Grain Rice, Sun Harvest Organic Chicken Broth, TradeWinds Cajun Seasoning and First Street Corn) were purchased from Smart & Final (check out their new website, it's fabulous). By the way, First Street corn and Foster Farms bone-in chicken are on-sale this week so head on over.
Disclosure: This project has been compensated as part of a social shopper insights study for #collectivebias and the #SFSmarties