There is nothing better than warm chocolate chip cookies, especially when they are homemade.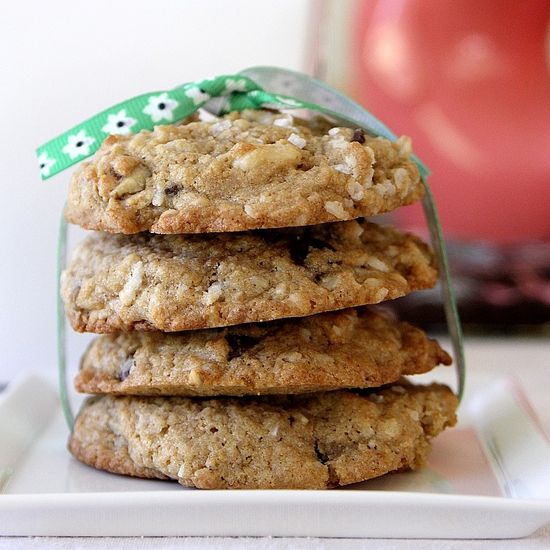 Ingredients:
2 cups white whole wheat flour
1 cup light brown sugar (packed)
1 cup white sugar
1 cup butter (softened)
2 eggs
1 tsp vanilla extract
1 tsp baking soda
1 tbs ground flaxseed
2 tbs apple sauce
1/2 cup chopped walnuts (chopped)
1/2 cup semi-sweet chocolate chips
1/2 cup flaked coconut
Preheat oven to 350 F.
Cream the butter, white sugar and brown sugar.  Beat in the eggs and add the vanilla and apple sauce.   Using a wooden spoon, stir in the flour, baking soda, flaxseed, walnuts, chocolate chips and coconut.
Spray a cookie tray and cover with parchment paper.  Place large spoonfuls of cookie dough onto the trays and bake for 12 minutes.
This recipe makes approximately 20 large cookies.
* * * * * * * * * * * * * * * * * * * * * *

Okay, for all my foodie and crafty followers I want to share a little something with you.  It's called Stickybits.  It's a free app for iPhones (they are working on an upgrade for Android). 
Download the app, scan barcodes for products you love and then add links to your blog posts or images, or simply add a review of the product.
For example: Most of the products for this cookie recipe were purchased at Smart & Final (I'm one of the #sfsmarties).  So, while I was purchasing them I scanned the barcodes in the store.  I came home, baked my cookies and now I can go back into Stickybits on my computer and upload a link to this particular blog post along with an image, so anybody who scans a barcode for these products in the future (it doesn't have to be at this store), will see my recipe and image appear on the activity for these products.
It's as simple as: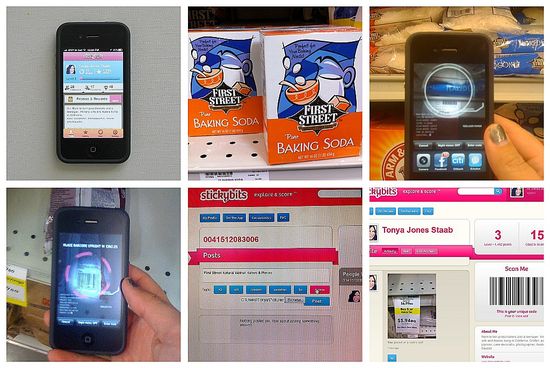 Download the app, find a product, scan the barcode (a pink ring will appear when the product is positioned correctly), upload media (link, image, video)
Note:  If you scan products from the comfort of your home instead of a store, you can turn off the GPS location.
Disclosure: This shop has been compensated as part of a social shopper insights study for Collective Bias