These gluten-free reindeer Christmas cookies are perfect for Christmas parties, cookie exchanges, and cookie decorating parties this holiday season.
Disclosure: This post is sponsored by Oriental Trading Company.
These reindeer cookies are almost too cute to eat. Plus, I finally knocked something off my bucket list … learn to decorate cookies with royal icing. It's something I've always wanted to try. I need a lot more practice, but it was so much fun and I love how these turned out for my first go. If I can do it, then you can too.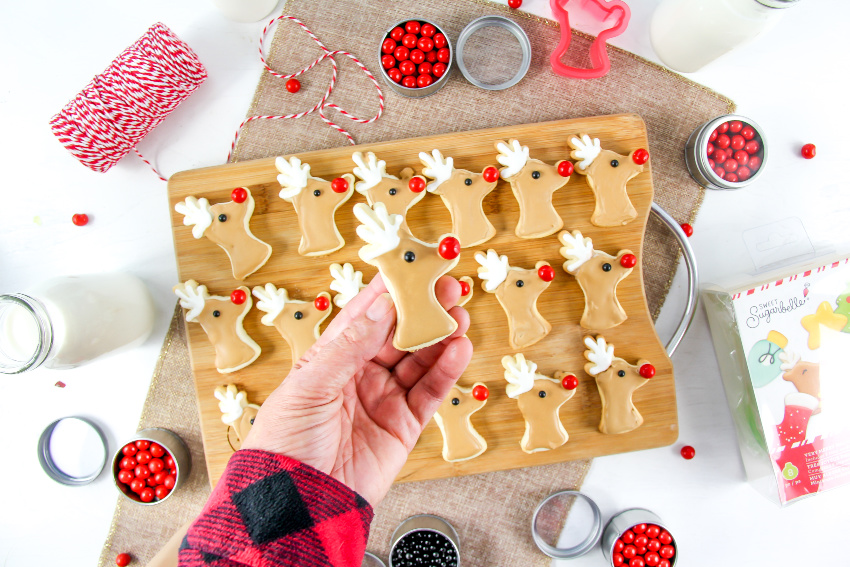 I haven't perfected my own gluten-free cookie recipe that's perfect for decorating, so I used the Gluten-Free Cut Out Cookies Recipe from Noshtastic. My oven must run a little hotter though because after cooking one batch I found that 10-minutes was the perfect cooking time. I also used gluten-free flour that already had xanthan gum in it because that's what I had in my pantry.
Most of what you see in the image above you can purchase from Oriental Trading Company.
American Crafts Sweet Sugarbelle Very Merry Mini Cookie Cutter Set
Sixlets Red Chocolate Candy – which make perfect reindeer noses
Red Baker's Twine – perfect for wrapping a package for a cookie exchange
Gold Shimmer Burlap Table Runner
DIY Mini Containers with Clear Lids – these are great for separating nonpareils for cookie decorating parties
Clear Glass Milk Bottles with Lid – you can't have cookies without milk
When you order from Oriental Trading Monday 18th November-Tuesday 19th November you get free shipping, plus $10 off $59, $15 off $79, and $20 off $99 with code SQUAD19.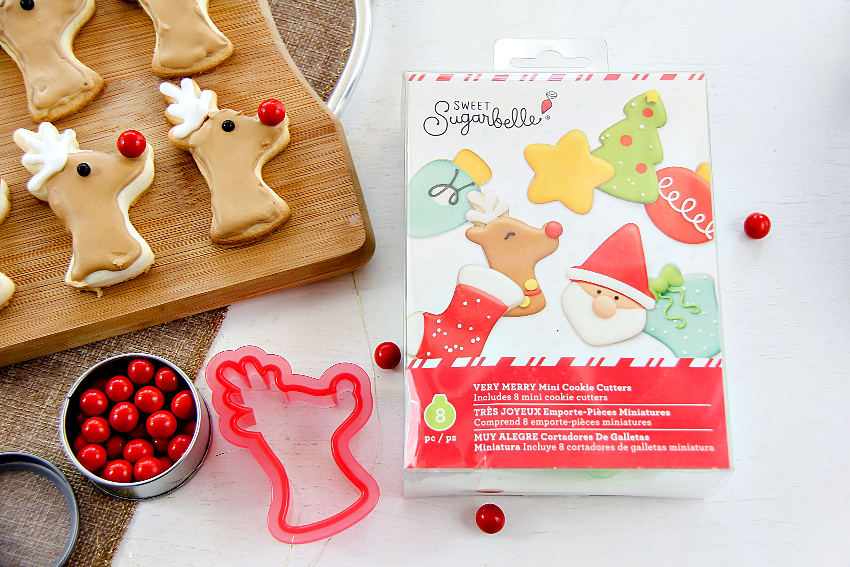 I considered using piping bags to decorate the cookies but realized that squeeze bottles are so much easier, not just for storing leftover royal icing, but to cut down on mess, and they are easier for kids to use.
I had a little trouble getting my consistency right (being my first time) so here's a tip:
How To Thin Royal Icing In A Squeeze Bottle
If you find that the icing in your squeeze bottle is a little too thick for flooding (after you've made a border around the outside of your cookies), pop a little water (1/4 teaspoon at a time) into the bottle and stir really well with a metal skewer. I probably should have finished doing the border on all the cookies though before doing this, but I was playing and experimenting, so you can see that some of my icing in the photo above ran over the side.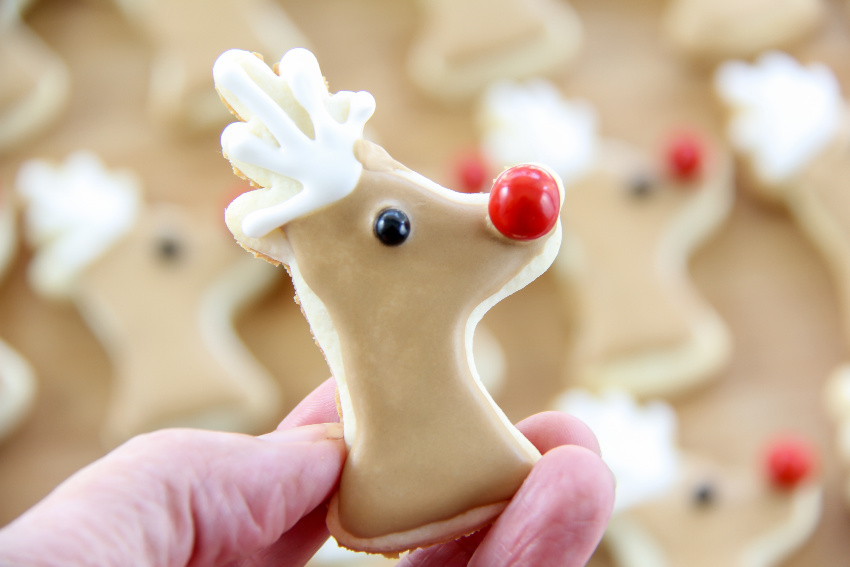 These are the perfect treats to make and eat while watching Rudolph this holiday season.
Don't forget to make my reindeer aprons too if you are hosting a cookie decorating party at home.
Please pin this post for later: