These homemade chocolate and custard éclairs are the perfect accompaniment for storytime while reading Disney Books Diva And The Flea, by Mo Willems and Tony DiTerlizzi.
Disclosure: This french-inspired recipe for The Story of Diva and Flea is sponsored post for Disney Books. #DivaandFlea
When I was younger I would go to the bakery on weekends with my mum for fresh bread rolls for lunch and pastries for dessert or afternoon tea. My favorite was always éclairs. There's just something about the combination of pastry filled with thick custard cream and chocolate ganache over the top that I have always found irresistible.
And they are surprisingly easy to make … you know, IF you remember to set a timer … and also remember to set a timer the next day to crisp the pastry again (when making the pastry a day in advance). Yes, that may have happened twice. Timers and I have a battle of wills. They just keep winning though.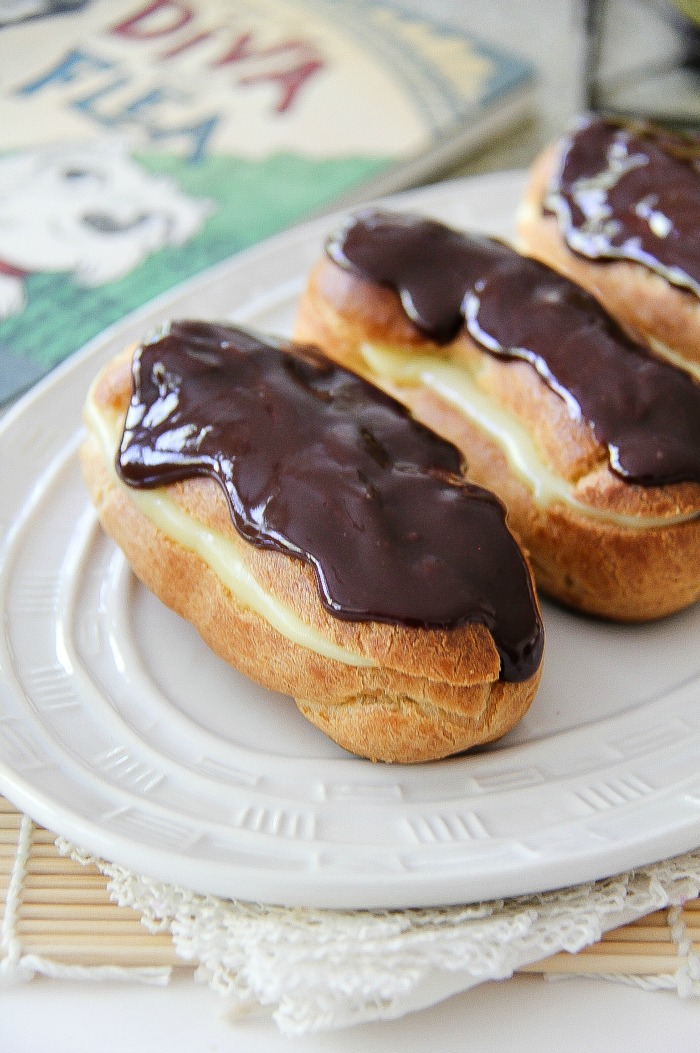 Note: Recipe adapted from here.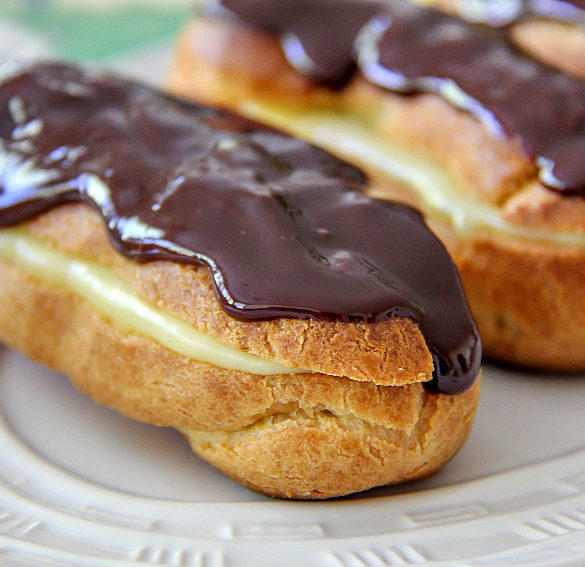 Ingredients
Pate a Choux
½  cup (1 stick) unsalted butter, cubed
1 tbs white sugar
½  tsp salt
1/2 cup water
1/2 cup whole milk
1 cup all-purpose flour
4 large eggs
Pastry Cream
1 cup whole milk
1 cup heavy whipping cream
½ cup sugar
1 tsp vanilla extract
4 large egg yolks
1/2 cup flour
2 tbs unsalted butter
Chocolate Ganache
½  cup heavy cream
6 oz. semisweet chocolate, finely chopped
Instructions
Pate a Choux
Preheat oven to 425 F.
Place butter, sugar, salt, water, and milk in a medium saucepan and bring to a boil.  Immediately remove from heat, add flour and quickly stir with a wooden spoon.
Place back over medium heat and continue stirring until the mixture pulls away from sides; approximately 3 minutes.
Transfer dough to the bowl of an electric mixer fitted with the paddle attachment. Mix on low speed for 1 minute until the dough starts to cool. Raise speed to medium and add eggs, one at a time, until a soft peak forms when the batter is touched with your finger.
Add dough to a pastry bag fitted with a ½-inch tip. Line two baking sheets with parchment paper.
Pipe dough into 3-inch oblong shapes, making sure to leave space between each éclair.
Bake for 10 minutes. Turn oven down to 350 F and bake for another 25 minutes until golden brown.
Pastry Cream
Place milk and cream in a medium saucepan over high heat; cook until it comes to a simmer.
In a medium bowl, whisk together egg yolks with the sugar and flour until thickened.
While whisking constantly, slowly pour heated-milk mixture in a thin stream into egg-yolk mixture. Pour mixture back into the saucepan over medium heat and whisk constantly until the mixture thickens about 2 minutes.
Remove from heat and whisk in butter until melted, and then vanilla. Once pastry cream slightly cools, cover and refrigerate until completely cooled.
Fill éclairs while still warm. This allows for easier piping. (see the notes below)
Chocolate Ganache
Bring cream to a boil in a small saucepan over medium heat.
Place chocolate in a bowl and pour hot cream on top. Slowly whisk until smooth and all chocolate has melted.
Let cool slightly and drizzle over éclairs.
Recipe: by Tonya Staab tonyastaab.com
There are two ways to fill your éclairs, 1. Add pastry cream into a piping bag fitted with a coupler and filling tip. Insert tip into one side of the éclair squeezing pastry cream slowly to fill. Remove tip and insert it into the opposite side of éclair and repeat it. Do not apply too much pressure as it will rupture the éclair. 2. Slice your pastry in half, fill the center with pastry cream and place the lid back on top.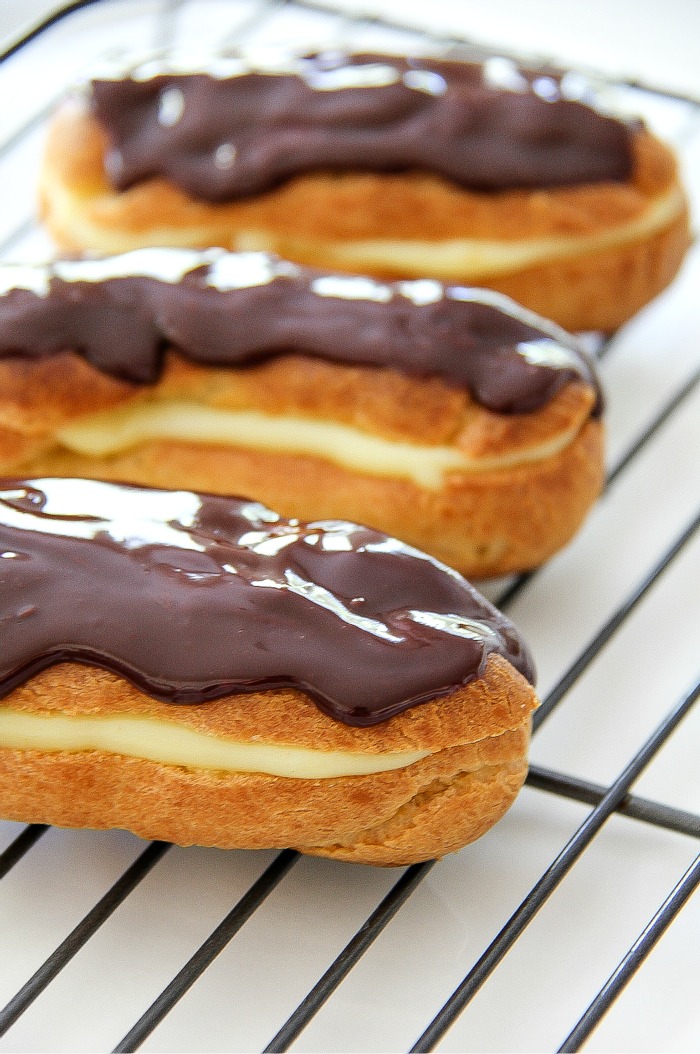 These chocolate éclairs are perfect for a cozy afternoon, served with milk and tea, while you curl up on the sofa and read THE STORY OF DIVA AND FLEA by award-winning children's book creators Mo Willems and Tony DiTerlizzi for Disney Books.
About Diva and the Flea
Diva, a small yet brave dog, and Flea, a curious streetwise cat, develop an unexpected friendship in this unforgettable tale of discovery.
For as long as she could remember, Diva lived at 11 avenue Le Play in Paris, France. For as long as he could remember, Flea also lived in Paris, France–but at no fixed address. When Flea flâneurs past Diva's courtyard one day, their lives are forever changed. Together, Diva and Flea explore and share their very different worlds, as only true friends can do.
About Mo Willems
Mo Willems (www.pigeonpresents.com), a number one New York Times best-selling author and illustrator, has been awarded a Caldecott Honor on three occasions (for Don't Let the Pigeon Drive the Bus!, Knuffle Bunny: A Cautionary Tale, and Knuffle Bunny Too: A Case of Mistaken Identity). Don't Let the Pigeon Drive the Bus! was also an inaugural inductee into the Indies Choice Picture Book Hall of Fame. The celebrated Elephant & Piggie early-reader series has been awarded the Theodor Seuss Geisel Medal on two occasions (for There Is a Bird on Your Head! and Are You Ready to Play Outside?) as well as garnering four Honors (for We Are in a Book!, I Broke My Trunk!, Let's Go for a Drive! and A Big Guy Took My Ball!).
About Tony DiTerlizzi
Tony DiTerlizzi (www.diterlizzi.com), a number-one New York Times best-selling author and illustrator, created the middle-grade series The Spiderwick Chronicles with Holly Black, which has sold millions of copies, been translated into more than 30 languages and made into a feature film. He won a Caldecott Honor for illustrating The Spider & The Fly, and in 2014 he teamed up with Lucasfilm to retell the original Star Wars trilogy in a picture book featuring artwork by Academy award-winning concept artist, Ralph McQuarrie. He lives in Amherst, Massachusetts with his wife, daughter, and dog, Mimi.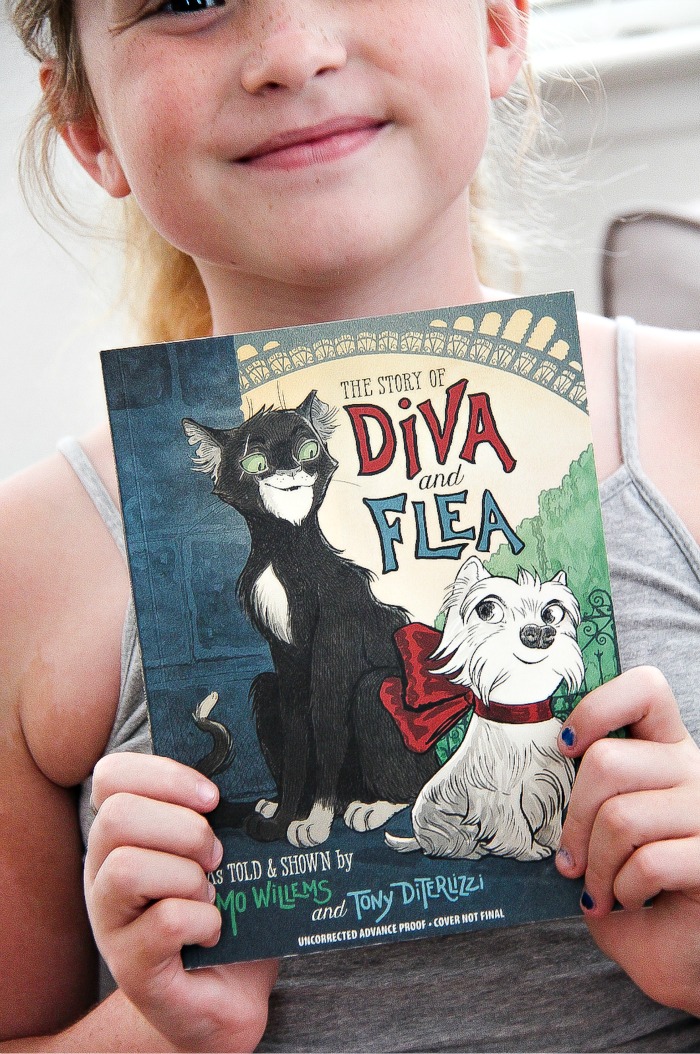 Please pin this post for later: