Last week I attended a Fresh & Easy Holiday Party at Sur La Table.
We enjoyed delicious appetizers and wine (from Fresh & Easy of course), had cooking lessons with Chef Cynthia, ate a delicious Thanksgiving dinner, made our way through dessert, then rolled ourselves home.
Seriously I ate so much I don't think I ate again until the afternoon the next day. It was all so yummy, and I cannot wait to try out a few new dishes next week for Thanksgiving.
Don't these appetizers look delicious.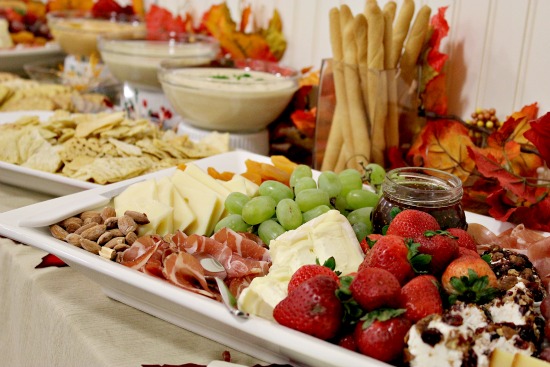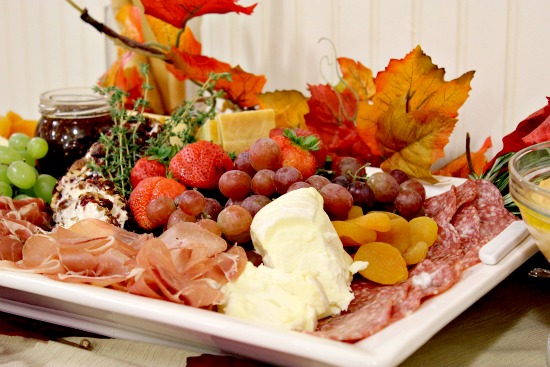 After enjoying our appetizers and listening to an introduction from Chef Cynthia she showed us how to make the perfect roast turkey gravy. She had cooked the turkey and roast vegetables before we had arrived to make things run a bit quicker.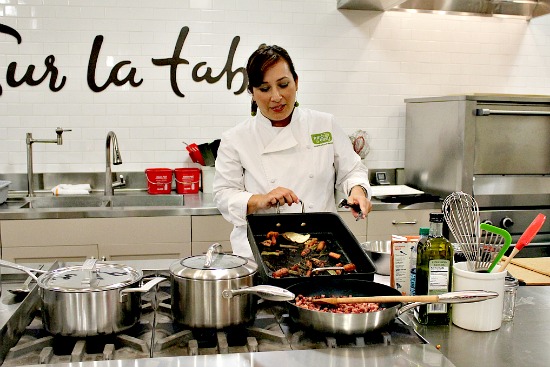 Here's the recipe:
Roast Turkey Gravy
Serves 6 to 8
Ingredients:
6 cups pan juices from turkey (or low sodium
chicken stock)
1/3 cup flour
Salt and pepper to taste
Cooking Directions:
Remove turkey from roasting pan and pour juices through
a fine mesh into a bowl. If liquids don't measure 6 cups, supplement with
chicken stock.
Let the juices sit in the bowl until the fat rises
to the top. Spoon out the fat and discard.
Using two burners on medium-high heat, place
roasting pan on the stove top. Carefully
pour 1 ½ cups of juices into the roasting pan. As soon as juices come to a
boil, scrape the brown bits with a wooden spoon until clean of any caramelized
bits.
In a jar, combine 1 cup of juices with
flour. Shake vigorously until fully combined. This is called a slurry.
Pour slurry into the roasting pan and stir constantly
until incorporated, about 2 minutes.
Add remaining 3 ½ cups of juices into roasting pan
and continue cooking for about 10 minutes until thickened. Remember, gravy will
thicken even more once cooled.
Adjust the seasoning with salt and pepper. Serve
warm.
Note: For smoother gravy, strain before serving.
Then Cynthia showed us how to make a delicious (seriously this really was amazing) cauliflower gratin.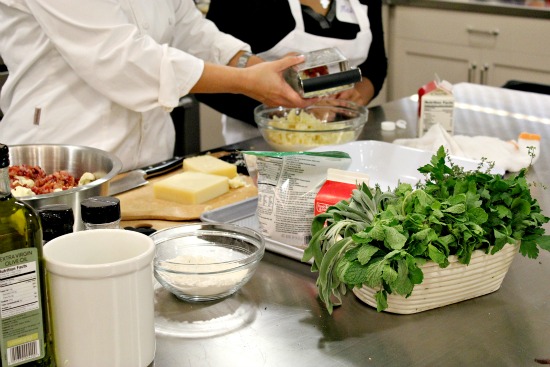 Here's the recipe:
Cauliflower Gratin
Serves 4
Ingredients:
1 large head cauliflower, cored and cut into florets
5 oz. diced pancetta
1 cup heavy cream
1 tablespoon all-purpose flour
1 cup grated Gruyere cheese, divided
1/2 cup fresh breadcrumbs
1 tablespoon unsalted butter, cut into small pieces
Salt and pepper to taste
Cooking Directions:
Preheat oven to 400F.
In a large skillet over medium heat, cook pancetta until browned and
crispy. Drain and pat dry.
In a large bowl, combine cauliflower, heavy
cream, flour, and ¾ cup grated Gruyere and pancetta. Season with salt and pepper and toss to
combine.
Transfer mixture to a 2 quart baking dish, cover
tightly with foil, and bake for 30 minutes.
In a small bowl, combine ¼ cup grated Gruyere and
breadcrumbs.
Carefully remove baking dish from oven and sprinkle
breadcrumb mix over cauliflower. Dot with butter and bake, uncovered, until
topping is golden brown and cauliflower is tender when pierced with a knife, about
10 to 15 minutes.
Let cool for 5 minutes before serving.
While she was showing us how to do this we were set up at tables in pairs making a variety of salads. Nicole and I paired up and made a roasted butternut squash salad with pumpkin vinaigrette dressing.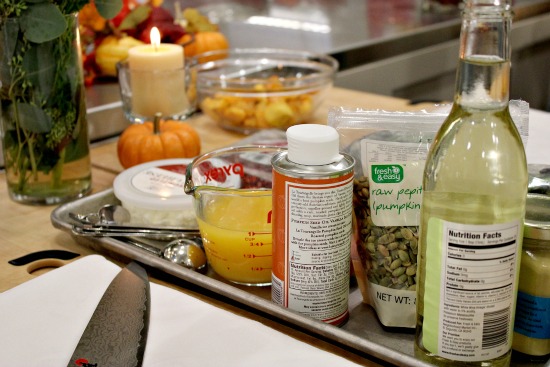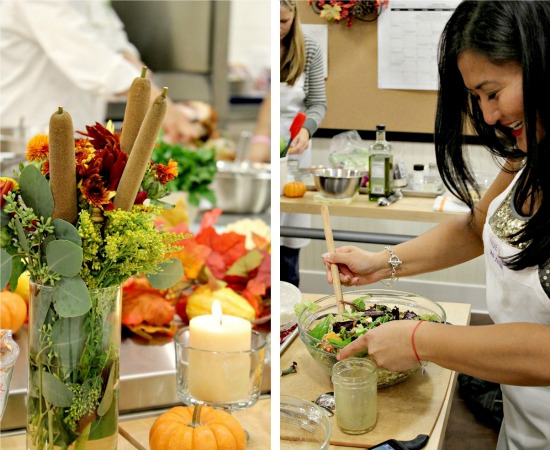 Of course I have the recipe for that too.
Roasted Butternut Squash Salad with Pumpkin Vinaigrette Dressing
Serves 4
Ingredients:
Salad
16 oz. package fresh&easy butternut squash,
cubed
2 tablespoons extra virgin olive oil
½ teaspoon salt
½ teaspoon pepper
6 oz. bag romaine and radicchio salad
½ cup pomegranate seeds
¼ cup toasted pepitas
¼ cup goat cheese, crumbled
Dressing
3 tablespoons pumpkin seed oil
2 tablespoons white wine vinegar
3 tablespoons orange juice
2 teaspoons Dijon mustard
1 shallot, finely chopped
1 teaspoon honey
Salt and pepper to taste
Cooking Directions:

Preheat oven to 400F.
In a lined baking sheet, toss butternut squash with olive oil, salt
and pepper. Roast for about 30 minutes,
until brown. Remove from oven; allow to cool.
In a jar, add pumpkin seed oil, white wine vinegar, orange juice,
Dijon mustard, shallots, honey, salt and pepper. Seal jar with a tightly fitting lid and shake
until all ingredients are combined.
In a large bowl, place romaine and radicchio salad, butternut squash, pomegranate
seeds, pepitas and goat cheese.
Pour dressing over salad and toss lightly.
We then enjoyed a big Thanksgiving dinner together.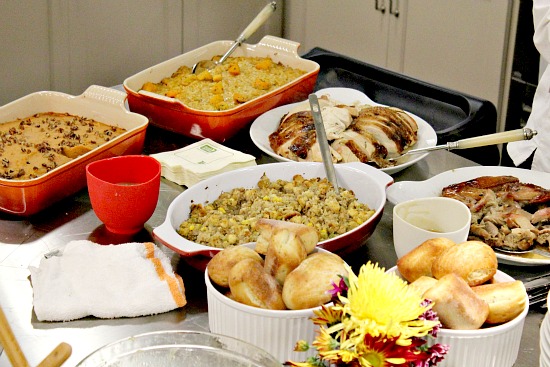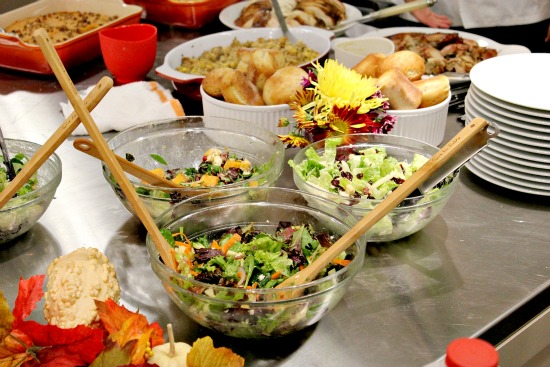 After dinner it was time for dessert, of course. Cynthia had pre-made éclairs but we made the pastry cream filling and chocolate ganache for them. You have no idea how happy I am that I now know how to make delicious éclairs at home. I grew up eating éclairs in Australia, it was one of the staple items I would purchase when I went to bakeries.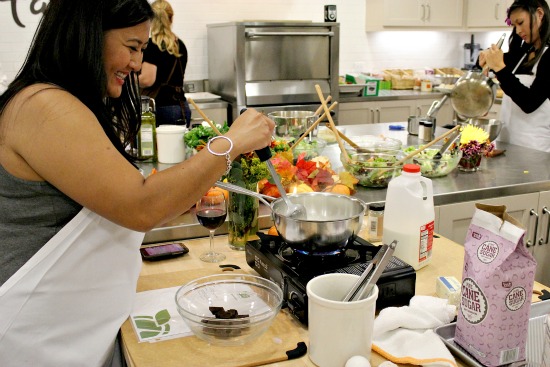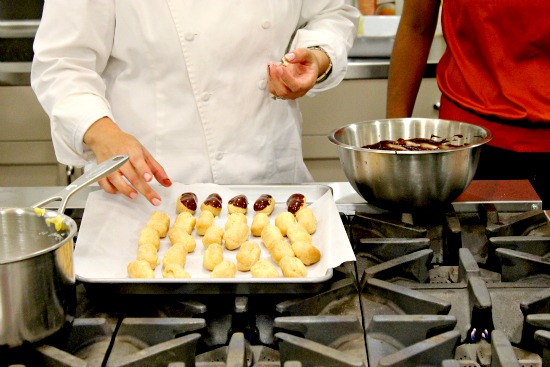 Of course I have the recipe for these to share as well.
Pate a Choux
Makes 24 éclairs
Ingredients:
½ cup (1 stick) unsalted butter,
cubed
1 teaspoon sugar
½ teaspoon salt
1 cup water
1 ¼ cups all-purpose flour
4 large eggs
Cooking Directions:
Preheat oven to 425 F
Place butter, sugar, salt and 1 cup water in a medium sauce pan and bring
to a boil. Immediately remove from heat,
add flour and quickly stir with a wooden spoon.
Place back over medium heat and continue stirring until the mixture pulls
away from sides; approximately 3 minutes.
Transfer dough to the bowl of an electric mixer fitted with the paddle
attachment. Mix on low speed for 1 minute until dough starts to cool. Raise
speed to medium and add eggs, one at a time, until a soft peak forms when
batter is touched with your finger.
Add dough to a pastry bag fitted with a ½-inch tip. Line two baking sheets
with parchment paper.
Pipe dough into 3-inch oblong shapes, making sure to leave space between
each éclair.
Bake for 10 minutes. Turn oven down to 350 F and bake for another 25
minutes until golden brown.
Fill éclairs while still warm. This allows for easier piping.
Pastry Cream
Makes 2 Cups
Ingredients:
2 cups whole milk
½ cup sugar, separated
½ vanilla bean, split and seeds
scraped
4 large egg yolks
¼ cup cornstarch
2 tablespoons unsalted butter
Cooking Directions:
Place milk, ¼ cup sugar and vanilla bean in a medium saucepan over high
heat; cook until it comes to a simmer.
In a medium bowl, whisk together egg yolks with remaining ¼ cup sugar and
cornstarch until thickened.
While whisking constantly, slowly pour heated-milk mixture in a thin stream
into egg-yolk mixture. Pour mixture through a fine mesh sieve back into
saucepan over medium heat and whisk constantly until mixture thickens, about 2
minutes.
Transfer to a large bowl over an ice bath and whisk in butter until melted.
Once pastry cream slightly cools, cover with plastic wrap, pressing it directly
on the surface of the pastry cream, and refrigerate until completely cooled.
To fill éclairs, add pastry cream into a piping bag fitted with a coupler
and filling tip. Insert tip into one side of the éclair squeezing pastry cream
slowly to fill. Remove tip and insert into the opposite side of éclair and
repeat. Do not apply too much pressure as it will rupture the éclair.
Chocolate Ganache
Makes 1 Cup
Ingredients:
½ cup heavy cream
3 oz. semisweet chocolate, finely chopped
Cooking Directions:
Bring cream to a boil in a small saucepan over medium heat.
Place chocolate in a bowl and pour hot cream on top. Slowly whisk until
smooth and all chocolate has melted.
Let
cool slightly and drizzle over éclairs.
You didn't think we just ate éclairs for dessert do you?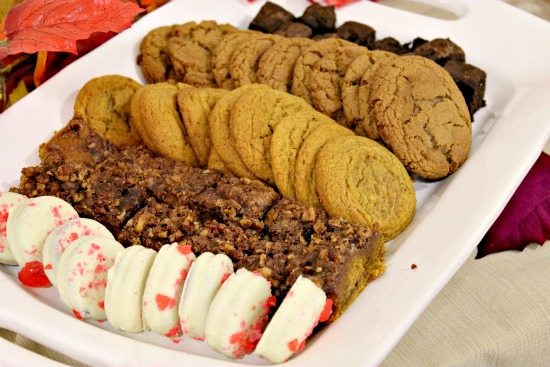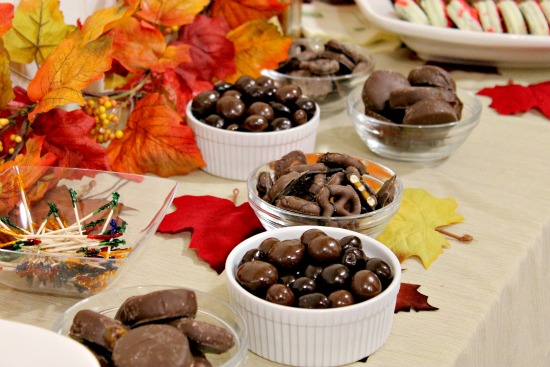 Fresh & Easy make holidays easy. You can order your Thanksgiving dinner on-line by November 18th and pick-up in store between November 20-22nd. They have a great selection of dishes you can order from a turkey, ham, or beef dinner to side dishes including mashed potatoes, squash risotto, vegetable medley, stuffing, and cranberry sauce. Plus you get a free 11″ Fresh & Easy pumpkin pie with every order.
Follow Fresh & Easy on Facebook, Twitter, and Pinterest for more great Holiday ideas.
Disclosure: The recipes above were provided by Fresh & Easy. We were treated to a complimentary cooking class at Sur La Table and received a big bag of Fresh & Easy goodies to bring home to help us prepare our own Thanksgiving dinners.