Do you have too many zucchini from your garden? Makes these delicious savory stuffed zucchini boats with sausage and bacon.
Zucchini Boats are one of my favorite appetizers and I make them as often as I can, always trying a new filling for them. These ones are somewhat filling and have just a hint of spice.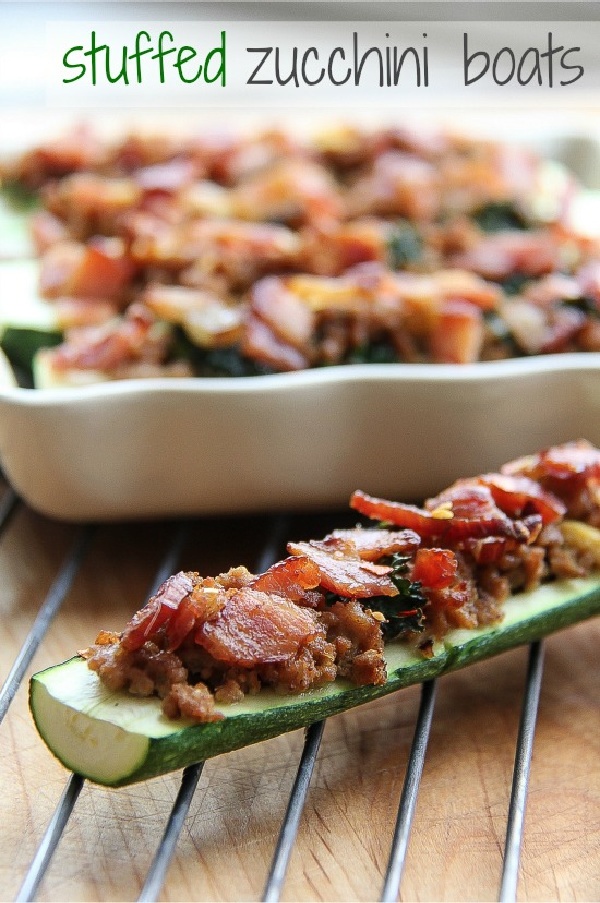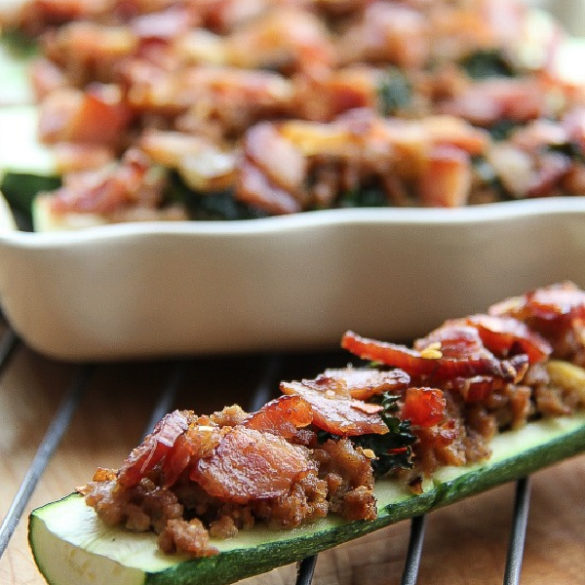 Ingredients
Zucchini - I used 5 for this recipe
1 pkg Ground Turkey
5 strips Bacon
1 cup Kale
1 tub Elli: Quark (plain)
1 tsp Crushed Garlic
1 tsp Dried Thyme
1 tbs Crushed Red Pepper Flakes
1 tbs Olive Oil
Pinch salt and pepper.
Instructions
Preheat the oven to 350F.
Grill the bacon - I like to use my small electric grill. Set aside to cool and then chop into small pieces.
Cut your zucchini in half lengthways and then, using a melon scoop, remove the center portion of the zucchini. Chop it into small pieces. Set your zucchini boats aside.  If you are making smaller appetizers, cut the zucchini in half first, and then in half lengthways.
Add the oil to a frying pan and brown the ground turkey.  Add in the zucchini (that you chopped), garlic, thyme, salt, pepper, and kale. Stir fry until the kale is wilted. Turn down the heat to a simmer and add the Quark, mixing until it's thoroughly combined.
Spoon the mixture into the zucchini boats, top with bacon and crushed red pepper flakes. Bake in the oven for approximately 15 minutes - a little longer if you like your zucchini well cooked, the less you bake it the more firm it will remain.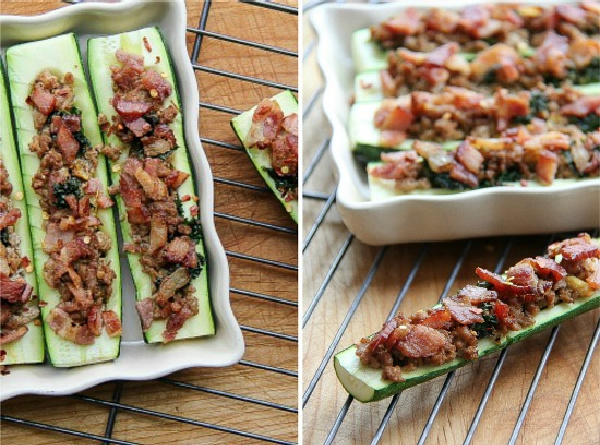 Please pin this post for later: