Teach kids how to prepare their own after-school snack tubs that are healthy and delicious with these easy tips.
Disclosure: This is a sponsored post written by me on behalf of Stonyfield® Organic Kids®
The twins are twelve now, and for the most part are fairly self-sufficient (as long as I'm nowhere in plain sight, because then they seem incapable of even pouring a glass of milk).
Little by little though I'm teaching them life skills. This includes being in charge of putting together their own snacks, not only for school but also for after school, and when their friends come over. Sure sometimes I'll bake muffins, cookies, or a loaf for them, but on an ordinary day, it's all on them.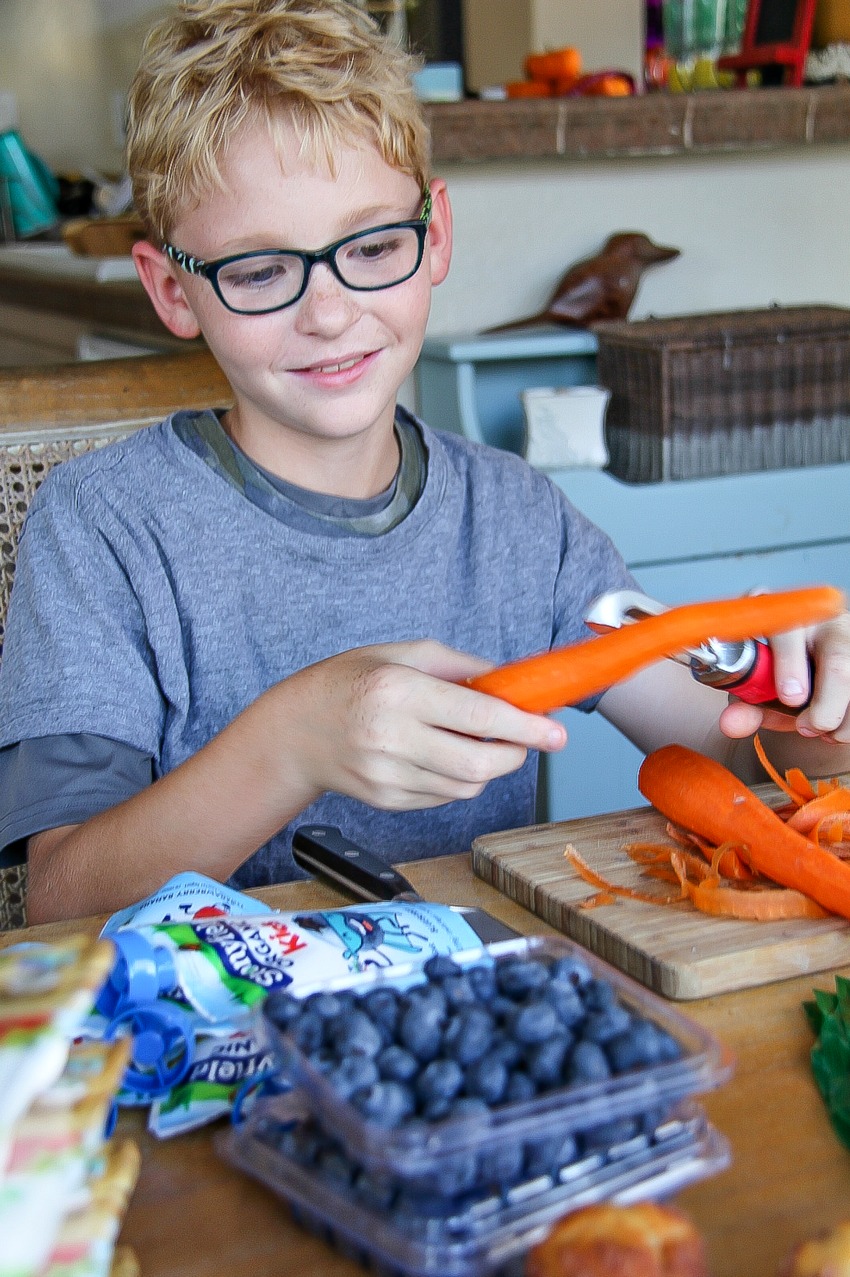 A snack tub in the pantry, and another in the refrigerator are ideal for kids who love to graze after school. It's also handy for when neighborhood kids pop over. This alleviates that age old problem of looking into the pantry or refrigerator and closing it again because there's 'nothing there'. There's plenty there, but when you are overwhelmed with stuff, it's hard to see what you need or want, so making snacks accessible is key. Nobody wants to dig around for a carrot, peel it, and then snack on it. We are going to naturally go for whatever is the most convenient.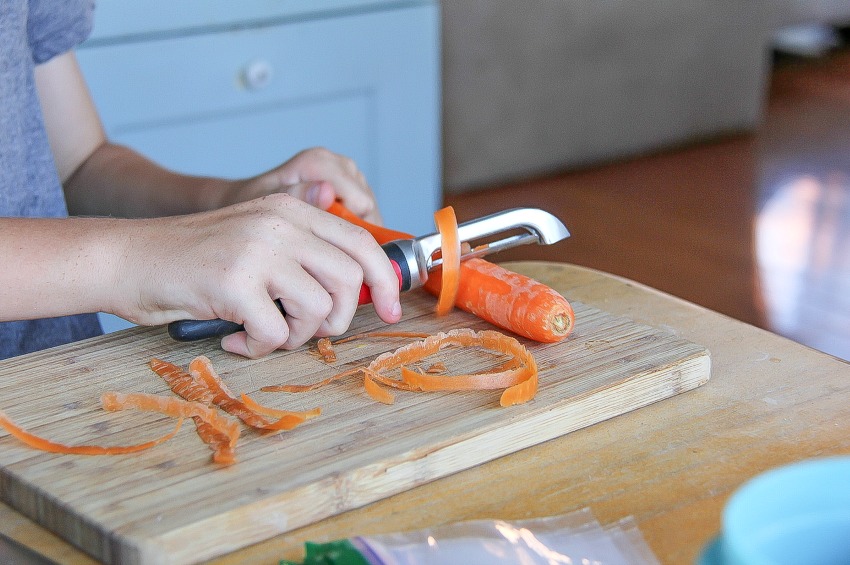 So, set aside a day to peel and chop carrots and pop them into little bags along with other fruit, and snack mixes of dried fruit, pretzels, raisins, and nuts. When things are right there, and ready to go, they are more likely to be eaten.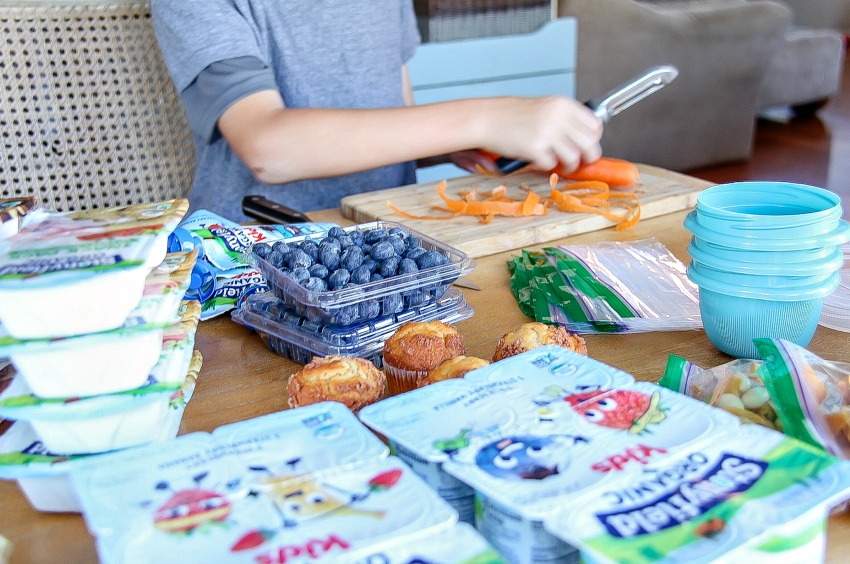 My kids' are fairly picky snackers though, they like what they like, so snacks around here remain fairly consistent.
What To Put In After School Snack Tubs For Kids
Stonyfield Organic Kids Cups
Stonyfield Organic Kids Pouch
Stonyfield Organic Snack Pack
Stonyfield Organic Kids Smoothies
Cheese sticks
Veggie chips
Dried fruit
Fresh fruit – grapes, strawberries, bananas, and blueberries
Vegetables – carrots and raw broccoli
Cashews
Yogurt covered or plain raisins
Pretzels
Muffins
Flynn actually really likes the Stonyfield® Organic Kids® products for breakfast before school too. If he's feeling a little rushed in the morning he'll have a Stonyfield Organic Kids Pouch (blueberry is his favorite), or the Stonyfield Organic Kids Smoothies, which he can have with his medication without the need to poor a separate glass of milk. This kid is all about quick and easy, especially in the mornings.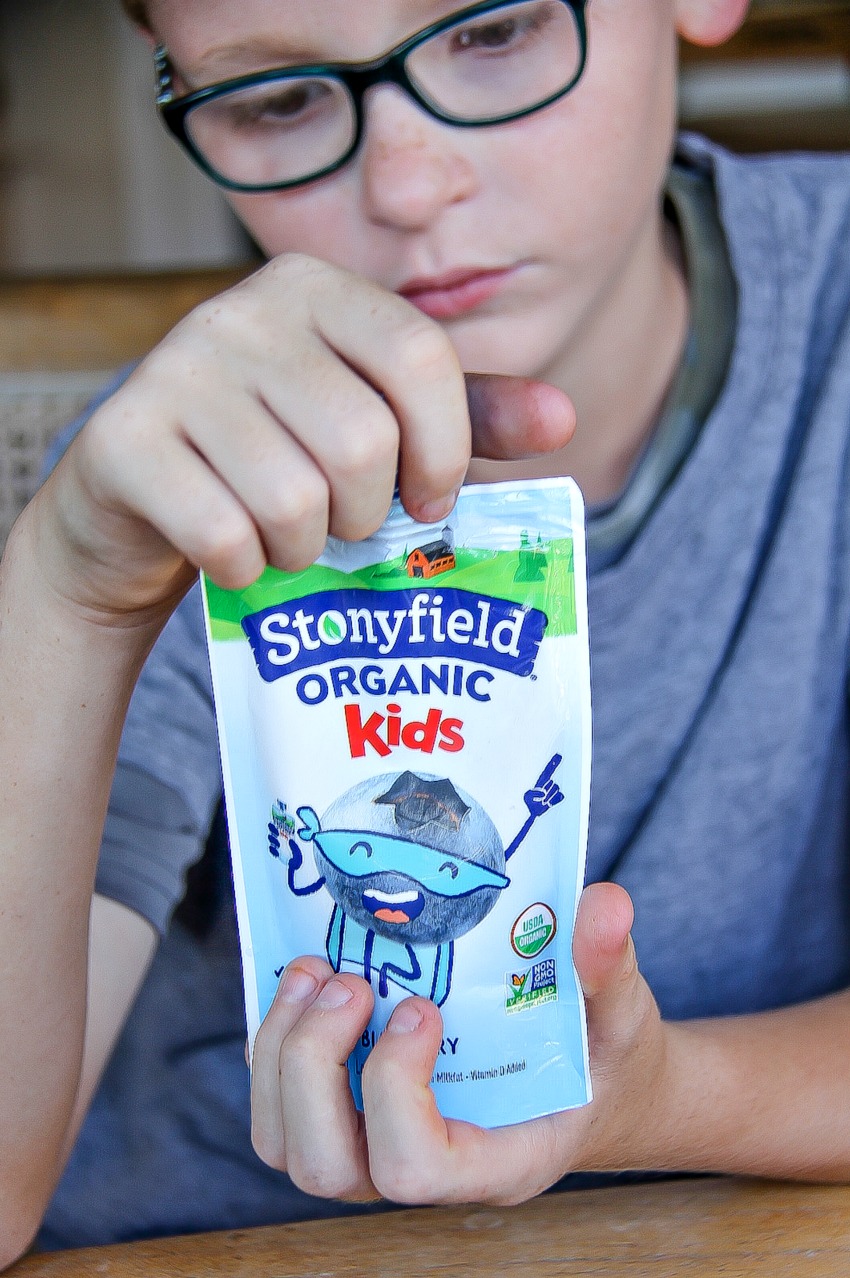 Stonyfield Organic Kids Cups, Pouches, Smoothies, and Snack Packs provide so many easy organic combinations. They have no artificial flavors or colors, are made with ingredients grown by real organic family farmers, and contain between 25-40% less sugar than the leading kids' yogurt, which makes them the perfect addition to our snack tubs.
Making snack tubs is a great family activity – you can get everyone involved making their own snack bags, cutting vegetables, and assembling the tubs. Just lay all of the options out on the table and let them go for it.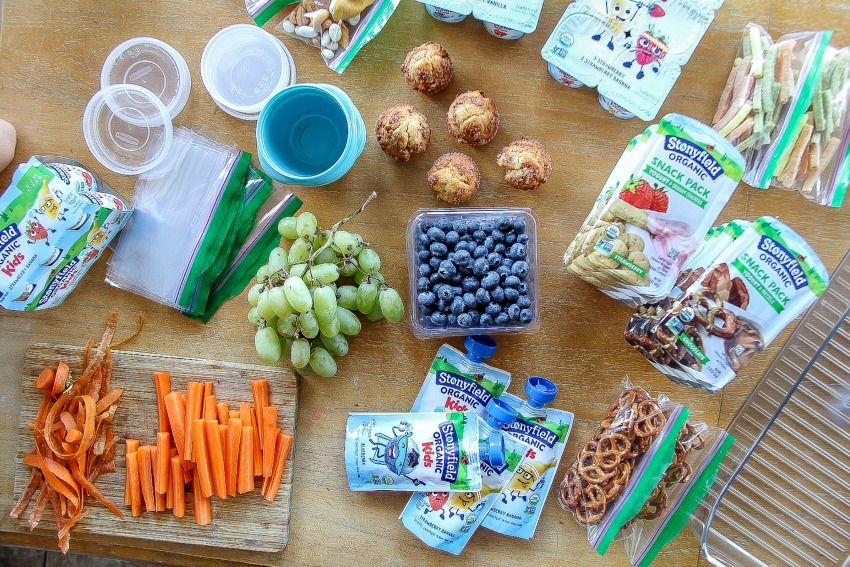 In no time at all, you've got delicious snacks ready for the week.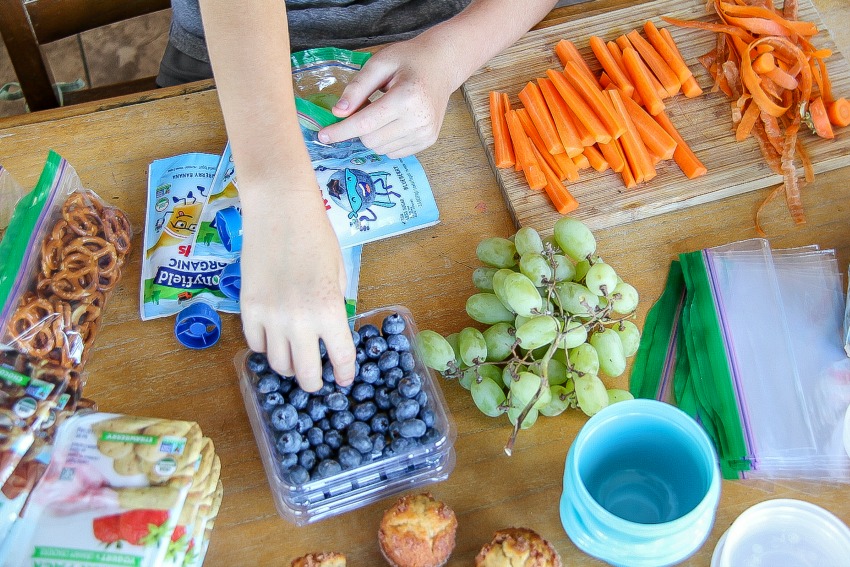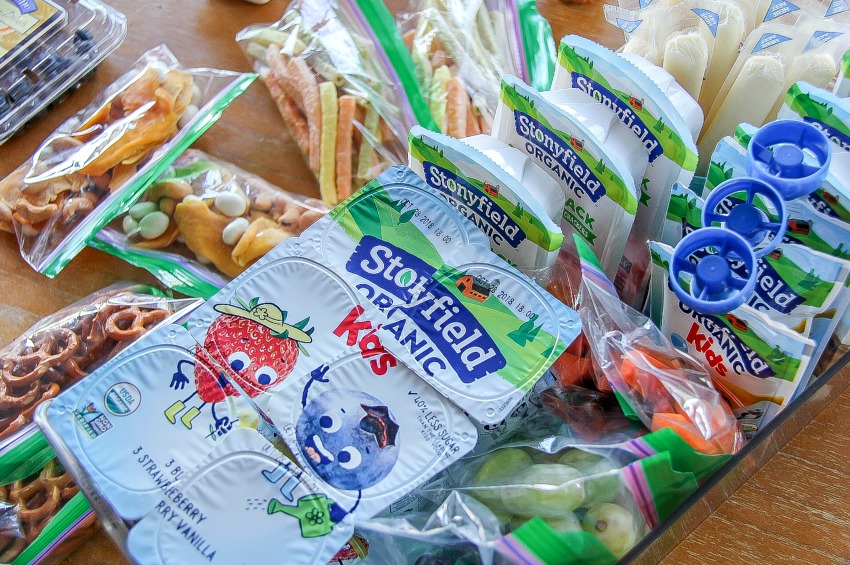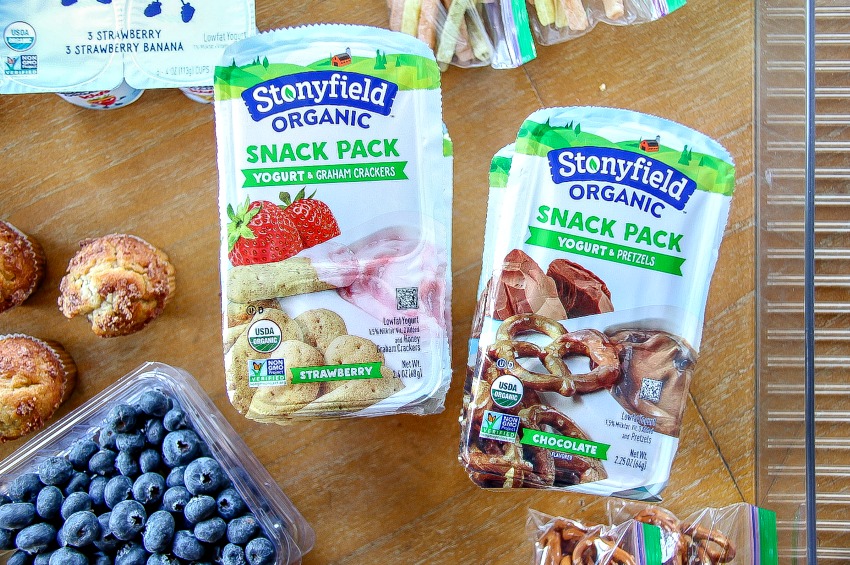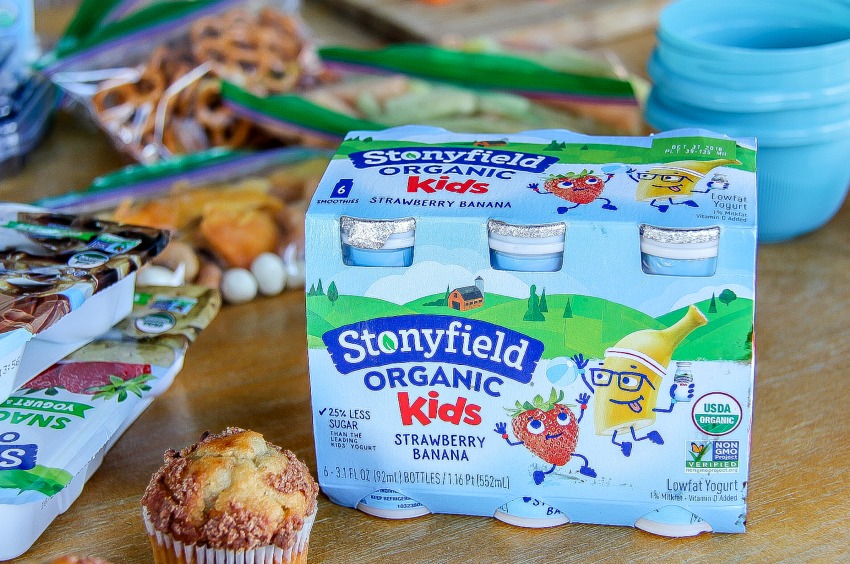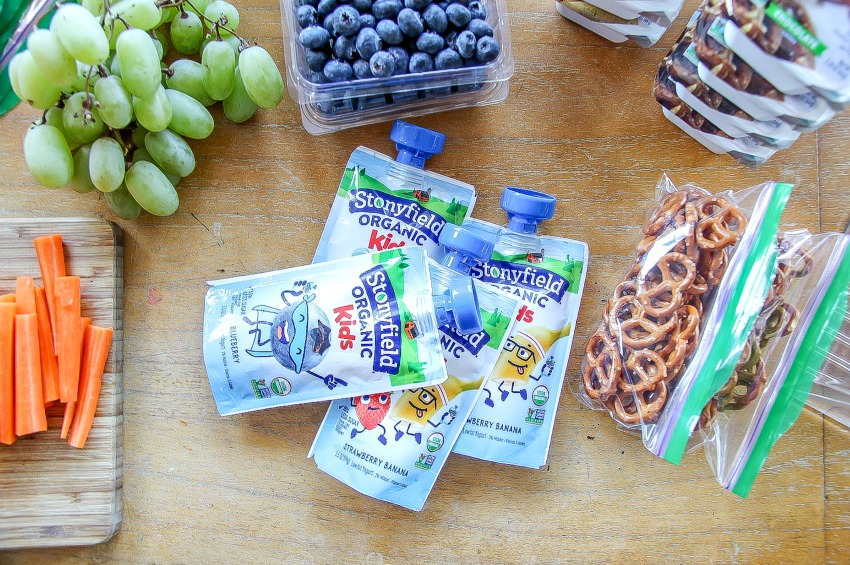 Please pin this post for later: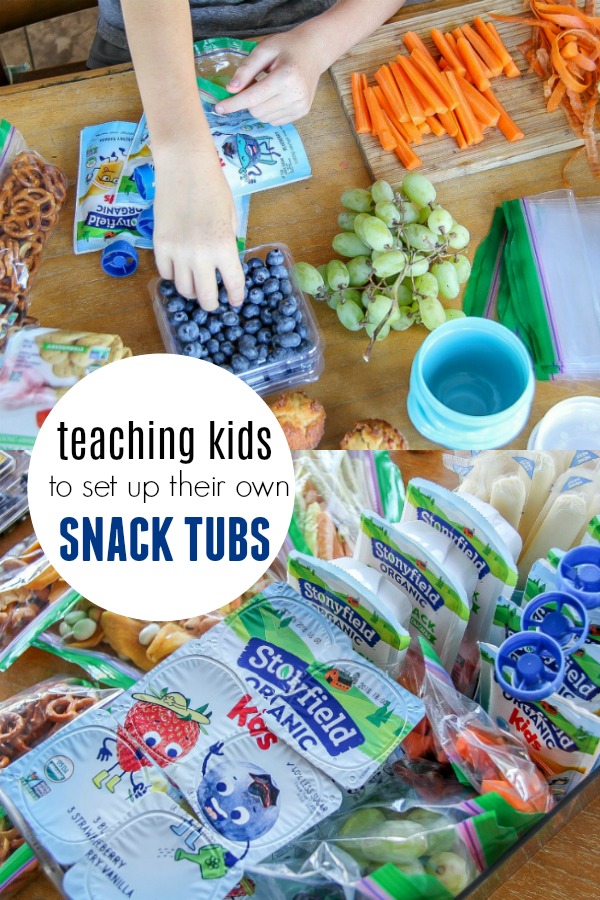 This is a sponsored post written by me on behalf of Stonyfield® Organic Kids®.