For all the Americans reading, yes I said SNOW ha ha.  It is winter down under  so even though you are all enjoying the wonderful warm weather and sandy beaches I'm shivering in my britches.
We bundled all of the kids into cars bright and early this morning, my brother and sister took the day off work and we headed off to the snow.  This was the twins first time seeing snow and they LOVED it.  The whole drive through the mountains Marisol stared out the window saying 'wow, wow'.  I thought for sure that she would have a meltdown of epic proportions once she set foot on the fluffy white stuff though because she'd be too cold and snow would get in her eyes but nope, she was happy as a little clam.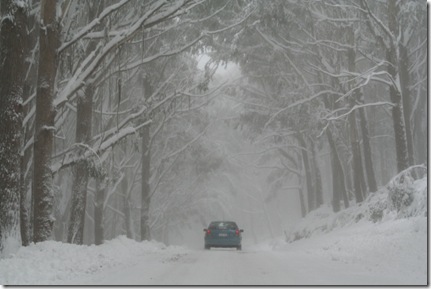 I loved driving through this 'winter wonderland', it was so beautiful … well except for the trees pelting us with massive snowballs – bad trees, baaaaad.
Me and my big boy and about to throw snowball number 3 at me.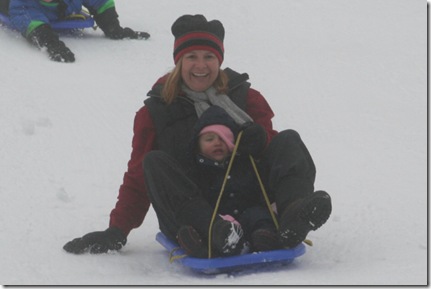 Yes even I braved it and took Miss M on a toboggan ride. Big brave me!
Marisol and Flynn loved being pulled around on the toboggans.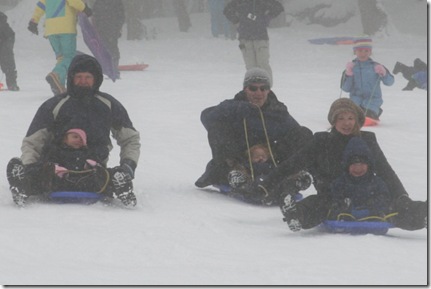 My dad, my brother and my sister going down the slope with the 3 little ones.
Flynn was so happy playing in the snow.  Here's Marisol checking out the little snowman that her Auntie Deb and cousin Callan made – she was patting it on the head.
Jay and Callan snow angels
Jay decided to stand on the toboggan on one of the steeper slopes.  Check out the giant snowball.  Muscles.