Wow, I can't believe it's been 2 days since I blogged.  How did the time go by so quickly?  We are all starting to feel a little better (well except mum, she's still got it pretty bad), which means we've been able to get back to enjoying our vacation.  It's been a great couple of days.  Where has the month gone though, it feels like we've only been here for a week or two and yet our vacation is coming to an end next week.
HAPPY BIRTHDAY BRIAN
Yesterday was my little brother's 33rd birthday – or not so 'little' brother as you can see from the photo.  For those who don't know, I'm the eldest of 3 children.  My brother is the baby.  He had to work all day but we managed to drag him away for an hour to meet us for lunch at the Olive Cafe – at least I think that's where we met.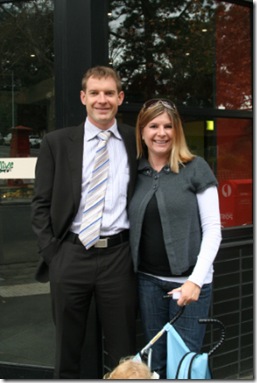 FITZROY GARDENS
We took the kids to Fitzroy Gardens for a play.   The gardens are absolutely beautiful with so much to see and do there.
Marisol is out of the car and she's off and running through the gardens with her Pa.  Flynn and Marisol loved checking out all of the beautiful gardens.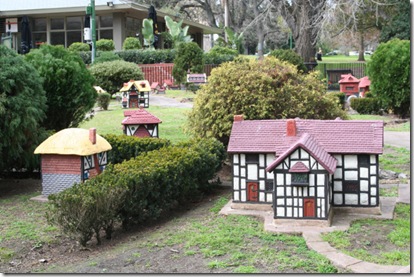 This is Tudor Village – This model village was presented to the city of Melbourne by the citizens of Lambeth, England to thank them for sending food during the food shortages after World War 2.
Marisol checking out a little tree in the gardens.
The family checking out The Fairy Tree – you can't see it in this photograph properly but the tree is covered in beautiful carvings of fairies by Ola Cohn.  The tree stump is a red gum and was one of the original trees in the gardens and is over 300 years old.
This is what she said in the foreward of her book The Fairies Tree.:
"I have carved in a tree in the Fitzroy Gardens for you, and the fairies, but mostly for the fairies and those who believe in them, for they will understand how necessary it is to have a fairy sanctuary – a place that is sacred and safe as a home should be to all living creatures."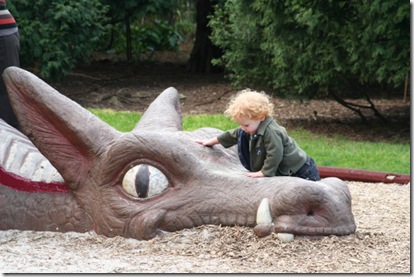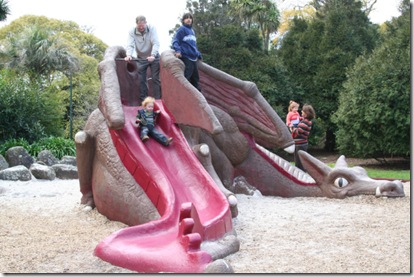 The above two pictures are from the little playground in the gardens.  Flynn loved climbing on the dragons head and they couldn't get enough of the slide.
Flynn collected sticks all around the gardens and Marisol collected flowers.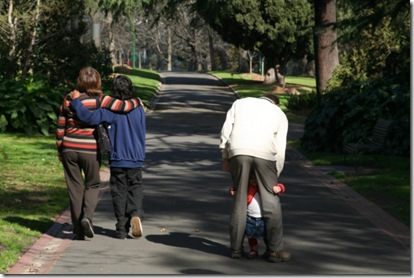 Leaving the park.  I just loved this shot of grandma and Jay and Marisol clinging to her Pa because he'd walked off ahead of her and she was scared he was going without her.
DINNER WITH THE GIRLS
Last night I met my beautiful girlfriends Claudia and Suellen for Thai food.  I can't believe it had been 2 years since I'd seen these girls.  When I had come home last year for a visit Marisol had ended up in the E.R. on the night I was meeting them for dinner and so I'd missed out on seeing them.  Last night though it was just like time had stopped for those 2 years.  We talked and talked for 4 hours in the restaurant and it was just like old times.  I miss you girls so much.