Don't forget this week is Teacher Appreciation Week. There are a few ideas on these websites here, here and here for things you could do for your child's teacher.
I was a little late getting gifts organized this year so today I whipped up a batch of cookies for Jay to take to each of his teachers tomorrow. I found a fabulous recipe in an old issue of Family Circle for white-chocolate-chip spice cookies. They are delicious – I absolutely had to taste test them, it would be wrong not to 🙂
WHITE-CHOCOLATE-CHIP SPICE COOKIES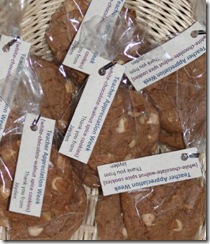 Ingredients:
1 box spice cake mix
2 eggs
1/2 cup (1 stick) unsalted butter, melted
2 tablespoons all-purpose flour
1 cup white chocolate chips
1/2 cup chopped walnuts
melted white chocolate chips to drizzle over cookies
1. Heat oven to 350. Line 2 baking sheets with baking paper.
2. Combine cake mix, eggs, melted butter and flour with a wooden spoon. Once completely mixed add chocolate chips and chopped walnuts, stir.
3. Put small amounts of dough onto the baking sheets (a round tablespoon full), you should be able to get 24 cookies. Bake for 14 minutes and then cool on a baking sheet.
4. Put melted chocolate chips in small plastic bag, snip off the end and drizzle over cookies (I didn't do this)