If you love The Divergent Series and ALLEGIANT, then you will love these themed movie watching party treats that are perfect for a movie marathon with friends.
Disclosure: I've partnered with Lionsgate to bring you this party spread.
The third installment of the blockbuster Divergent series franchise, ALLEGIANT is coming to theaters on March 18th. I've only seen the first installment Divergent so far, so still need to watch The Divergent Series: Insurgent before I can see the new movie. I'm also dying to read the books. I hear they are fantastic.
Before heading out to see the movie opening weekend, invite friends over and host a pre-movie party. This is perfect if you have a book club who has been reading the series, or your teenager is going to see it with friends.
I was inspired by the red color hues of the Fringe, which is the unknown land they explore beyond the wall in the new movie. You will see how I incorporated the colors with the push-up cupcakes and ice cream float.
No movie party is complete without popcorn. So, of course, I pulled out my vintage popcorn maker and made a batch of popcorn.
The Divergent Series: Allegiant Popcorn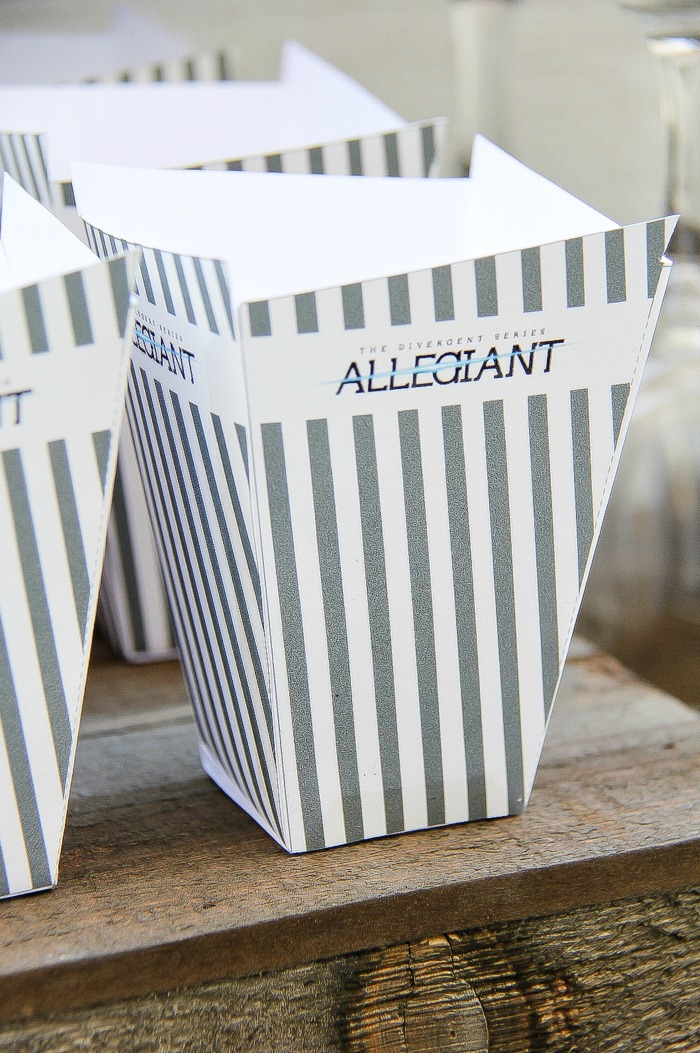 These adorable popcorn tubs are a free printable made by Mom Advice. You can download it here and grab her recipe for red velvet popcorn too.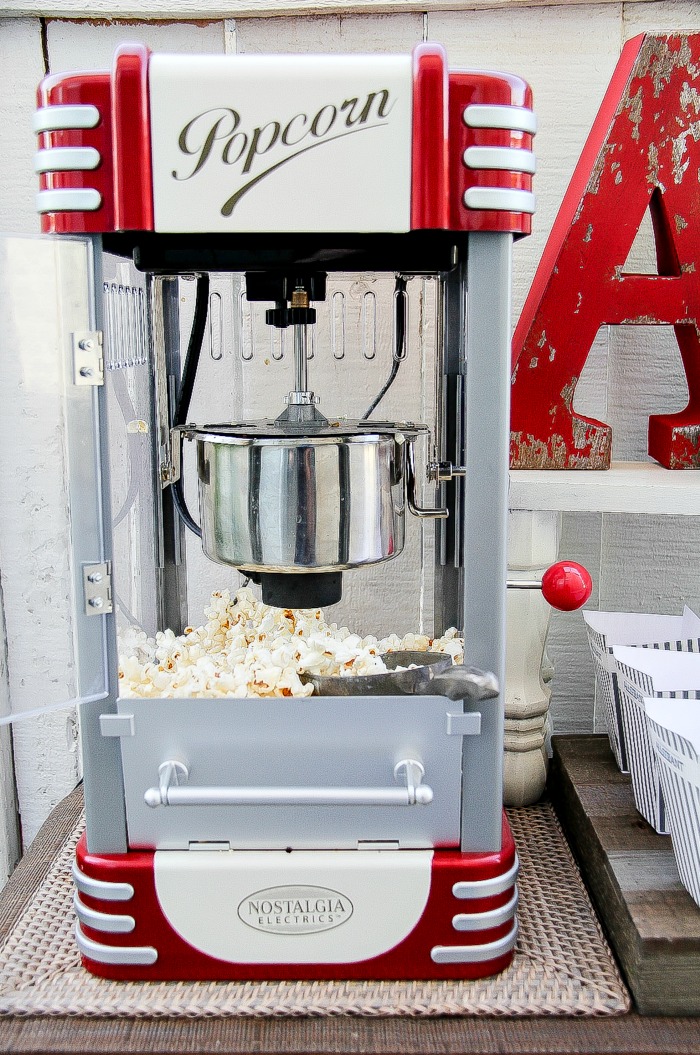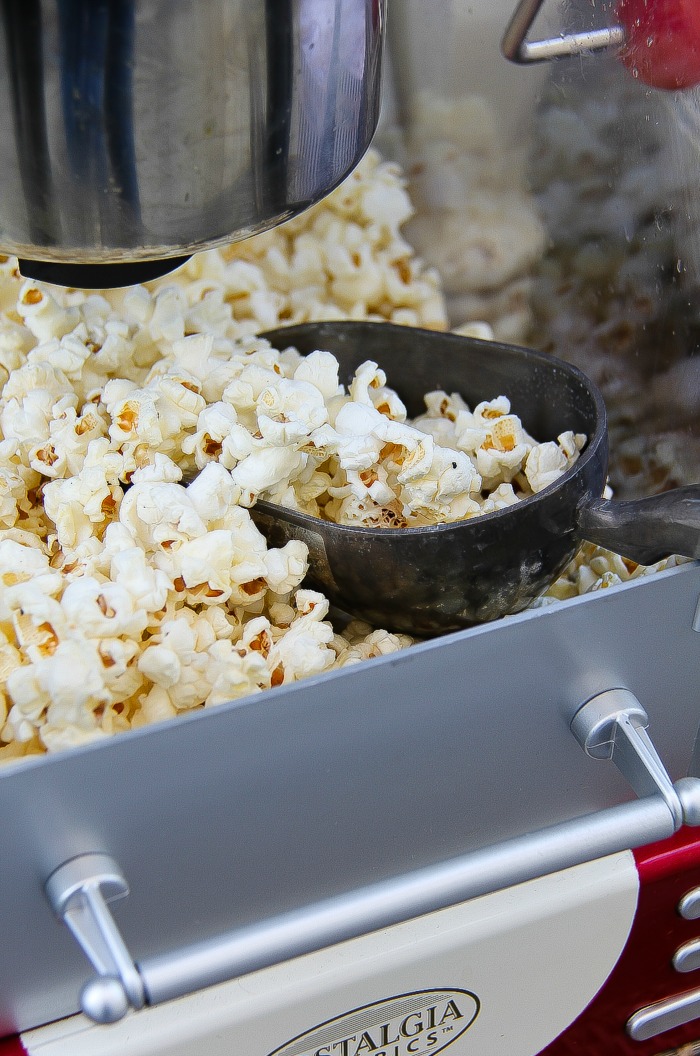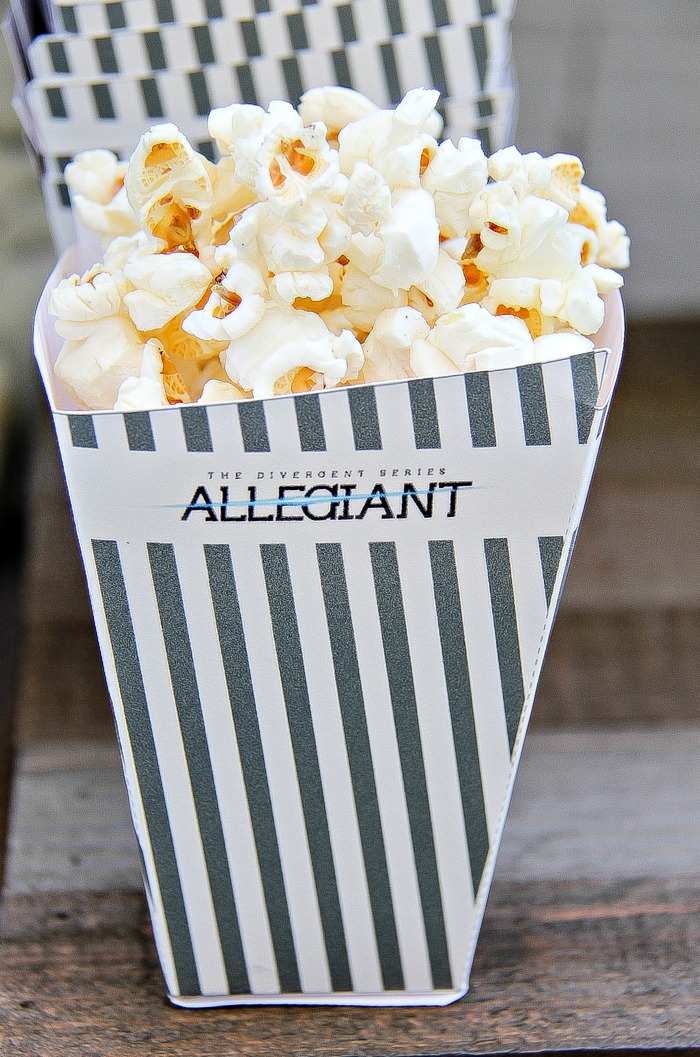 I always like to offer at least two or three treats at parties, that gives guests a little variety to choose from.
The Divergent Series: Allegiant Push Up Mini Cupcakes
The next treat I have for you are these red velvet push up mini cupcakes.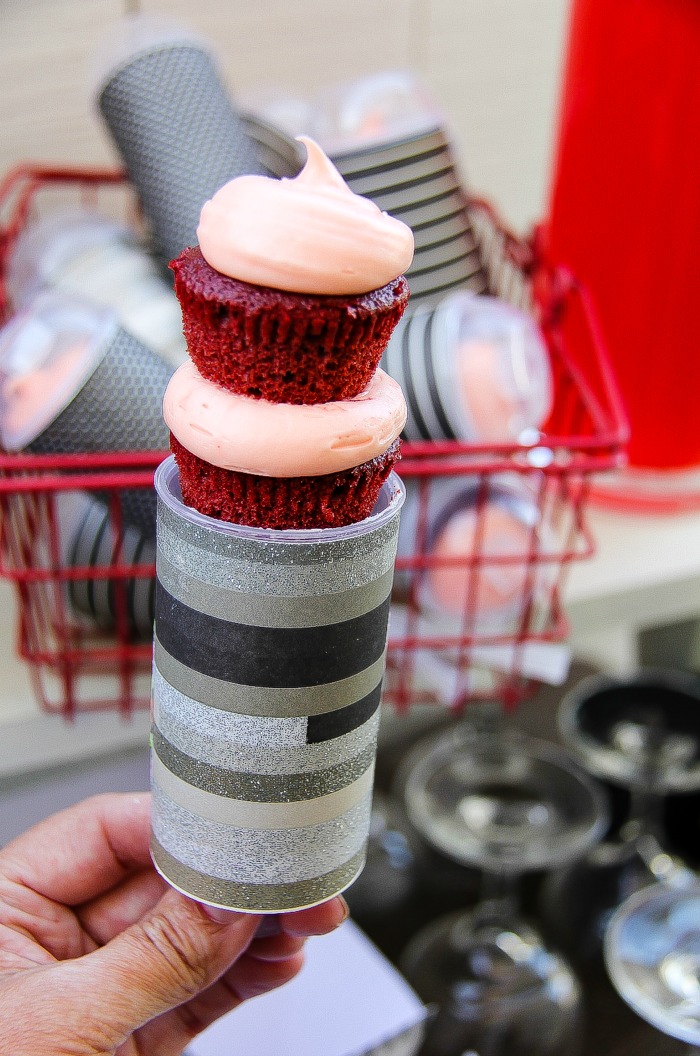 I kept these super easy by using a boxed red velvet cake mix and pre-made cream cheese icing.
But, here are a couple of tips:
When making the cake substitute the oil for applesauce
Add an extra cup of confectioners sugar and a little Wilton 'creamy peach' food color to the frosting to give it that lovely color, and make it thicker for stacking the mini cupcakes on top.
Each push-up pop container can hold two mini red velvet cupcakes and icing. This will help you plan ahead with how many mini cupcakes you need to bake ahead of time.
Frosting tip: I use a large 5PT round tip with a piping bag to create the lovely round icing on top of each cupcake. This makes it easier to pop the next cupcake on top because the icing as a fairly flat surface.
I then measured and cut pieces of scrapbook paper to wrap around each push-up pop container, securing them in place with double-sided tape.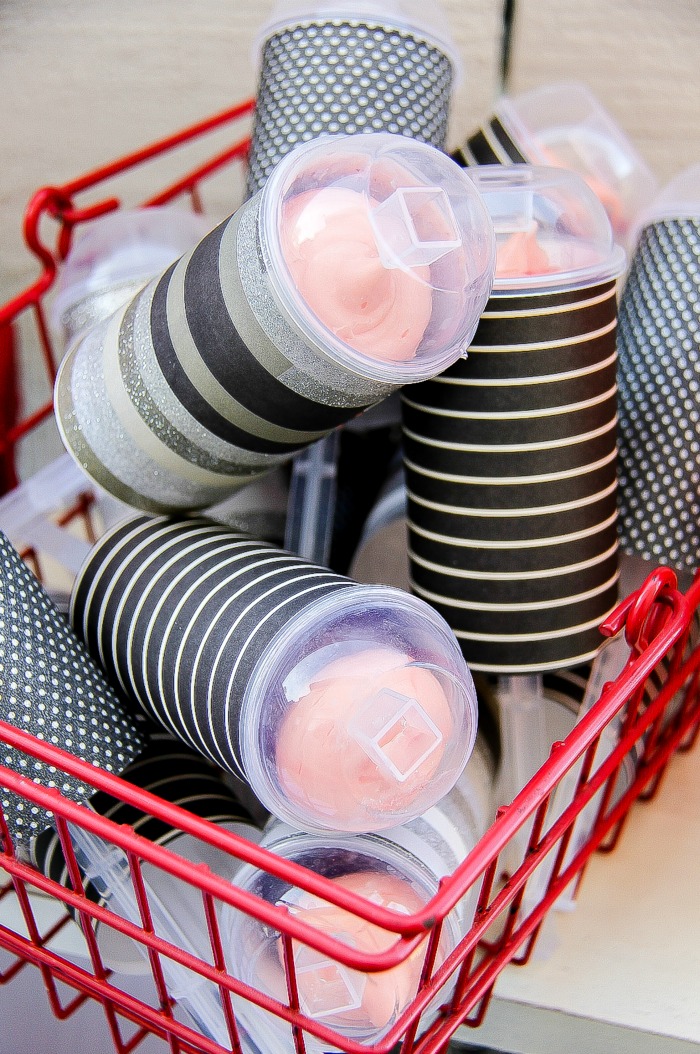 And of course with all of these treats you need something to wash it down.
The Divergent Series: Allegiant Party Punch
When I first saw the scene I posted above from the movie I was immediately reminded of a punch I made one year for Halloween. I thought it would be perfect for this party table.
Unfortunately, I had a little trouble tracking down the Very Berry Rainbow Sherbet, but Orange Sherbet worked out just as well.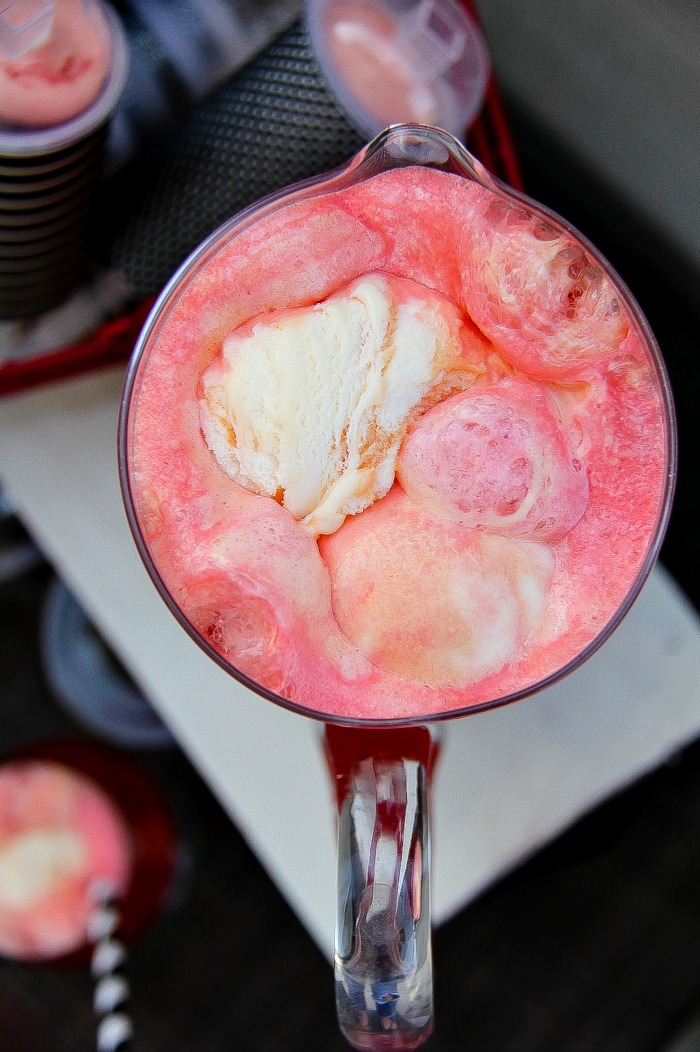 So here's that recipe again:
Hawaiian Punch: Fruit Juicy Red
7Up
Very Berry Rainbow Sherbet, or alternatively, Orange Sherbet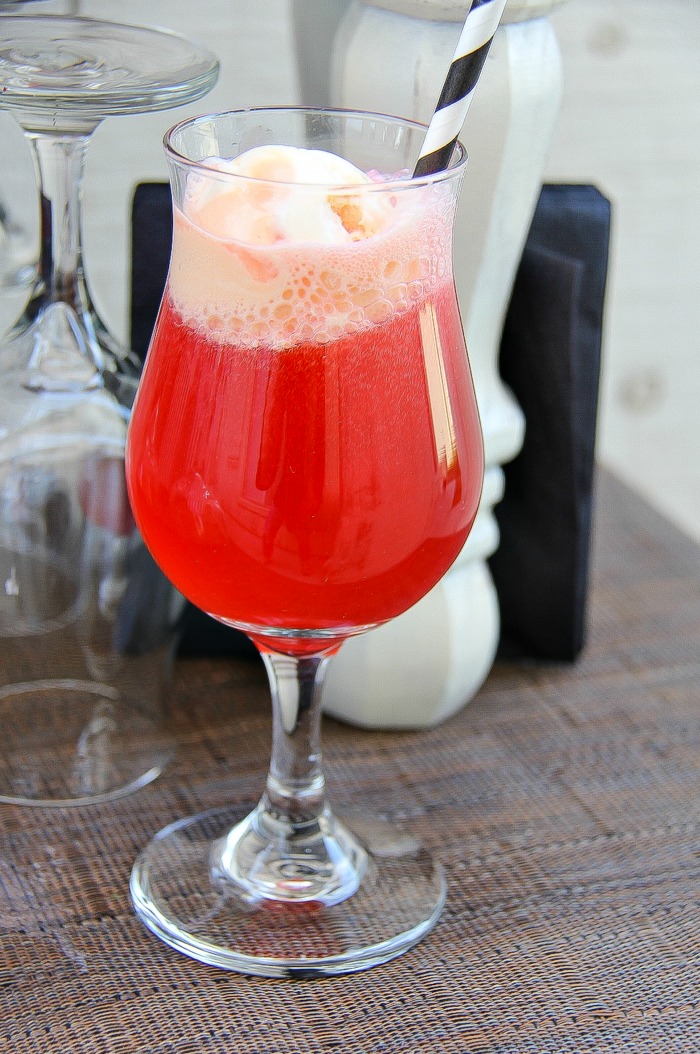 Basically regardless of what size beverage dispenser or glasses you use, you want to follow the twice as much punch to 7Up rule when pouring. Then add a scoop of sherbet on top.
Last, but certainly not least, don't forget about candy. Normally I would head to a gourmet candy store and spend an hour picking out the perfect colors but I happened to come across a bag of mixed berry Twizzlers bites and the colors were perfect for this party table.
About The Divergent Series: Allegiant
The Divergent Series: Allegiant takes Tris [Shailene Woodley] and Four [Theo James] into a new world, far more dangerous than ever before.
After the earth-shattering revelations of INSURGENT, Tris must escape with Four and go beyond the wall enclosing Chicago. For the first time ever, they will leave the only city and family they have ever known. Once outside, old discoveries are quickly rendered meaningless with the revelation of shocking new truths. Tris and Four must quickly decide who they can trust as a ruthless battle ignites beyond the walls of Chicago which threatens all of humanity. In order to survive, Tris will be forced to make impossible choices about courage, allegiance, sacrifice and love.
You can watch the trailer here:
Pin this post for later: