Are you moving cross-country and have a turtle making the road trip with you? We've made this trip, and are sharing what worked for us.
This is a sponsored post written by me on behalf of The Duck Brand. All opinions are 100% mine.
We took four days to move cross country. Mike drove the moving truck (with Flynn as a passenger) which was towing a car. I drove the other car with Marisol, the dog, turtle, suitcases, and pet supplies for hotel stays.
Moving cross-country with a turtle
Going on a four-day road trip with Sabrina the turtle was the most stressful part of the move and took some organizing. Marisol was very worried about how her pet would handle being in the car for so long.
We did trial runs and practiced different methods for weeks leading up to the move until we found a way to move her that was less stressful (for all of us).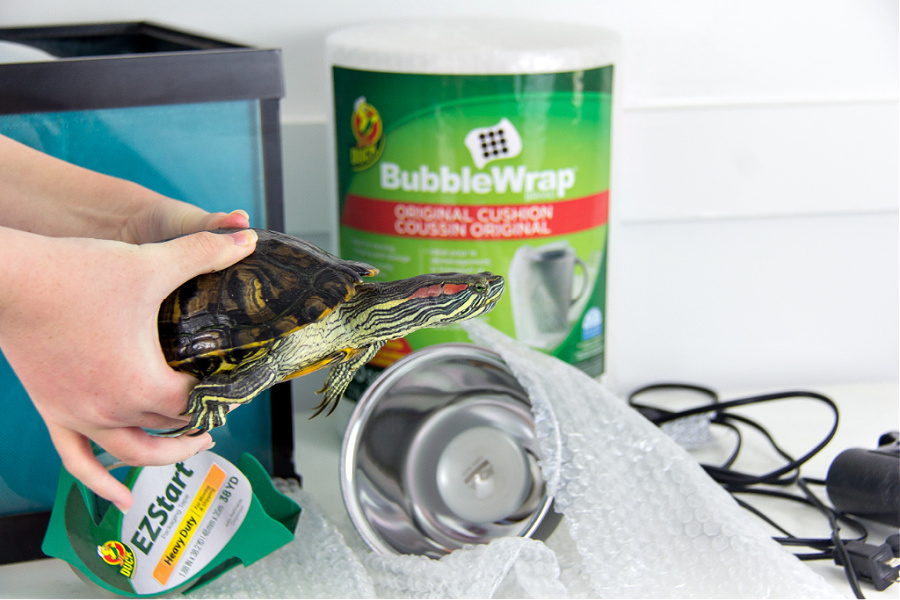 Preparation tips for taking a turtle cross-country in a car
How to pack an aquarium for a cross-country move
Thanks to The Duck Brand we were able to keep all of her belongings, from her hotel aquarium to her lights and heater safe. We used Bubble Wrap and EZ Start Tape to wrap both her heat lamp and her daylight lighting so that they didn't move around in the back of the car.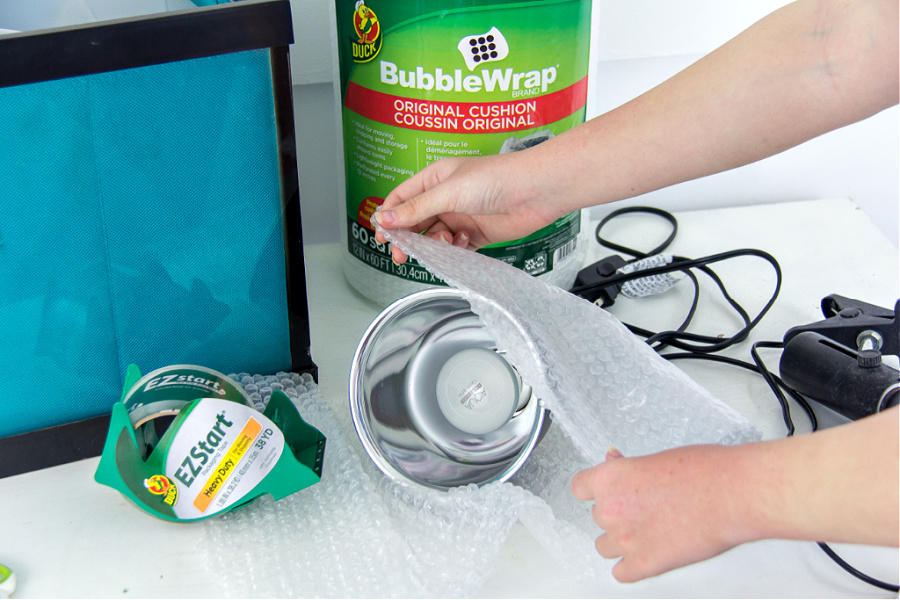 What you need in a car for a turtle
Reptile terrarium carrier
Familiar or favorite items
A spray bottle with water
Thermometer or reptile temperature gauge
Bedding for the reptile carrier that they won't get their claws stuck in (or see below for what worked for us)
Items for staying overnight in hotels (see related section below)
How to get a turtle used to being in a car
Weeks before moving, we purchased a reptile carrier so we could do trial drives in the car and see what worked. The carrier was just a little longer than her. It had plenty of ventilation around the lid, along with a clear door so that Marisol could spray her down every few hours and make sure she didn't flip onto her back.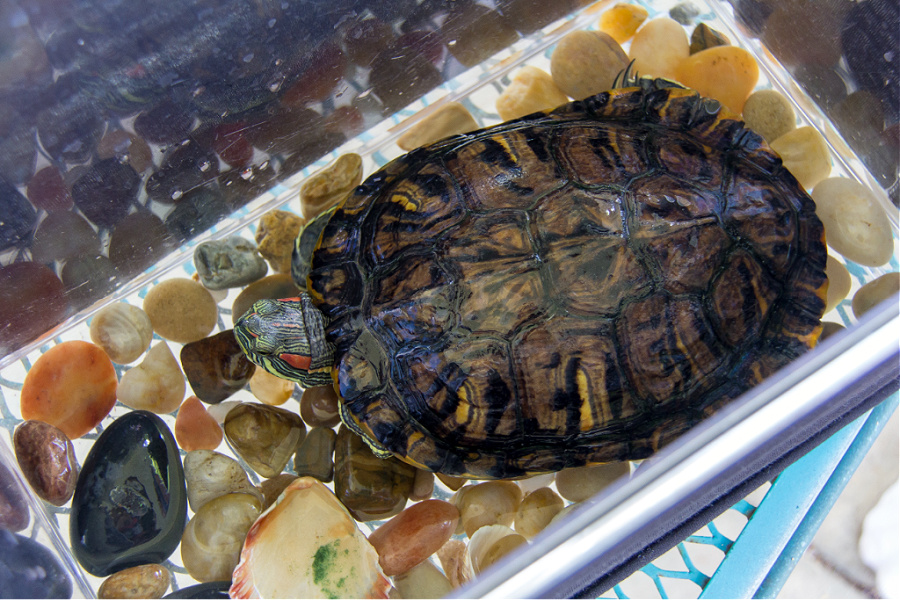 She seemed to do better with items that were familiar, including her favorite shell that she carries around in her mouth often. We put rocks from her aquarium and her favorite shell in the bottom of the terrarium. Water from her aquarium was then poured over the top of the rocks until they were just barely covered. Sloshing water is a no-no (it can cause drowning), but we wanted her to have drinking water over the 10-11 hours of driving each day.
Trial runs started with putting her in the travel terrarium for short periods of time at home. Then we took her on short drives to run errands and eased her into longer drives so she would be less stressed on the long four-day drive.
Being on the floor of the car wasn't quite dark enough to mimic nighttime. I purchased a black t-shirt in an XL child's size. I measured the height of the travel terrarium and cut the bottom of the t-shirt to the same height. The fabric was stretchy so it slid nicely over the top of the plastic.
Road-tripping with a turtle
We decided the best place for her was on the floor. It was darker and out of direct sunlight, and we could cushion other things around the terrarium so it didn't move. Plus, Marisol could keep a close eye on her and spray her down every few hours. The most important thing is to make sure the turtle doesn't get too hot or too cold. This is where a thermometer can help you check the temperature regularly. Driving in the middle of summer we knew it would be hot going through the desert. We did use air-conditioning but turned off the vents that were anywhere near Sabrina.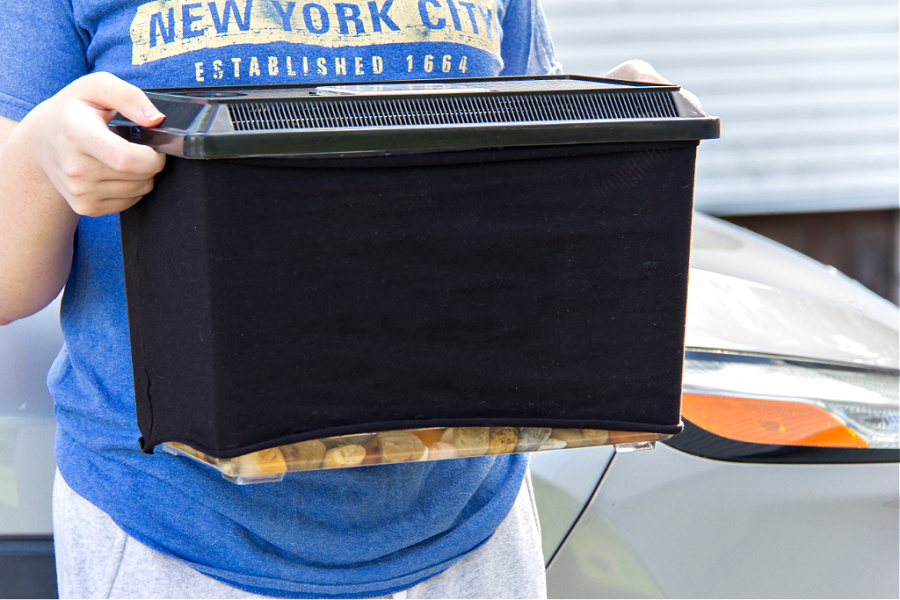 We packed snacks and drinks for us, and went through drive-thrus for more substantial food. At rest stops, we would meet up with the guys and take turns in using restrooms so that someone was always at the car to ensure Sabrina was okay.
She was a little energetic during the first day of the road trip. Marisol had to keep a close eye on her (through the small door on the lid) to make sure she didn't flip over. On day two we noticed she napped more. By day three she pretty much just slept throughout the car ride.
Staying in hotels with a turtle
We only stayed in pet-friendly hotels and paid a pet fee at each. This is what we kept in the trunk of the car for overnight stays.
Small aquarium (large enough for her to swim)
Lights – heat lamp and daylight bulb
Heater
Food
Water conditioner
Empty gallon jug (for mixing tap water with water conditioner)
Disinfecting wipes
Powerboard for the lights.
We switched her daylight and nighttime hours. During the day she was in the dark in her transport terrarium. In the hotel each night we set up her aquarium with lights, water (not full, but enough that she could swim), and a heater. We also used that time to feed her.
Note: Don't put your turtle in the tub, and when disposing of any water please make sure to wipe down all areas with disinfecting wipes.
Preparing for arrival
Everything from the moving truck was going straight into a storage unit once we arrived at our destination. In the back of the car (being towed behind the truck) we put the 50-gallon aquarium she normally has set up at home, along with the filter, basking platform, and other items we use for cleaning her tanks. This gave us quick and easy access to set it up as soon as we arrived.
More moving tips
Use the Duck Brand Moving Calculator to gauge how many supplies you need for your move based on the rooms you need to move and how many items you have.
These are the two products we used to safely transport Sabrina's belongings in the car:
EZ Start Packing Tape is made with Frustration-Free technology so the tape always unrolls smoothly and easily without splitting or tearing, and you never lose the tape end.
Bubble Wrap conforms easily around delicate and valuable items during moving, mailing, and storage. Air Lock Technology nylon barrier seal to hold air longer and protect items better.
Please pin this post for later: