Tire tracks art is a fun way for kids to experiment with tires and cars to make creative gift wrap for friends who love cars and trucks.
The twins' received an invitation to a friend's birthday party recently. Over the weekend, (after finding out that he likes cars and trucks) I had the kids make creative wrapping paper for his gifts.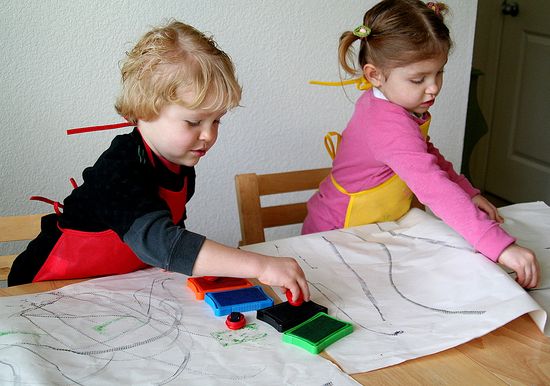 Tire tracks art
Supplies
Large sheets of craft or packing paper
Stamp pads (or paint)
Toy cars, tires, or stamps
Tip: I purchased a pack of Cars movie tire stamps at Target for under $4 (4 per pack – located in the party section). 
Instructions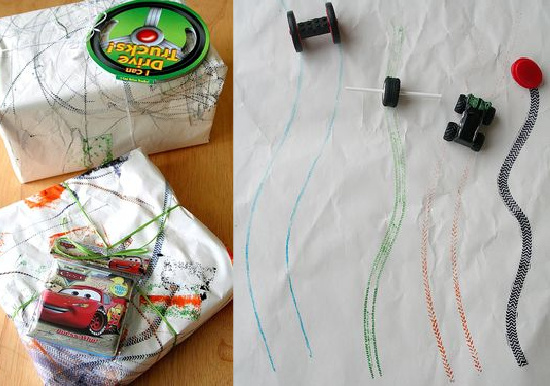 Tire tracks learning activity
So here is a fun activity your kids can do at home. I call this the "Tire Track Experiment".
Take assorted tires and ink pads (or paint) and let your kids explore the different patterns tires can make. The tires we used were from a Lego set, a tire that had fallen off a toy car (I put a lollipop stick through the center), a toy car and the Cars stamp.  I'm sure if you have a toy car lover in the house you have a lot of odd tires amongst the mountains of cars and trucks they have collected.
This would make a great (shhh and educational) party activity for a cars or trucks themed party too. It also makes for a great indoor rainy day activity. Use assorted stamps and print tire tracks on paper. The child who matches them all / the most tire tracks together with the stamps wins and receives a small prize.
More fun car activities for kids
Are you looking for more fun car and 'things that go' activities for the kids to do? Take a look at these:
Please pin this post for later: