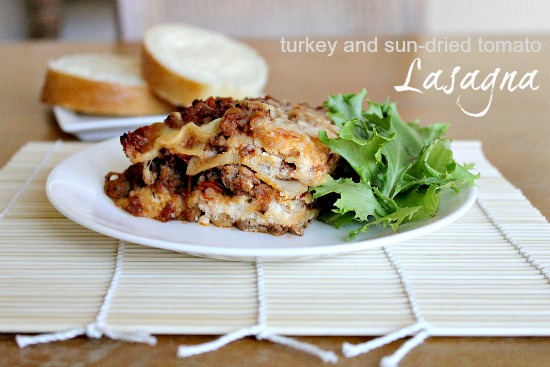 This was delicious.  Really, it was.  I made two large batches, serving one lot for dinner, then slicing the remainder and wrapping each slice individually to freeze for later.  The kids devoured it.
Ingredients:
1 pkg ground turkey
1 yellow onion (diced)
1 punnet grape tomatoes (sliced in half)
1 jar sun-dried tomatoes (roughly chopped)
Whole-wheat lasagna noodles (cooked)
1 tsp minced garlic
1/2 cup red wine
1/2 cup vegetable broth
2 heaped tbs tomato paste
1 tsp dried thyme
1 large tub of ricotta cheese
1 egg (lightly beaten)
1 1/2 cups grated parmesan cheese
3-4 cups grated mozzarella
pinch of salt & pepper
Preheat the oven to 400 degrees F.
Using about 2 tablespoons of the oil from the sun-dried tomato jar cook the onions and garlic until the onions are translucent.   Add in the ground turkey, and cook for about 10 minutes.  Add the tomatoes, and sun-dried tomatoes.  Combine the red wine, tomato paste, and broth in a jug and gradually pour, gently mixing as you go.  Add the dried thyme, salt and pepper, and turn down to simmer for approximately 30 minutes, stirring occasionally.
In a bowl combine the ricotta, egg, and one cup of parmesan cheese.
Spoon enough of the turkey mixture into a baking dish so that it covers the bottom.  Lay pre-cooked lasagna noodles over the top.  Add the ricotta mixture, then sprinkle mozzarella over that.  Repeat  (turkey mixture, lasagna noodles, ricotta mixture, mozzarella) one to two times depending on how deep your baking dish is.  I like to finish with a little of the turkey mixture.  Top with the last 1/2 cup of parmesan cheese.
Bake for approximately 25 minutes.