I am a member of the Marine Officers' Spouses' Club for the area where I live.  We regularly host events for the wives.  Yesterday we hosted a picnic for the Marine Corps families.  We had such a fantastic turn-out.  We held it in a great space that has a large lawn area, a sand volleyball court and a large shaded area with Roman style columns.
We planned a lot of activities for the kids: 2 bounce houses, a ping pong table, arts & crafts station, sidewalk chalk, bubbles, balls, and we turned the sand volleyball court into a giant sandpit. 
It was a potluck lunch, however we provided the sandwiches (giant subs) and beverages.
Here are a few photographs from the event: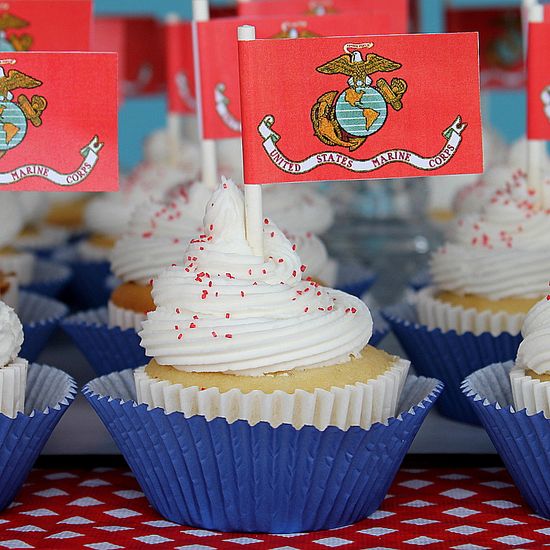 The cupcakes I made. 
The flags were made by printing sheets of mini flags with a 5mm gap between two flags and using an Elmer's glue stick to attach them around a lollipop stick.
I put together an arts and crafts area for the kids.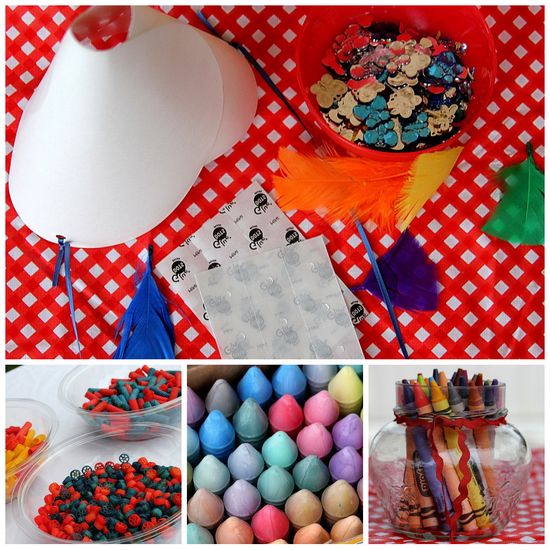 The activities they could do were:
Necklaces:
I dyed pasta in blue and red (the theme of the day) and yellow and red (the colors of the USMC flag).   White rexlace was pre-cut and knotted at one end prior to the event to make it easier for little ones to start threading pasta immediately. For instructions on how to dye pasta see here.  
Coloring pages:
I found various free coloring pages on the internet that were California, military and USMC themed.  Crayons were put on the work table for the kids to use which were placed into jam jars and tied with red ric rac.
Party Hats:
I used this tutorial from Martha Stewart to make the paper hats from regular poster board.  I attached blue and red ribbons to the sides of each hat and put out various items for the kids to decorate them: feathers, pom poms, felt stickers, butterfly and heart gems, foam letters, streamers, markers, crayons and rub-ons.  To stick the feathers, pom poms, streamers, and gems onto the hats I put out sheets of Glue Dots, which meant a lot less mess on the activity table – the Glue Dots were provided as part of Twittermoms Summer Bonding Campaign . 
Tip:  After searching at various locations for poster board Target came up the cheapest at only 39 cents a sheet as opposed to 89 cents or 99 cents, or even higher at other places.
Greeting cards:
Blank cards and matching envelopes were put on the table for the kids to decorate using any of the items provided (listed above for the hats).
Face plates:
Paper plates were turned upside down and the kids got creative and made faces on them either by attaching the dyed pasta or hand-drawing and then attaching streamers around the rim.
Support ribbons:
Yellow foam support ribbons were decorated with the various foam letters and pictures that were provided.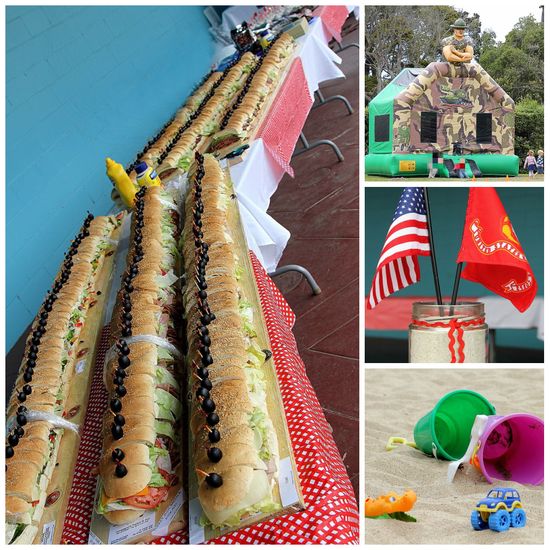 Don't the subs in the photograph above look amazing.  They tasted even better. We purchased them from Campagno's Maket & Deli.  And this was only half of them. 
For our 'information and name tag table's I used salsa jars, filled them with sand and placed American and USMC flags in them and tied them with the same red ric rac as the crayon jars.
I loved these red and white checked table cloths too.  I picked up bags and bags of them in the $1 section at Target ages ago to put in storage for an upcoming party I'm planning, but thought they would be perfect to give our tables a 'picnic' feel.  They are wipe-clean, so perfect for me to re-use.
Here are a few photos of my little ones enjoying the event: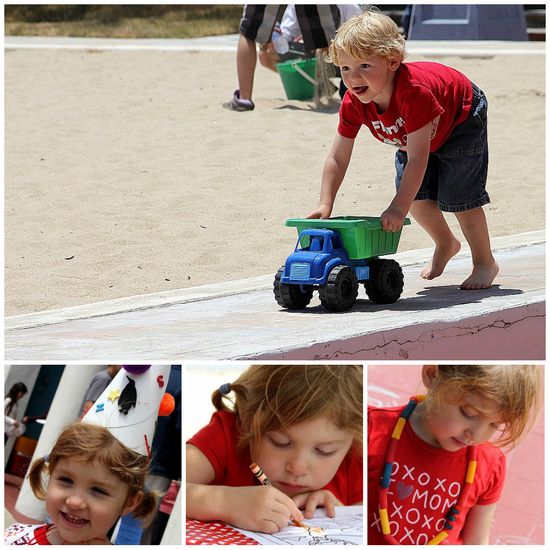 * Disclosure:  "I wrote this blog post while participating in the TwitterMoms and Glue Dots blogging contest to be eligible to receive a $30 gift card. For more information on how you can participate, click here."

Please join the Glue Dots Facebook fan page
This post linked to: