Monday mornings are beginning to feel like the day I have to confess, wipe the slate clean and promise to do better.  I exercised ONCE last week.  I feel guilty.  I was busy.  I have every excuse under the sun and still I can see @bookieboo and @fitmomtraining shaking their heads and wagging their fingers at me. 
You see, my kids left on vacation last week with my husband, which meant getting them packed, cleaning the house and getting a dog sitter organized, and then I headed out to Utah for the EVO Conference (which was fabulous and I have some amazing photos and stories to share).
Look though, I really did work out, that's me in the background at an early morning yoga class … which I ended up feeling nauseas and dizzy in, I think it was the combination of the early morning, the altitude, and that I had nothing in my stomach.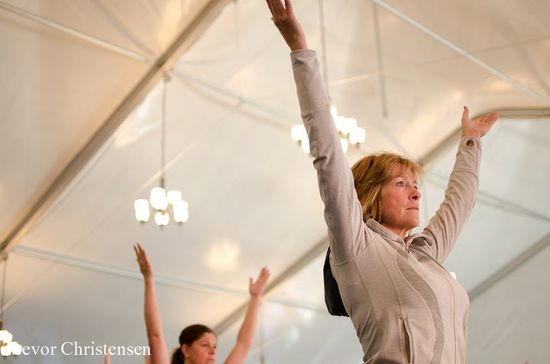 photograph by: www.trevorchristensen.com
And here's a sneak peek at a few other photos from the conference.

On Thursday a few of us gals went into town for lunch and enjoyed a delicious and healthy meal at Good Karma, it was just what we needed.  And there is me with our one and only Leah Segedie.  Of course, there is that dreaded caramel sundae I had for dessert one evening, but it sure was delicious.
I did try to watch what I ate though, I think I did a pretty great job too, well, if you don't count that McDonalds caramel sundae, or the obscenely fattening coffee scroll I enjoyed for breakfast one morning when I was feeling particularly queezy after that yoga session and was craving something delicious and sweet.  Isn't this what it's all about though, not missing out on the yummy things that you love, but instead enjoying them as an occasional treat and not an everyday staple in your diet.
Here are this weeks weigh-in and measurement results:
Weight: 158.8 lbs 170.6 lbs
Overall:  Down 11.8 lbs and 5.75"
(red denotes initial measurements and weight)
I am beyond surprised that I lost weight this week, but so thankful that I did.
This weeks recipe: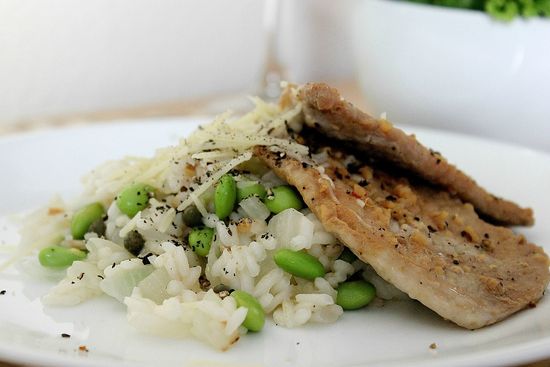 Grilled Honey Pork with Risotto
Ingredients:
Grilled Pork
Pork tenderloins
2 tbs honey
1 tbs soy sauce
1 tsp crushed garlic
1/2 tsp cracked pepper
1 tsp Everyday Seasoning
Risotto
1 cup risotto
3 cups water
1/2 onion (diced)
2 tbs butter
1 cup edamame (boiled and shelled)
1/4 cup capers
Freshley cracked black pepper
Grated parmesan cheese
We begin this recipe by making quick marinade for the pork.  Combine the honey, soy sauce, crushed garlic, pepper and Everyday Seasoning in a bowl.  Brush both sides of the pork with the marinade and lay in a shallow dish.  Pour remainder of the marinade over the top, cover and refrigerate for about 30 minutes. 
Moving on to the risotto.  Gently fry the onions in the butter for about 3 minutes.  Add the risotto and mix thoroughly for a couple of minutes.  [ see note 1 below ] Add one cup of water and continue stirring until the water has been absorbed.  [ see note 2 below ] Repeat this step for the next two cups of water.  Once all of the liquid has been absorbed add in the edamame and capers and gently combine.
Note 1.  This is the point you need to turn on your George Foreman grill so it can pre-heat ready to add your pork.
Note 2.  As soon as the light has come on the grill, beginning grilling the pork – this should occur sometime between the 2nd and 3rd cups of water being added to the risotto.  The pork will take 6-8 minutes to cook, you will see brown marks appearing on the pork.
Dish up your risotto and honey pork and top with grated parmesan cheese and freshly cracked pepper.
Disclosure: I am one of 10 Brand Ambassadors in the George Foreman Knock out the Fat Weight Loss Challenge. I was sent a George Foreman Grill for my participation in this challenge and will be compensated for my time at the end of the 90 days.