When I weighed in this morning I had lost very little.  To the point that normally this would disappoint me, and have me questionning myself and feeling a little defeated.  But instead I looked at the positive.  I reached a milestone.  For the first time in 5 years I was under 160lbs.   For me that is a far greater accomplishment than I could have even imagined was possible just months ago.  And another thing I realized, is that this time next week, my BMI will no longer be in the 'overweight' range.
Here are this weeks weigh-in and measurement results:
Weight: 159.6 lbs 170.6 lbs
Overall:  Down 11 lbs and 5"
(red denotes initial measurements and weight)
Normally I would give you a recipe of the week that I tried and loved, but seeing as it's the 4th of July today and there will be grilling and parties and celebrations going on, I wanted to give you a tip instead.
Don't feel like you need to miss out.  Just make some adjustments to what everyone else is eating to enjoy a healthier version.  But please, don't sit at a celebration and look at the food and think that you really shouldn't eat anything because you are 'dieting'.  This is about being healthier and making long term choices with what you eat.
Yesterday we celebrated an early 4th of July with friends.  We did hamburgers and sausages on the grill and I whipped up a few salads.  While my husband was outside grilling the burgers and sausages for the others, I popped a veggie burger on my George Foreman and instead of offering just one choice in hamburger buns, I offered two – regular whole wheat buns and whole wheat sandwich thins too.  We also love bacon on our burgers, and I wasn't about to miss out on that, so instead of frying them, I popped them on the George Foreman and they came out perfectly.  I will never fry bacon again.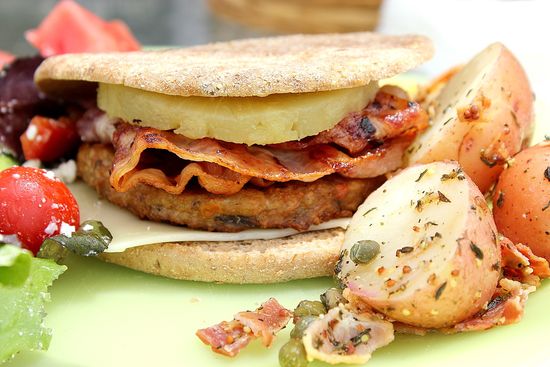 Another tip.  If you are the one entertaining visitors, leave condiments out on the table for those who want them to add them into their own salad.  I also made a leaner potato salad, by not adding items such as mayonnaise or sour cream.  You can view the salad recipes I made on my 4th of July Salads post.
Disclosure: I am one of 10 Brand Ambassadors in the George Foreman Knock out the Fat Weight Loss Challenge. I was sent a George Foreman Grill for my participation in this challenge and will be compensated for my time at the end of the 90 days.