I have nothing really to report this week.  I exercised around the same as normal, but have to admit to attending two birthday parties (aka yummy food) and a couple of nights of picking up take-out due to extremely busy summer days with the kids.  I guess that explains the .4 loss this week.
Here are this weeks weigh-in and measurement results:
Weight: 158.4 lbs 170.6 lbs
Overall:  Down 12.2 lbs and 5.75"
(red denotes initial measurements and weight)
This weeks delicious breakfast recipe:
Grilled Banana and Nutella Sandwich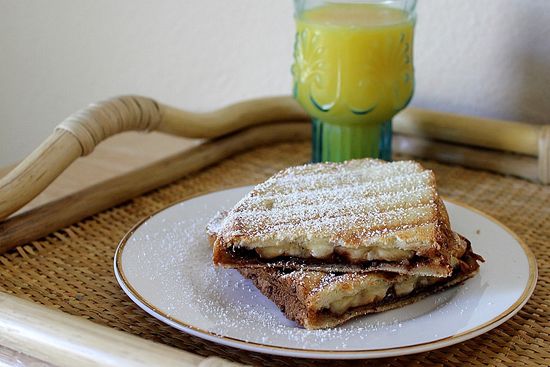 Ingredients:
Your favorite bread
1 Banana
Nutella
Butter
Confectioners Sugar
Slice the banana into long strips.  Layer on top of nutella between two slices of buttered bread.  Grill on medium high for about 4 minutes.  Dust a little confectioners sugar over the top.
Enjoy!
Disclosure: I am one of 10 Brand Ambassadors in the George Foreman Knock out the Fat Weight Loss Challenge. I was sent a George Foreman Grill for my participation in this challenge and will be compensated for my time at the end of the 90 days.