One of the highlights of the EVO Conference was the fantastic 4 hour food workshop held on the Friday over lunch at Lookout Cabin.
During this workshop, we enjoyed a fabulous lunch outdoors with the most spectacular view, we then participated in a hands-on cooking class with award-winning Executive Chef John Murcko and a food photography class with amazing food photographer Helene Dujardin of Tartelette.
To get to Lookout Cabin, you need to take the orange bubble express.  It's about a 20 minute ride to the top of the mountain, but on the way back down, the view is breathtaking.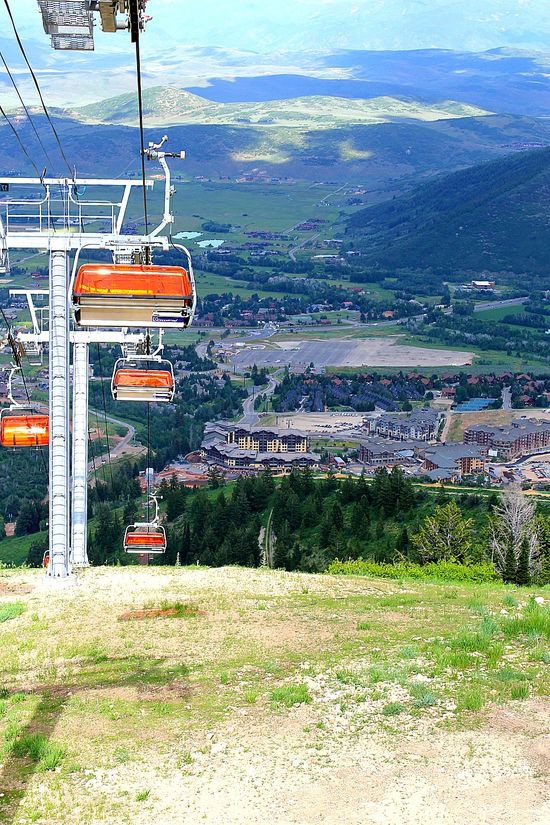 Can you see the large building in the center of the shot?  That is The Canyons resort where the conference was being held.
Once you arrived at Lookout Cabin, this is what you saw.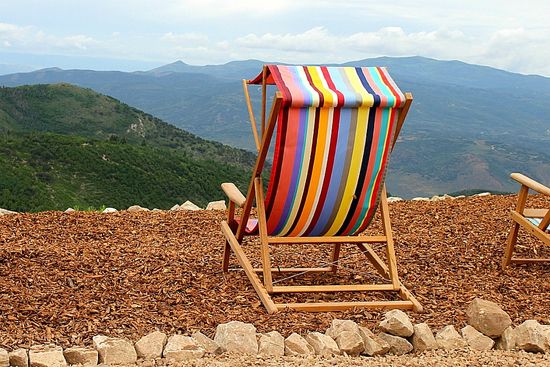 Why yes, I did want to sit in one of those chairs with a good book and a cocktail for the remainder of my trip.
And look at this spectacular view we enjoyed while eating lunch.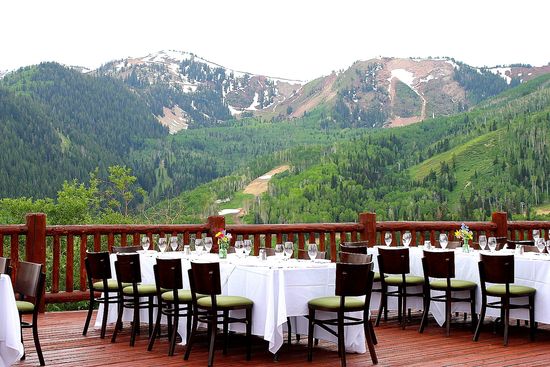 And our lunch.  It was amazing.  I even have a few recipes to share.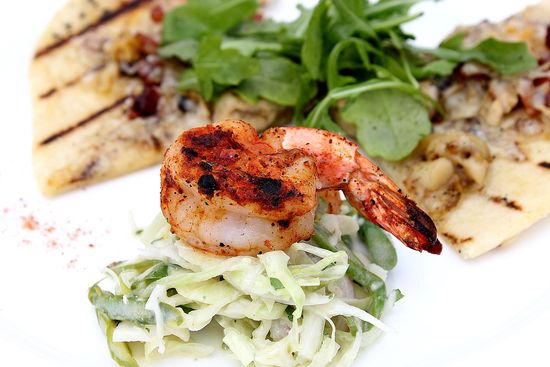 Shrimp on Blue Cheese & Asparagus Slaw, and Flatbread topped with baby clams and bacon.
Blue Cheese & Asparagus Slaw
Ingredients:
1/2 cup of olive oil
1/4 cup of lemon juice
2 tbs sugar
6 celery stalks (cut into thin long strips)
1 red onion (sliced thinly)
2 bunches asparagus (blanched, sliced thinly)
1 head white cabbage (sliced thinly)
1 bunch flat leaf parsley (chopped)
2 cups blue cheese dressing (see ingredients below)
Blue Cheese dressing
1 cup Rogue blue cheese
1/2 cup buttermilk
1 cup mayonnaise
1/4 cup rice wine vinegar
Mix all ingredients together.  Place in the refrigerator for 2 hours to cool, then serve.
Serves 4 to 6.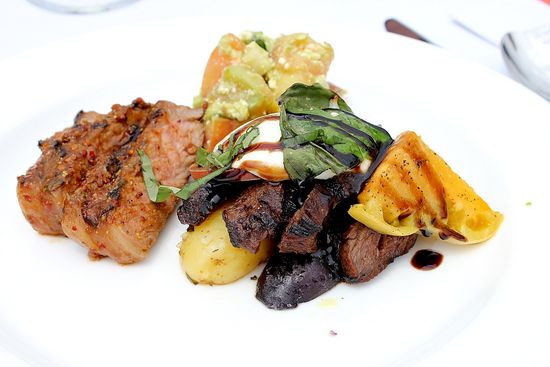 As part of the cooking class I had a chance to make the BBQ Dry Rub and the Honey & Chipotle Lime Marinade.  Here are the recipes for both which were used in the delicious meal (pictured above) that we enjoyed over lunch.  
BBQ Dry Rub
Ingredients:
1 tbs mustard powder
2 tbs cumin
2 tbs smoked paprika
2 tbsp dry garlic (ground)
1 tbs ancho chili
2 tbs New Mexico chili powder
2 tbs dry onion (chopped)
2 tbsp brown sugar
4 tbs sea salt
1 tsp red pepper flakes
2 tsp black pepper
1 tbsp celery seed
Mix all ingredients, and rub on selected meat.  Can be used on beef, poultry, pork or fish.
Serves 4 to 6
Honey & Chipotle Lime Marinade
Ingredients:
1 1/2 cup fresh squeezed lime juice
9 chipotle peppers (chopped)
1/3 cup honey
1/3 cup balsamic
1/3 cup oil (80/20 blend of canola and olive oil)
6 tbs whole grain mustard
6 large cloves of garlic (chopped)
1 tbsp cumin
salt & pepper to taste
1/2 cup roughly chopped cilantro
Blend/Mix all the ingredients well, and add the cilantro last.  Pour over your selected meat and let marinate in the refrigerator for 1 hour.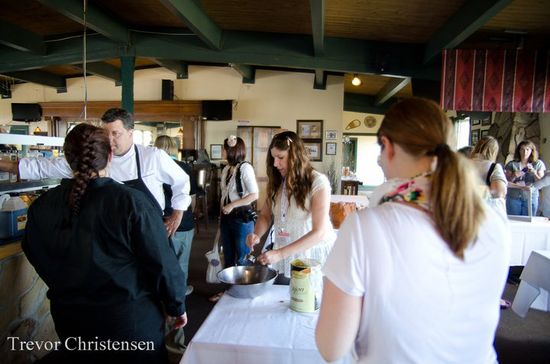 Photograph by: Trevor Christensen
Above is a photograph taken by Trevor Christensen, with me in the center making the Dry Rub.   While I was making the Dry Rub and Marinade, the chef had others chopping vegetables, peeling shrimp and cooking the meat.
Here are a couple of Chef Murcko's tips:
When sharpening your knife, don't move your wrist.
Soak skewers in water to prevent burning
When squeezing limes and lemons cut the cheeks (like a mango) instead of slicing through the center.
To see if a lime or lemon is fresh scratch the surface with your nail, there should be a strong scent.
Moving onto the photography class.  Helene is amazing.  Just look at her blog Tartelette and you will see exactly what I mean.  She also has a new book out called Plate to Pixel.  It teaches you all about photographing food.  I will absolutely be purchasing it.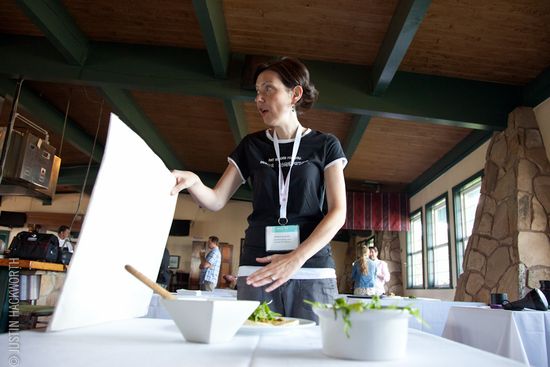 Photograph by: Justin Hackworth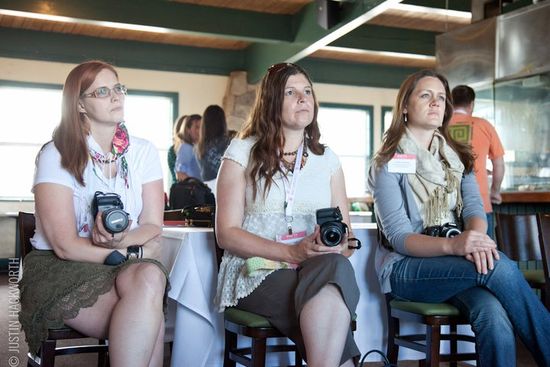 Photograph by: Justin Hackworth
Here are a few of Helene's tips:
Blow on ice cream with a straw to create ripples
Keep a bottle of oil and a brush handy for dabbing on salads if they look a little dry
Use tweezers to move items such as lettuce to fill in holes
Stuff ice cream cones with paper so a scoop sits nicely on top.
A 99c piece of white card works great to reflect the light and prevent shadows
Take photographs of your food at 3 angles: directly in front, on an angle, and overhead
Here are a couple of photographs I took during the class.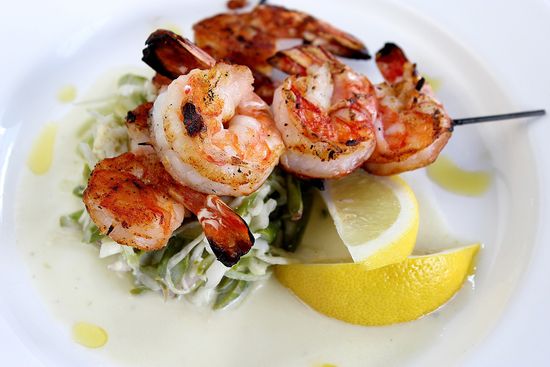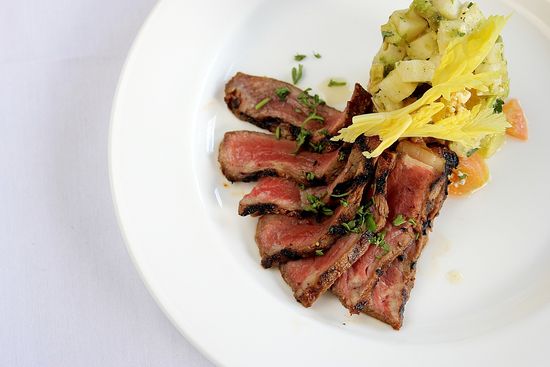 And last but not least a photograph with one of my beautiful friends Katja Presnal.