I'm finding it easier and easier as this challenge progresses.  For me it has been more about portion control and fitting exercise into my everyday routine.  And it's obviously working. 
I'm not one to just sit around watching television.  Normally when I am watching one of my many DVR'd programs I'm on my laptop, folding laundry, or working on my next craft project.  During the ads I get up and clean, put clothes away or take the trash out.  However now I've also incorporated doing @FitMomTraining circuits while watching my shows.  Even the twins have been getting involved and keeping me motivated.   I'm such a party animal that Saturday night was spent doing a workout with my new little trainers, you can read my update on how that went here.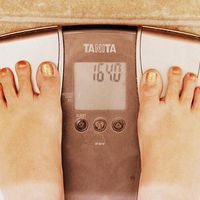 BMI: 25.7 (overweight) 26.62
Weight: 164 lbs

170.6 lbs
Overall:  Down 6.6 lbs and 2.5"
(red denotes initial measurements and weight)
Recipe of the week:
Petite Salmon Burgers

Ingredients:
2 pouches pink salmon
1/2 cup corn kernels
1/2 tsp dill
1/2 tsp lemon pepper
1 tbs seeded mustard
1 tbs plain Greek yogurt
1 egg
1/2 cup Italian style bread crumbs
Whole Wheat sandwich thins
Burger toppings:  I used pickles (round), Swiss cheese and spinach
Place the salmon into a bowl and break up any large pieces with a fork.  Add in the bread crumbs and combine.  Lightly whisk the egg and add that to the salmon mixture too. Combine the mustard, yogurt, lemon pepper, and dill in a bowl then add to the salmon mixture along with the corn kernels. Refrigerate for about 15 minutes.
Roll the mixture into small balls, a little larger than a quarter.  Place directly into the George Foreman and close the lid (this will flatten out the balls into a burger patty shape.  They take approximately 4-5 minutes to cook.
Using a small round cookie cutter (or shot glass) cut the cheese and sandwich thins.   Very gently thread your buns, burgers and toppings onto skewers.  Serve with salad.
I had these for lunch one day, but they would make a perfect party appetizer too.
Note:  This recipe makes approximately 20 petite salmon burgers.
Note to self:  Please give yourself a pedicure before next weeks weigh-in.  The orange toenails were so 3 weeks ago.  Also let's try wearing something other than flip flops, cause you know, you are sporting the tell-tale marks on your feet.
Disclosure: I am one of 10 Brand Ambassadors in the George Foreman Knock out the Fat Weight Loss Challenge. I was sent a George Foreman Grill for my participation in this challenge and will be compensated for my time at the end of the 90 days.