This past week has been particularly hard.  We are moving house. TODAY.  In fact as you are reading this the kids and I are in the car and headed south on Hwy 1 toward San Diego.
So to say that fitting in exercise in between packing boxes, loading the truck, washing walls and windows and farewell dinners has been extremely difficult. 
Thank goodness I at least had a meal plan in place that definitely helped to keep me on track just a little.
And so begins week 4.  Hopefully this week I will find lots of time to exercise in-between un-packing boxes.
Weight: 163.8 lbs 170.6 lbs
Overall:  Down 6.8 lbs and 2.75"
(red denotes initial measurements and weight)
Recipe of the week:
Antipasto Platter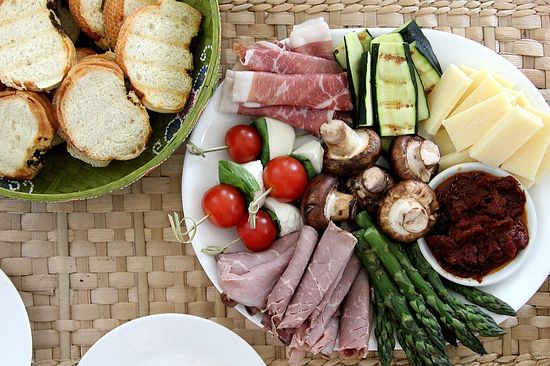 Ingredients:
Zucchini
Asparagus
Mushrooms
Olive oil
Cherry tomatoes
Mozzarella
Basil leaves
Roast beef
Prosciutto
Sun Dried Tomato Bruschetta
75% reduced fat Cabot cheese
Artisan Split Crust Pesto Bread
Cut the zucchini in half and then into 5mm thick strips.  Cut the asparagus stalks a little shorter to make them more manageable as finger food.  You are going to grill the asparagus, zucchini and slices of pesto bread on the George Foreman for approximately 5 minutes each on medium-high.  While each of these is rotating, gently toss the mushrooms in a little olive oil in a pan on the stove.
Cut the mozzarella balls into quarters.  Carefully thread the cherry tomato, basil and mozzarella onto a small skewer.
Arrange each of your ingredients onto a plate, rolling the meats, slicing the cheese and placing the bruschetta in a small bowl with a knife for spreading.
Note:  You know I'm a big fan of our weekly 'do it yourself' night.  This is such a quick and easy dinner and you can add a variety of foods to your platter depending on the likes and dislikes of your family.  
Also, a big thank you to Katherine Marie (and the people from Cabot) who let me know that there was a 75% reduced fat cheese on my tuna melt post.  They actually had it in stock at my local Safeway store this week. 
Enjoy.
 Disclosure: I am one of 10 Brand Ambassadors in the George Foreman Knock out the Fat Weight Loss Challenge. I was sent a George Foreman Grill for my participation in this challenge and will be compensated for my time at the end of the 90 days.