WOW!  I can't believe we are already kicking off week 5 of the challenge.  The time is flying by.  
This week has been filled with unpacking boxes and settling into our new house and neighborhood.  All of the unpacking has definitely been keeping me on my feet and moving a lot more than normal.  There's been little time to sit idly at the computer, to watch television, or even to craft.  Plus with our house having a pool, it also means spending a lot of time outdoors supervising the twins, who are loving being back in sunny San Diego and want to spend as much time playing outside as possible.
I find that my eating habits are definitely changing.  Although I'm still allowing myself treats such as a scoop of delicious pineapple and coconut ice-cream for dessert, or a little piece of cake, I've found myself thinking more about including salad and vegetables with each meal.  I'll explain a little more about this down below when you read about this weeks recipe.
But first, let's weigh-in and check my measurements.  I've lost one more pound and a quarter of an inch.  Slowly but surely it's coming off.
Weight: 162.8 lbs 170.6 lbs
Overall:  Down 7.8 lbs and 3"
(red denotes initial measurements and weight)
Recipe of the week:
Meatball Lettuce Wraps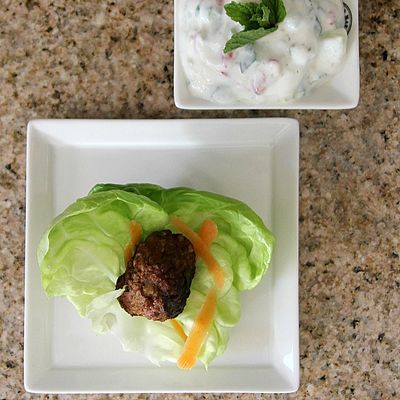 As I mentioned, we moved into a new house this week.  On day 3 our stove (cook-top) decided to stop working, and despite having a repairman out, I was advised to replace it.  After venting a little frustration via social media, a friend turned up on our doorstep with a couple of meals for us.  Don't you just love friends like that.   Anyway, one of the dishes she brought over was pre-cooked meatballs from Fresh & Easy … have I mentioned how happy I am to be living so close to this fabulous store again.
Normally, when I purchase or make meatballs, I automatically add them to pasta and sauce, but knowing that I couldn't boil pasta on the stove, I had to come up with an alternative.  I thought about making a dipping sauce for them, but wanted to add more salad so that it would be more of a meal.  So began the creation of my Meatball Lettuce Wrap.
Ingredients:
Meatballs
Butter lettuce
1/4 cup carrot (shredded)
6oz Greek non-fat plain yogurt
1/2 cup English cucumber (diced)
1 tbs red chili pepper (finely chopped)
1 green onion (finely sliced)
1 stalk of mint leaves (leaves roughly chopped)
1 tbs freshly squeeze lemon
1 tsp crushed garlic
1/2 tsp Cumin
Pinch Salt & Pepper
Gently combine the yogurt with all of the ingredients following it in a bowl.  Pour into a small bowl and top with a fresh sprig of mint.
Grill the pre-cooked meatballs on the George Foreman grill on medium heat for about 2 minutes (maybe less – keep checking them).  Place a meatball and shredded carrot into the butter lettuce leaf and then top with a spoonful of the yogurt dressing.
Note:  These would make a great party or dinner appetizer too.
Disclosure: I am one of 10 Brand Ambassadors in the George Foreman Knock out the Fat Weight Loss Challenge. I was sent a George Foreman Grill for my participation in this challenge and will be compensated for my time at the end of the 90 days.