10 outdoor activities that the whole family will love, but will get kids outdoors and unplugged in Kentucky.
I know, there are many, many more things than just ten to do in Kentucky with kids, but I'm going to be breaking my lists up into a few different posts, including one for the winter months as well as parks to visit.
As you probably know, (if you spend time on my social media accounts, particularly Instagram), we spend quite a bit of time in Kentucky, despite living in California. It's where Mike lives, so we spend as much time there as we can. I'm pretty sure it's the little man's favorite place to be, he always gets so excited when we go and a little sad when it's time to return home. It's where he gets to enjoy a lot of the outdoor activities that he absolutely loves. Plus, he spends most of our visits unplugged because he's outdoors so much, so that thrills me to no end.
So, here are 10 of the things he loves to do while we are there.
FISHING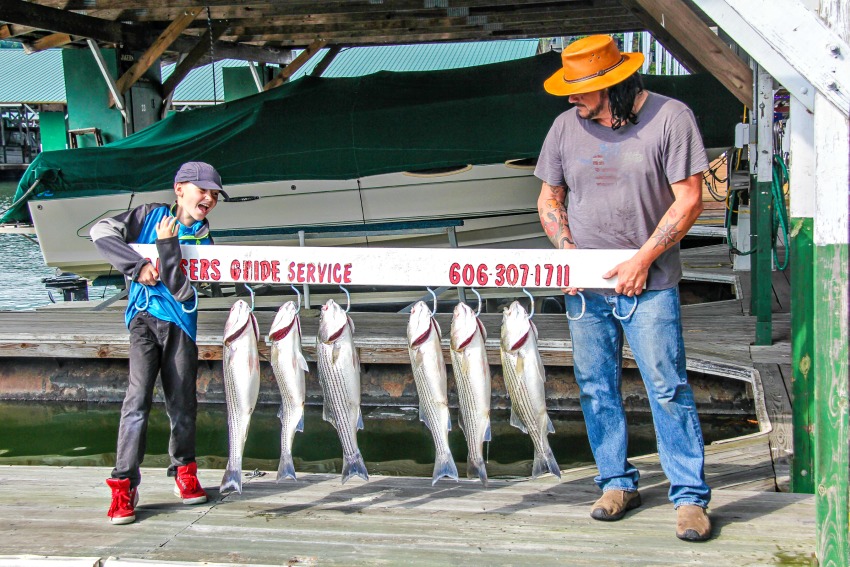 He throws a fishing line in the pond on Mike's property almost on a daily basis while we are visiting. Some days, they will throw in a line and go back later that evening to check if they caught anything. Not everyone has a pond though, so our favorite place to fish (with a fishing guide) is at Lake Cumberland State Resort Park. I've previously written about it in this post. Our guide Lance books up pretty quickly though, so give him lots of advance notice. Mike and I are heading back out with him in a couple of weeks.
CANOEING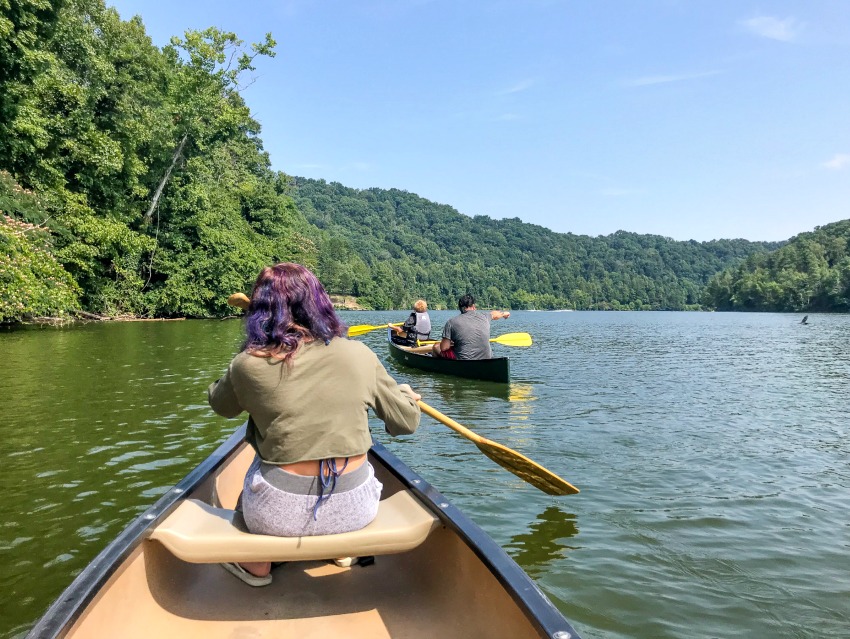 There are so many beautiful spots to canoe and kayak in Kentucky. We recently rented canoes at Jenny Wiley State Resort Park. The cost was $50 for two canoes (including life jackets for 4 people) for 4 hours. We ended up being on the water under 2 hours though because it was getting hot out, and kid one was madly looking for reception on her phone every time her arms got tired, while kid two was getting tired from trying to race from one side of the lake to the other. It was such a great time though, and they got to experience a little of what my childhood was like.
GEM MINING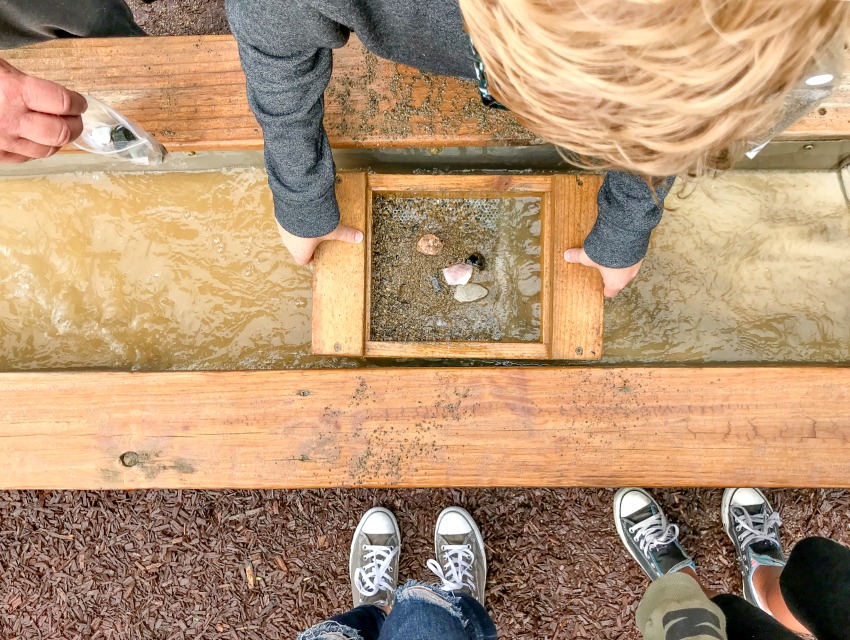 The little man absolutely loves gem mining. Any time we see a place to do it, we just know to buy him a bag. So far we've found two locations to do this, Dinosaur World and Cumberland Falls. I'm sure there are many more that we will come across on our travels but if you know of any please let me know in the comments below.
BOATING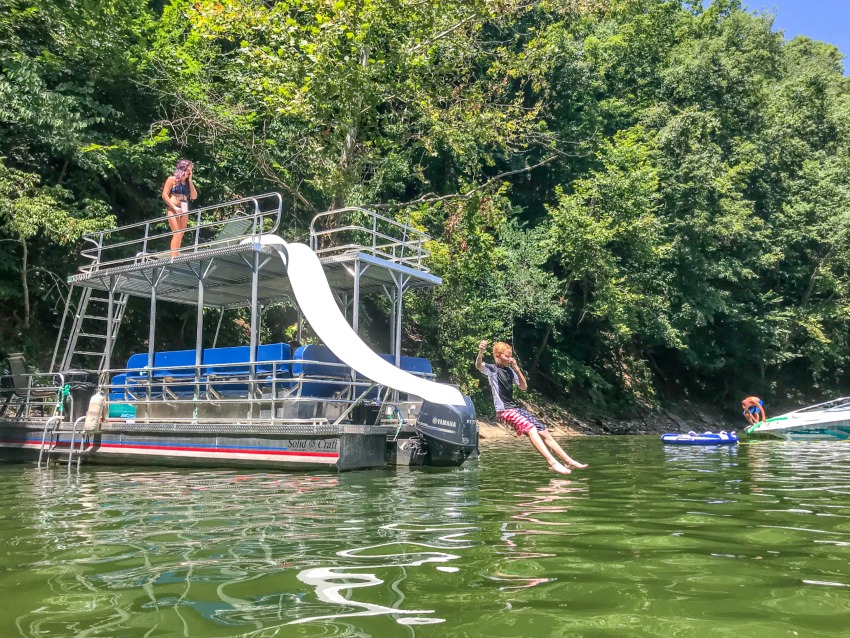 Flynn has a goal of one day owning a houseboat that he can live on. He wants to catch his own food and be able to head out onto the open water whenever he likes. It's not a bad goal to have. I'd visit a lot. He also told us he'll be living with us until he can make that goal a reality because lots of money will need to be saved. I'm good with that too. For now, though, he'll settle for the occasional boat ride we take him on. So far we've been out on a fishing boat at Lake Cumberland, and more recently we rented a pontoon boat with a water slide on it from Grider Hill Marina and took it out to 76 Falls and then to some smaller islands where the kids had a blast in the water.
CAVES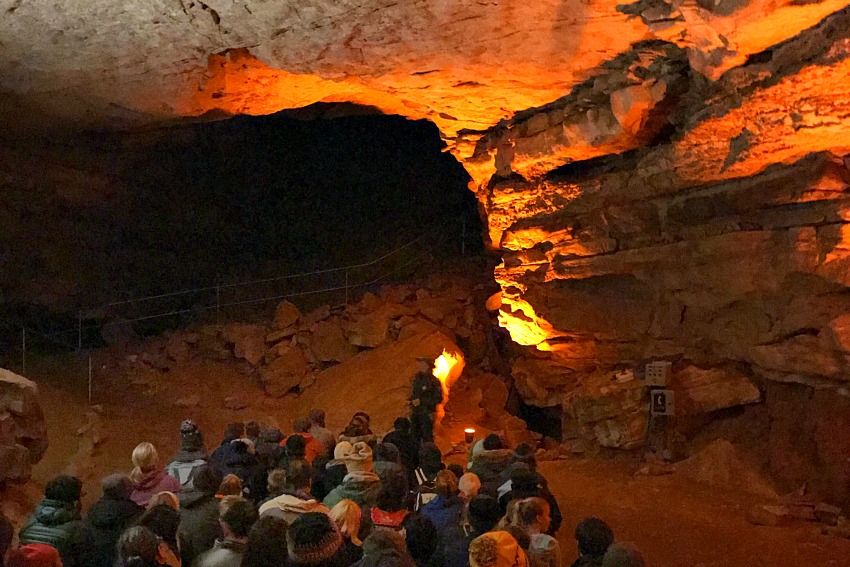 Mammoth Cave National Park has over 400 miles of cave systems to explore. It's amazing down there. We went on a cold day, but it was warm underground in the caves so it was a great winter activity. We did the shorter Frozen Niagara Tour. Flynn loved learning about the stalagmites and stalactites and seeing them up close. The formations were magnificent.
BEACH DAYS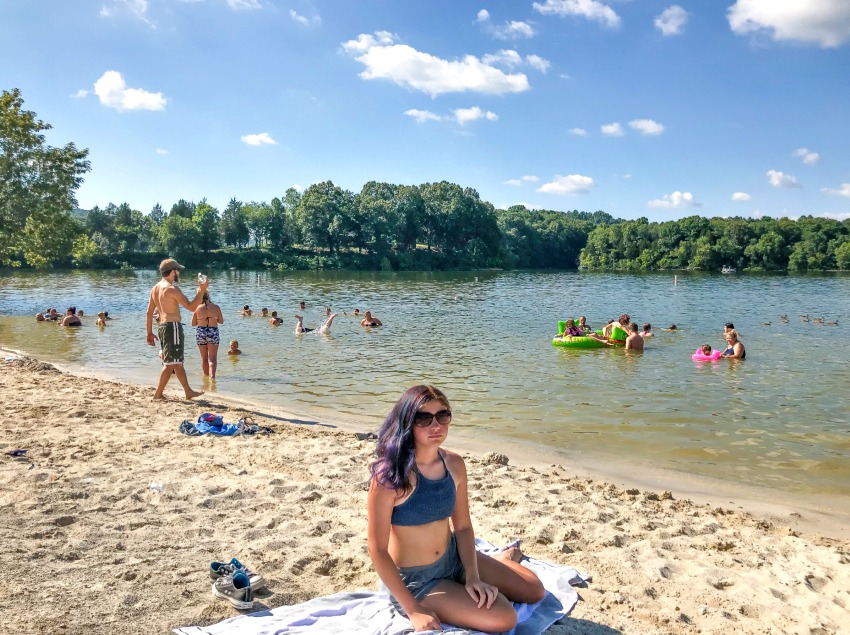 Yes, there are beaches in Kentucky. Okay, they are man-made, and at lakes, but it's still a great day out with the kids. We decided to do a beach day with the kids recently, but due to heavy rainfall the first two beaches that we went to were flooded, the water was up into the parking lot, however, the third beach at Pulaski County Park was exactly what we wanted and it was a beautiful spot too. You can find a list of more Kentucky beaches to visit here. Don't forget your pool floats and sand toys.
CREEK FUN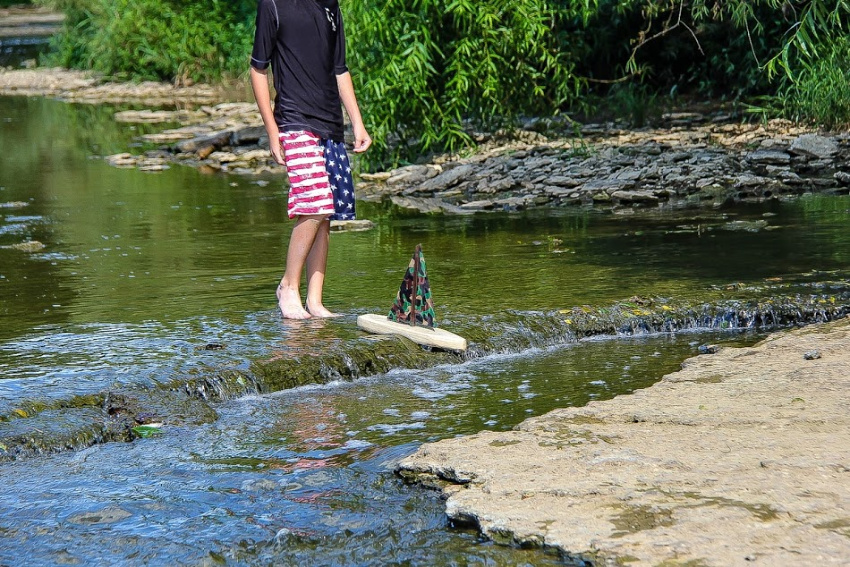 When the creeks are not flooded due to the heavy rains, they are perfect for a fun day out. There's a small creek not far from Mike's house that is pretty shallow most of the time. The kids love to skip rocks and spot all kinds of little fish swimming around as they walk through the water. We've even been down there late at night to slide on the ice during the winter months (only when it's shallow and we stay close to the edge). There's always raccoons and water birds down there too. Some people drive their trucks right down onto the creek bank where they picnic and float throughout the day. We love to take handmade boats down there though. I have a tutorial to make handmade wooden sailboats, but we've also taken an RC boat and an RC vehicle down there too.
HIKING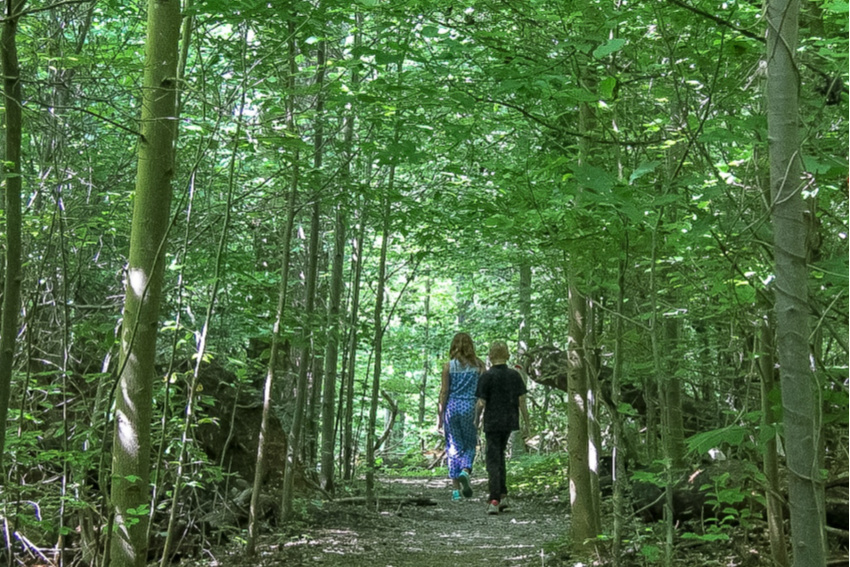 Granted, my kids aren't much into hiking. They used to be, but now we've hit the pre-teen we want to stay in our bedrooms and text our friend's phase, so, if we plan on taking them on even the shortest trail we call it a nature walk, a stroll, or tell them it's the only route to our destination. You have to get a little creative with the way you word things sometimes. There are so many amazing spots to hike in Kentucky though. Take a look at the Kentucky State Parks website for the lists of state parks, then click through to each for maps of their hiking trails. My favorite recent hike was to see the sandstone arch at Natural Bridge State Resort Park. It's quite a steep hike, but well worth it once you get to the top. The photo above was taken at Bernheim Forest which is a favorite local place to visit.
NATURE WALKS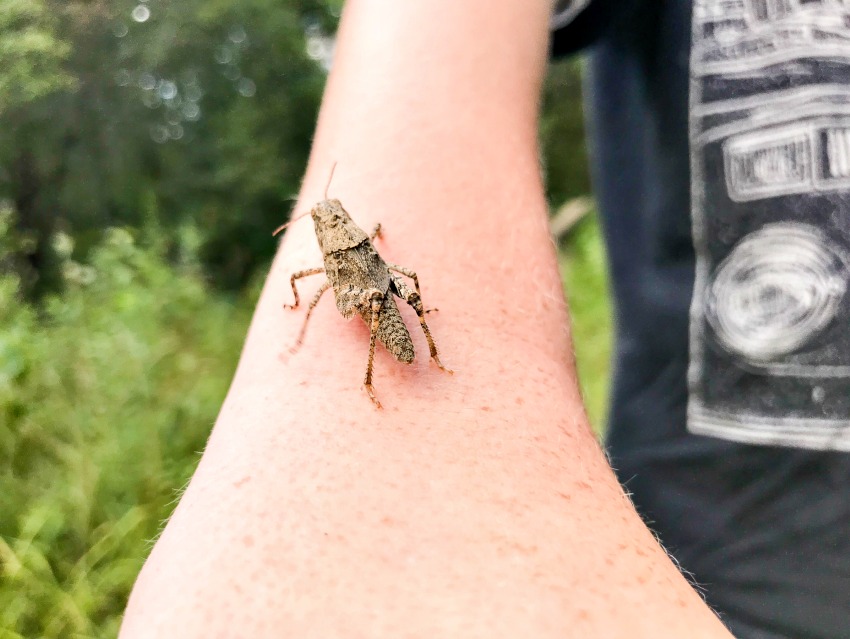 If you aren't ready to hit the hiking trails, head out on a nature walk. There are many trails to explore that are fairly flat where the kids will come across deer, chipmunks, squirrels, birds, and if you are by water they are sure to see fish, turtles, and ducks. You'll find a lot of nature trails at the state parks, and by the many rivers, creeks, and lakes. On one of our nature walks at Rough River Dam State Resort Park we spotted a family of raccoons that were playing in the trees, we couldn't help but stop and watch them for quite a while. The above photo was taken at Blue Licks Battlefield State Resort Park.
LEARN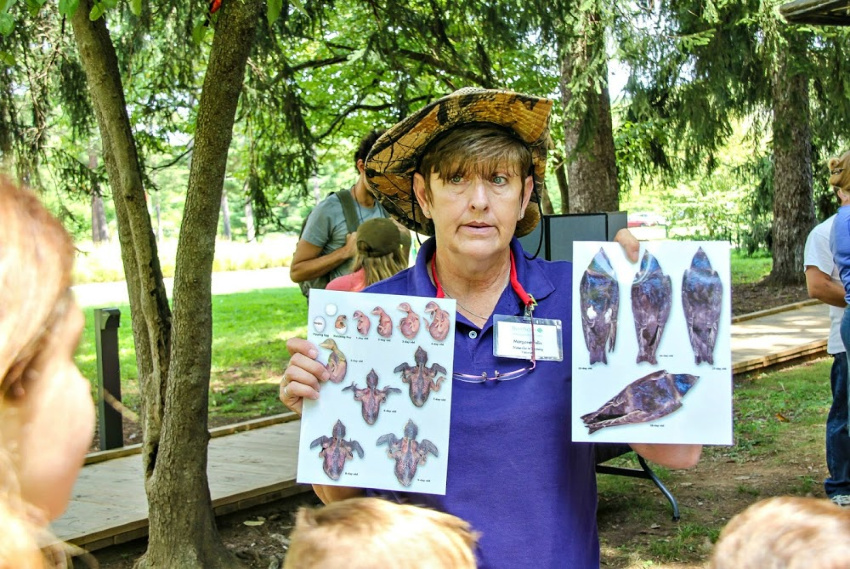 Get outdoors and learn more about the animals, birds, and flora surrounding you. You can learn about the history of Kentucky (which I'll be covering in another post shortly) at many locations across the state. But, you could do something as simple as a scavenger hunt with the kids at a local park and seeing how many animals, butterflies, dragonflies, and flowers that can find. I'm all about not letting the summer slide take over, and ensuring that we regularly do something with the kids where they can learn something without sitting in a classroom environment. One of our favorite places to learn about the native animals and flowers is at Bernheim Arboretum and Research Forest. They have all kinds of programs and events that the whole family will love. I've previously written about our visits here.
Can you think of more outdoor activities I should include on this list? We need lots more to do with the kids.
Please pin this post for later: