5 quick and easy gluten-free school lunchbox ideas for kids. No fancy skills required.
Disclosure: This post was sponsored by Stretch Island as part of an Influencer Activation and all opinions expressed in my post are my own.
As most of you would know my little man is on a gluten-free diet. He's the only one in the house who is and sometimes that means cooking two meals and keeping gluten-free options of our family favorites on hand so that he's never missing out on his favorite foods. He doesn't have celiac's disease, his body simply cannot break down gluten-based foods. It took me over four years of keeping a food diary and working with a gastroenterologist, allergist, and pediatrician to figure this out. The hardest part is school lunches. Thankfully our school district does work with us and brings in some gluten-free options for him. He likes to mix it up though with his favorite foods from home too.
I want to share with you five super quick and easy (no fancy bento box skills required) gluten-free lunchbox ideas to help you out this coming school year too.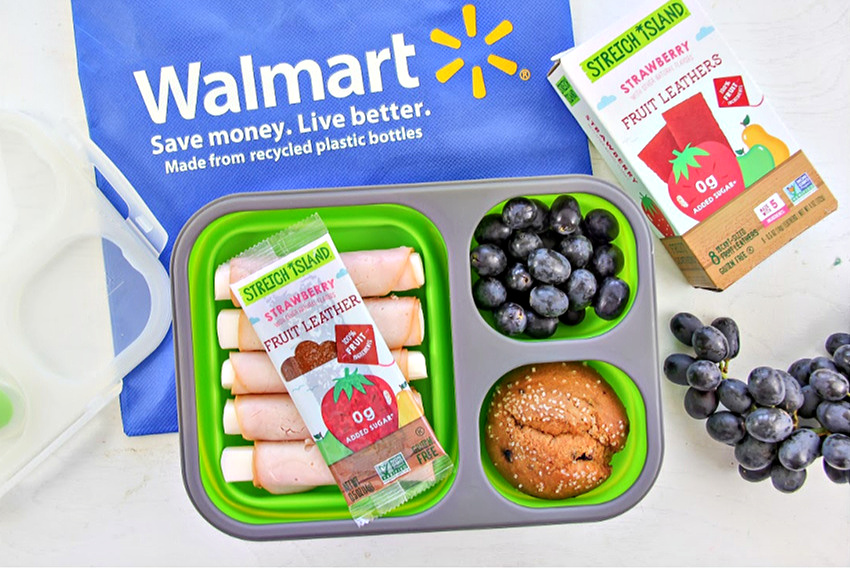 I've made each of these lunches based on what my son will actually eat, so go ahead and switch out fruits and vegetables that are your child's favorites. All of these ideas contain Stretch Island Fruit Leather as a snack option because he loves them, plus they come in a box of 8 so there's plenty to add as a morning snack into the lunchbox. Mix and match all of the different lunch box options below.
GLUTEN-FREE LUNCH: TURKEY AND CHEESE ROLLS
I've pictured these above, but here's another shot for you. These are fairly self-explanatory. Tip: I keep blueberry muffins in the freezer. Just pop one into the lunchbox and it's thawed and ready to eat by lunchtime.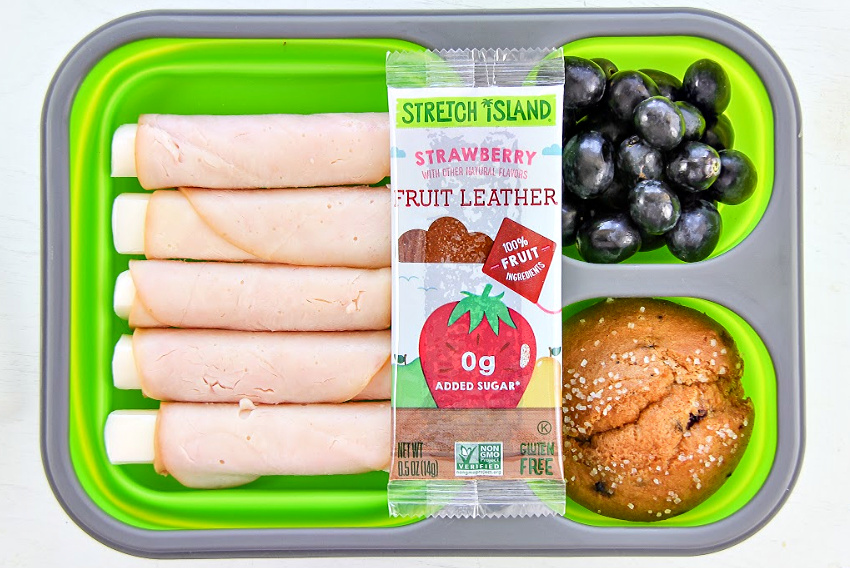 GLUTEN-FREE LUNCH: SANDWICH SKEWERS
My son loves a gluten-free breadstick that I purchase regularly from Walmart, so I cut into smaller pieces and layered ham, cheese, and lettuce inside. Tip: If you cannot use little skewers to keep them together, just wrap each one, or pop them into a sandwich bag to keep them together. I paired these with a homemade snack mix of dried banana chips, gluten-free pretzels, marshmallows, and cereal.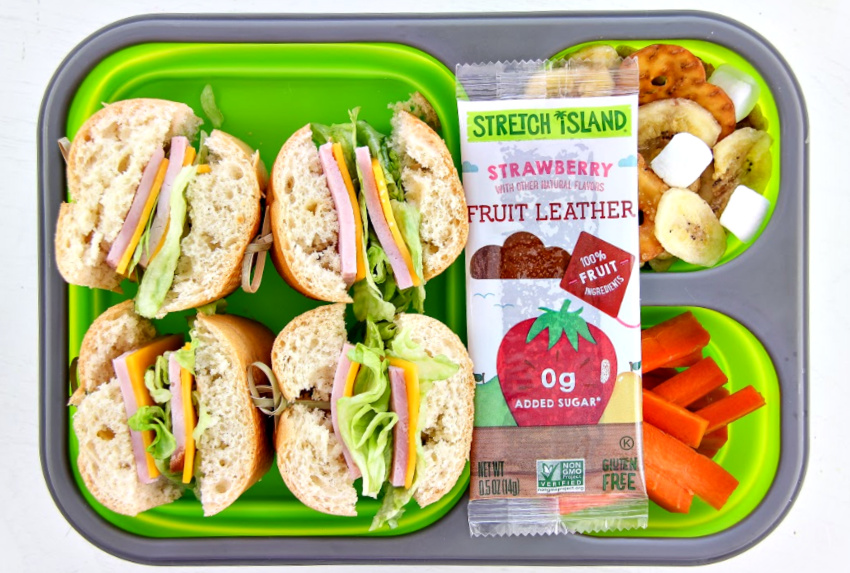 GLUTEN-FREE LUNCH: PITA POCKETS
The same company who makes his favorite breadsticks also make gluten-free pita pockets (also available at Walmart), and they make for such a fun 'sandwich', plus you can fill them with all kinds of different things. I did this one with turkey, bacon, and shredded cheese.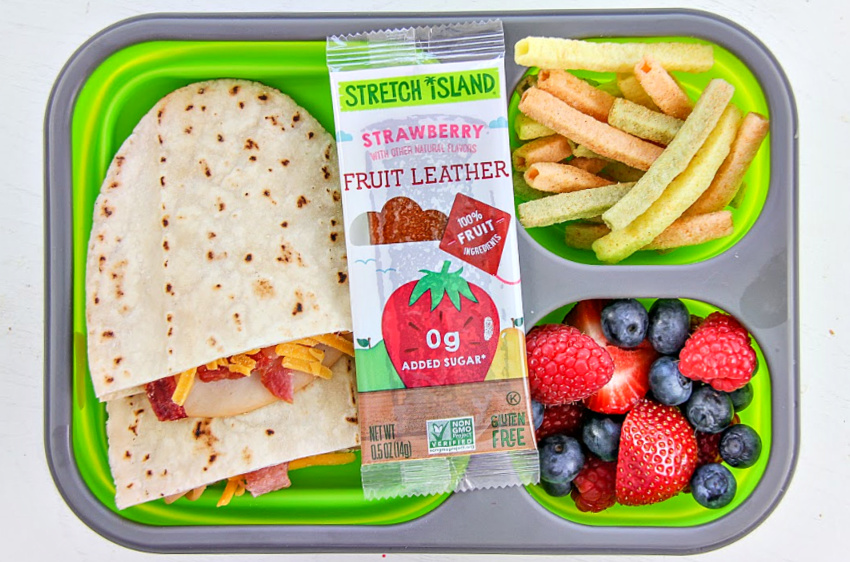 GLUTEN-FREE LUNCH: HOMEMADE LUNCHABLES
Lunchables is one quick and easy item he missed a little when I changed his diet, but with these gluten-free crackers, ham, and cheese he still gets to enjoy his own homemade version. With the addition of delicious citrus on the side, it makes this the perfect light summer lunch.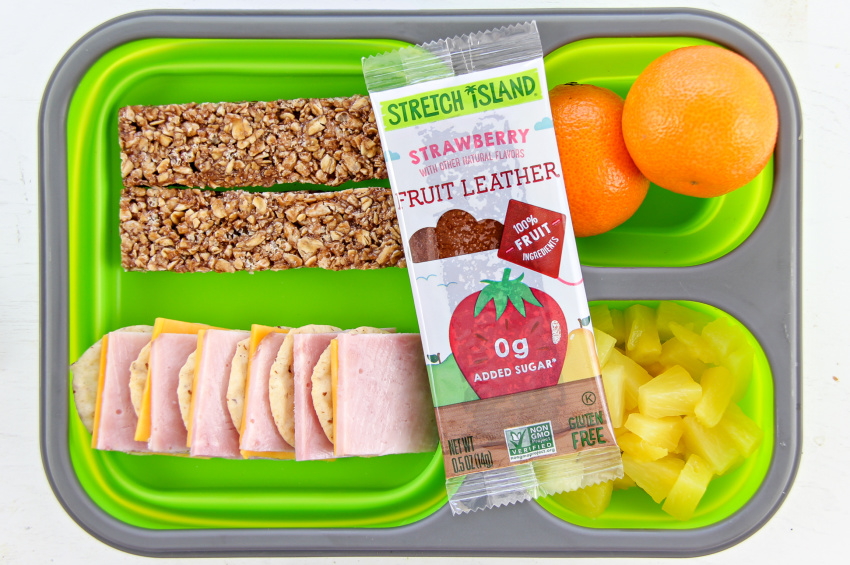 GLUTEN-FREE LUNCH: PINWHEELS
Pinwheels are such a fun gluten-free lunch idea. All you need are gluten-free wraps and filling such as turkey and cheese, ham and cheese, leftover tuna or chicken salad. The possibilities are endless. Just spread, roll, slice, and add to the lunchbox.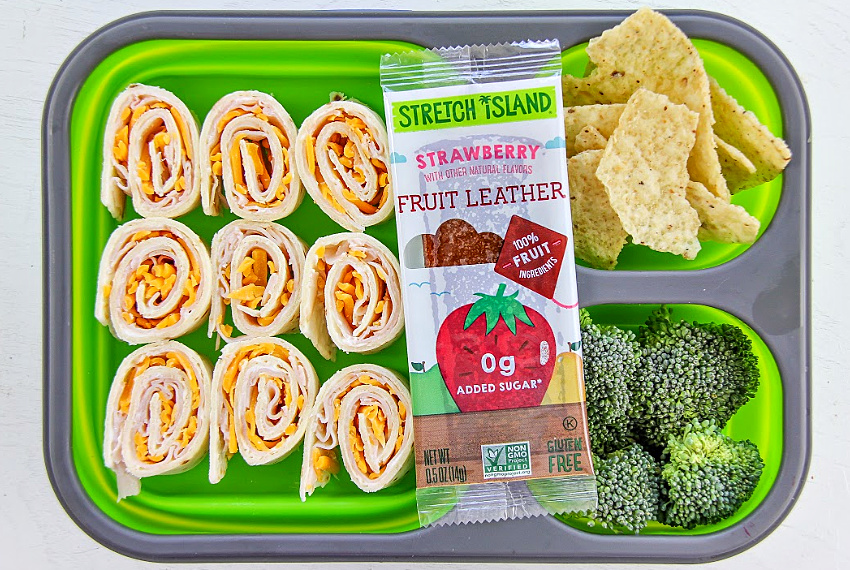 Perfect for on-the-go snacking, Stretch Island Fruit Leather provides your children with a better-for-you option. With 0 grams of added sugar, 100 percent fruit ingredients, no synthetic colors or artificial flavors, this gluten-free and vegan snack is the perfect addition to any lunch box!
You will find Stretch Island Fruit Leather in the snacking aisle at Walmart, which is your convenient one-stop-shop for all your back-to-school needs! Get everything you need for the upcoming school year in just one purchase, which not only saves you on time but money as well.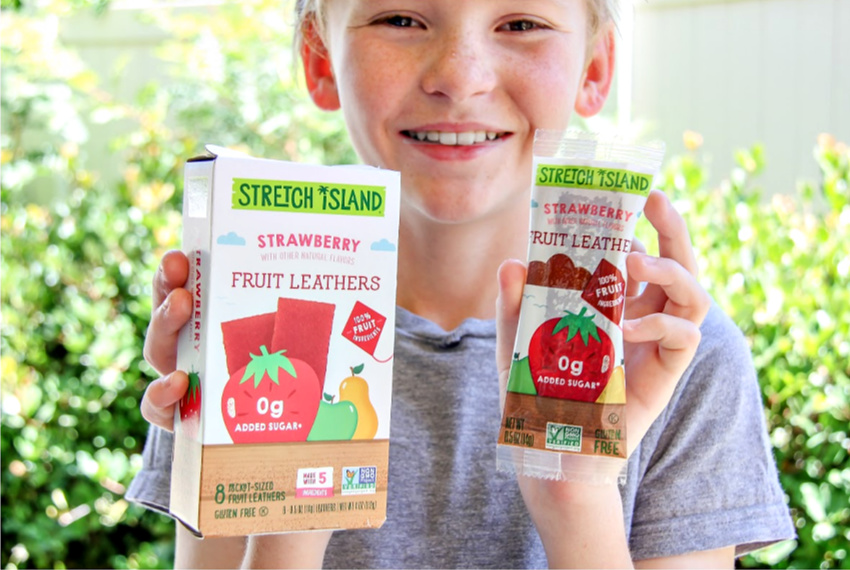 Enter The Back To School Sweepstakes
PLUS, don't forget to enter the BACK TO SCHOOL SWEEPSTAKES running from July 19 -September 15, 2019 for a chance to win a $50,000 scholarship and other great prizes! And, learn more about these great products:
Del Monte Bubble Fruit, 4 oz cups

Old Spice Volcano with Charcoal Men's Shampoo, 25.3 fl oz

Aussie 3 Minute Miracle Moist Deep Conditioner, 8 fl oz

Vitafusion Women's Multivitamins, 150 ct

Vitafusion Men's Multivitamins, 150 ct

Vitafusion Lil'Critters Gummy Vites Children's Vitamins, 190 ct

Stretch Island Fruit Leathers, 8 – 0.5 oz count
No purchase necessary to enter or win. VOID WHERE PROHIBITED BY LAW. Must be at least 18+ and a legal resident of the 50 U.S./DC. Sweepstakes begins on 7/19/19 at 12:00:01 a.m. EDT and ends on 9/15/19 at 11:59:59 p.m. EDT. Official Rules at www.backtoschoolatwalmart.com Sponsor: Fuel Partnerships, Inc., 6111 Broken Sound Parkway NW, Suite #265, Boca Raton, FL 33487.
Please pin this post for later: