Make a homemade gluten-free pizza for the whole family. This cauliflower pizza recipe can be topped with all of your favorites.
This shop has been compensated by Collective Bias, Inc. and its advertiser. All opinions are mine alone. #ChooseMazola #CollectiveBias
Cauliflower pizzas are like a regular thin pizza but so much lighter, which means you don't feel quite so heavy after eating them. I thought I'd lighten up our entire pizza dinner, not just the crust because September is National Cholesterol Awareness Month.
Flynn is on a gluten-free diet because his body can't tolerate gluten. This means I've had to find a lot of alternative recipes for him so that he can still enjoy his favorite things (like pizza) and not feel like he's missing out. He first tried cauliflower pizza when we were sitting in an airport waiting for a flight earlier this summer and we needed to have dinner before we boarded. Being a picky eater, I was expecting him to hate it, so I didn't get anything for myself in case that ended up being my dinner, but he loved it so much he ate the entire thing.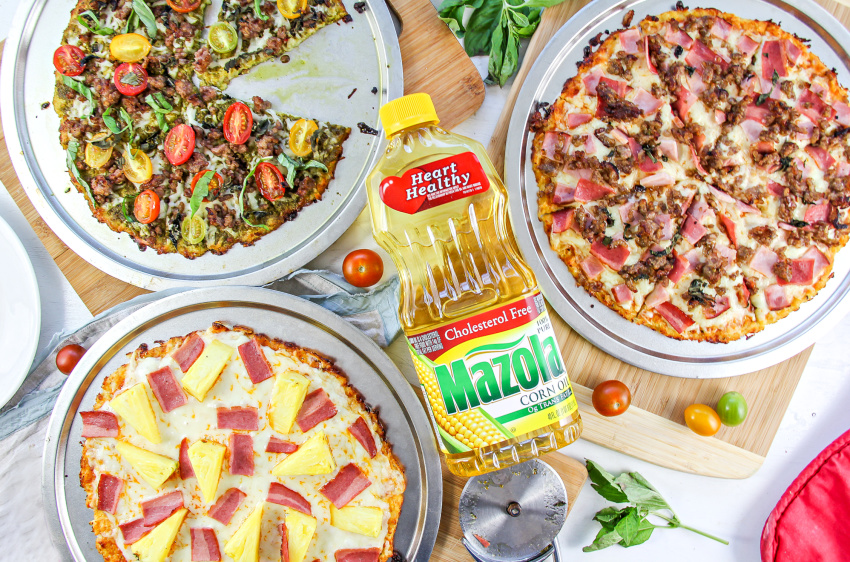 So, now that I know he loves cauliflower pizza, I decided to make them for him at home, too. The best part is that by making them at home you can add whatever toppings you like.
Cauliflower pizza recipe
Serving size: 1 cauliflower head makes a pizza large enough to feed 2 people, 3 if you only want a couple of slices each.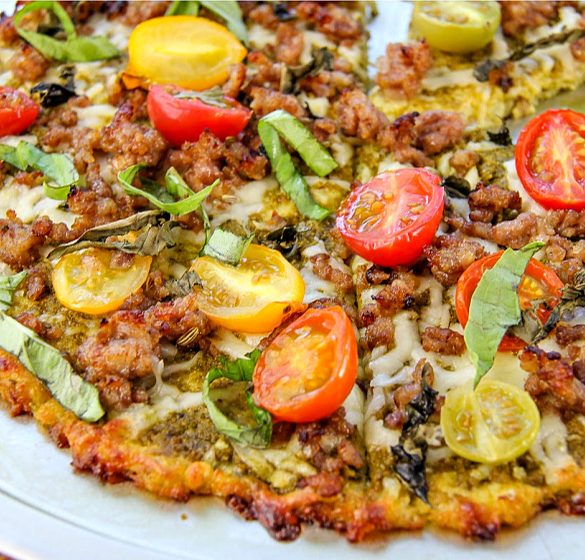 Ingredients
1 cauliflower head (yields about 4 cups of cauliflower rice)
1/4 cup shredded parmesan cheese
3/4 cup mozzarella cheese
1 egg, beaten
1 tsp Italian seasoning
1/2 tsp garlic pinch of salt
1 tbs Mazola Corn Oil
toppings for your pizza
Instructions
Preheat your oven to 450F. Line a baking tray with parchment paper, and then brush a little Mazola Corn Oil over the top.
Place your cauliflower florets into a food processor and pulse until they resemble grains of rice, don't blend because you don't want to puree them. Note: You might want to do this in small batches, especially if you are making a few pizzas like I was.
Pour the cauliflower rice into a microwave-safe bowl, lightly cover, and microwave on high for 4 minutes. Set aside to cool a little (feel free to leave it in the microwave, unless you are doing this in small batches, too).
Pour the cooked cauliflower into a tea towel or cheesecloth.
Pop on gloves because you want to do this while the cauliflower is still warm (not scalding hot) and start squeezing all the water out.
In a bowl, combine the cauliflower 'dough', egg, cheeses, seasoning, and salt.
Mix together until completely combined, and then form your dough into a ball.
Place your ball onto the parchment paper that has been brushed with Mazola Corn Oil and form the pizza base with your fingers pressing it into a circle. You want it to be thin, though, about 3 millimeter

s

high.
Place into the oven for 20 minutes until the sides begin to brown.  
My next step is to figure out whether I can pre-make a batch of cauliflower crust bases and freeze them and how they hold up once they are thawed. Have you tried this? If you have, please share any tips you have in the comments below.
Tips for making cauliflower crust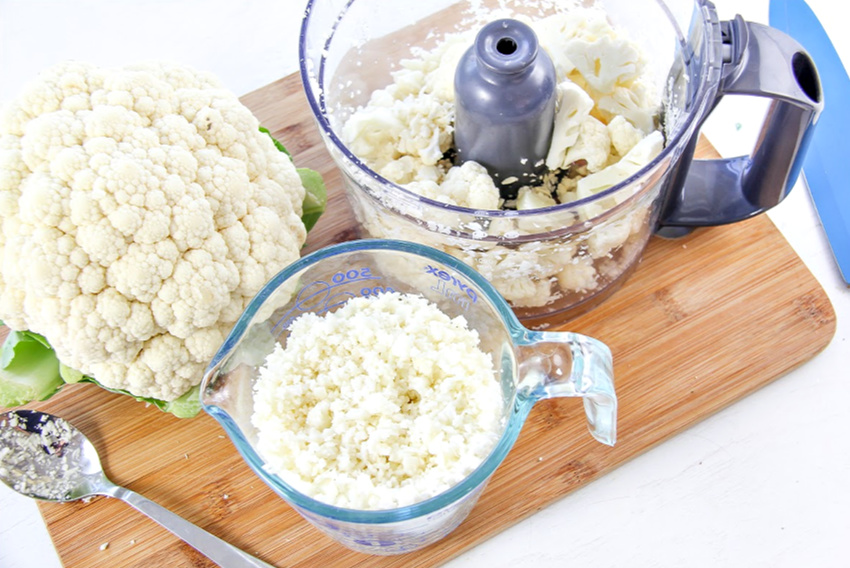 When you think you've squeezed all of the water out, you haven't. Keep on going! I learned this the hard way when my first batches of cauliflower pizzas turned out a little soggy and not crispy when cooked. This is going to take some muscle, but you'll notice the difference, the cauliflower becomes thick and dough-like.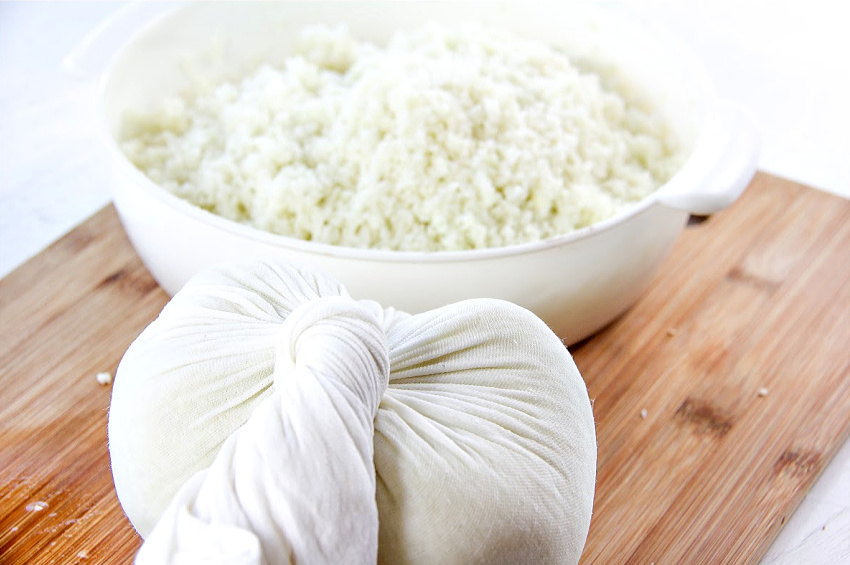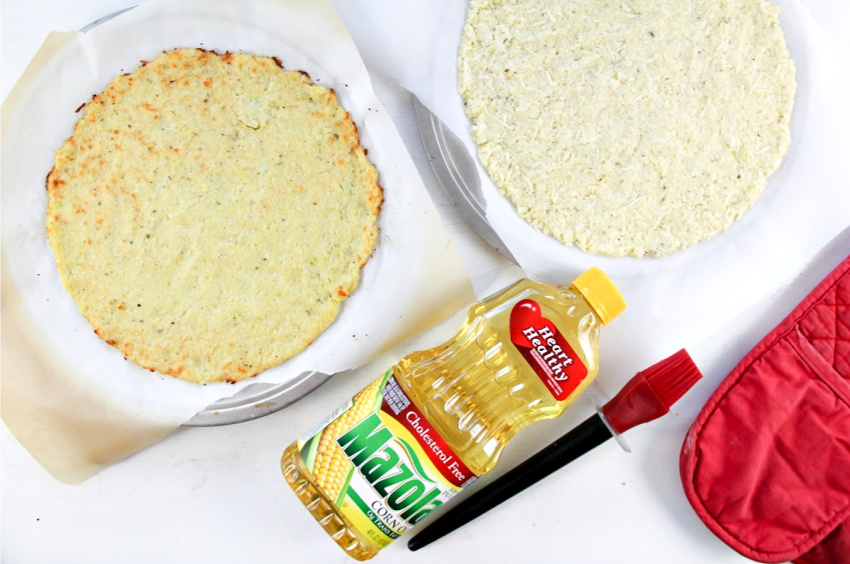 Brush the top of your pizza with Mazola Corn Oil, and then add your toppings (don't add the extra oil if you are using pesto as your base, though).
Put your cauliflower pizzas back into the oven for 10 minutes until the cheese is melted.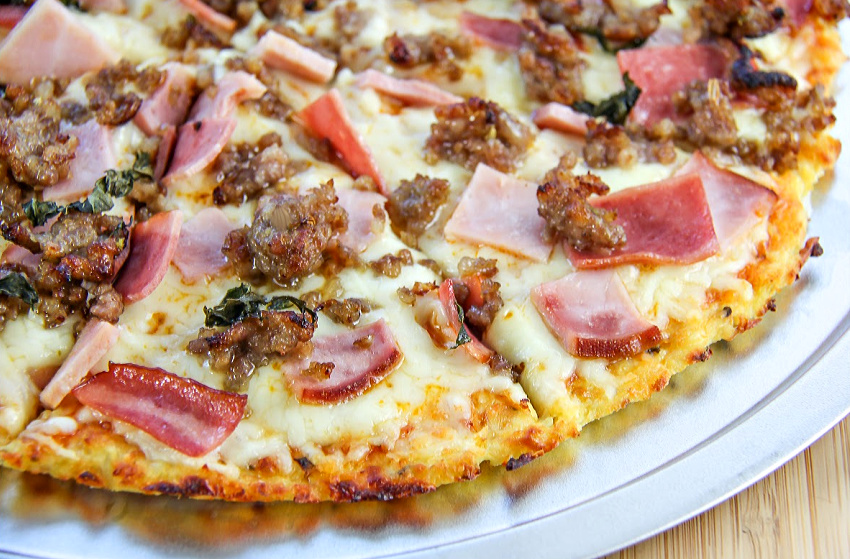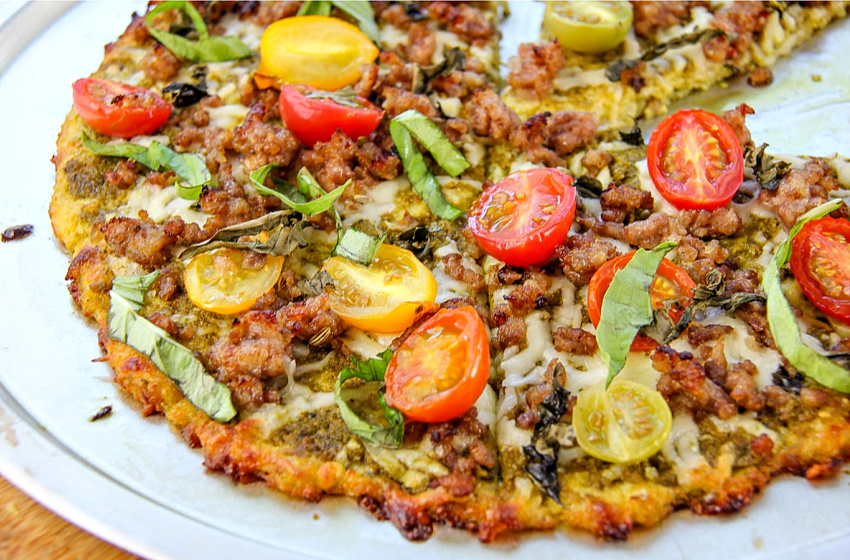 About Mazola Corn Oil
Fun fact: A clinical study showed Mazola®​ Corn Oil reduces cholesterol 2x more than extra virgin olive oil. To learn more about this claim, see Mazola.com.
You can reduce saturated fats and cholesterol in your meals easily with simple swaps, such as substituting butter with Mazola Corn Oil. So, I swapped out regular bacon for turkey bacon (especially for M who prefers a meat-lovers pizza), I swapped cauliflower pizzas for everyone instead of making flour dough-based pizzas for the family members who are not gluten-free, and I swapped Mazola Corn Oil for cooking the sausage and for brushing onto the pizzas before cooking instead of extra virgin olive oil.
Mazola Corn Oil is an all-purpose, cholesterol-free cooking oil that is a smart heart-healthy* choice for your family. *See Mazola.com for more information on the relationship between corn oil and heart health. It has a variety of uses including baking, grilling, sautéing, stir-frying, or mixing up a marinade or dressing.
More recipes using cauliflower
Are you looking for more creative cauliflower uses? Take a look at these delicious recipes:
Please pin this post for later