This egg and bacon breakfast baguette is inspired by Mo Willems Nanette's Baguette book and makes for a great storytime activity to do with kids.
Disclosure: This blog post was sponsored by Disney-Hyperion.
The latest book from Mo Willems is hitting stores today.
Sleep in a little this weekend, and when you get up, have the kids join you in the kitchen to make breakfast … and then take it back to the bed of course with a copy of Nanette's Baguette to read.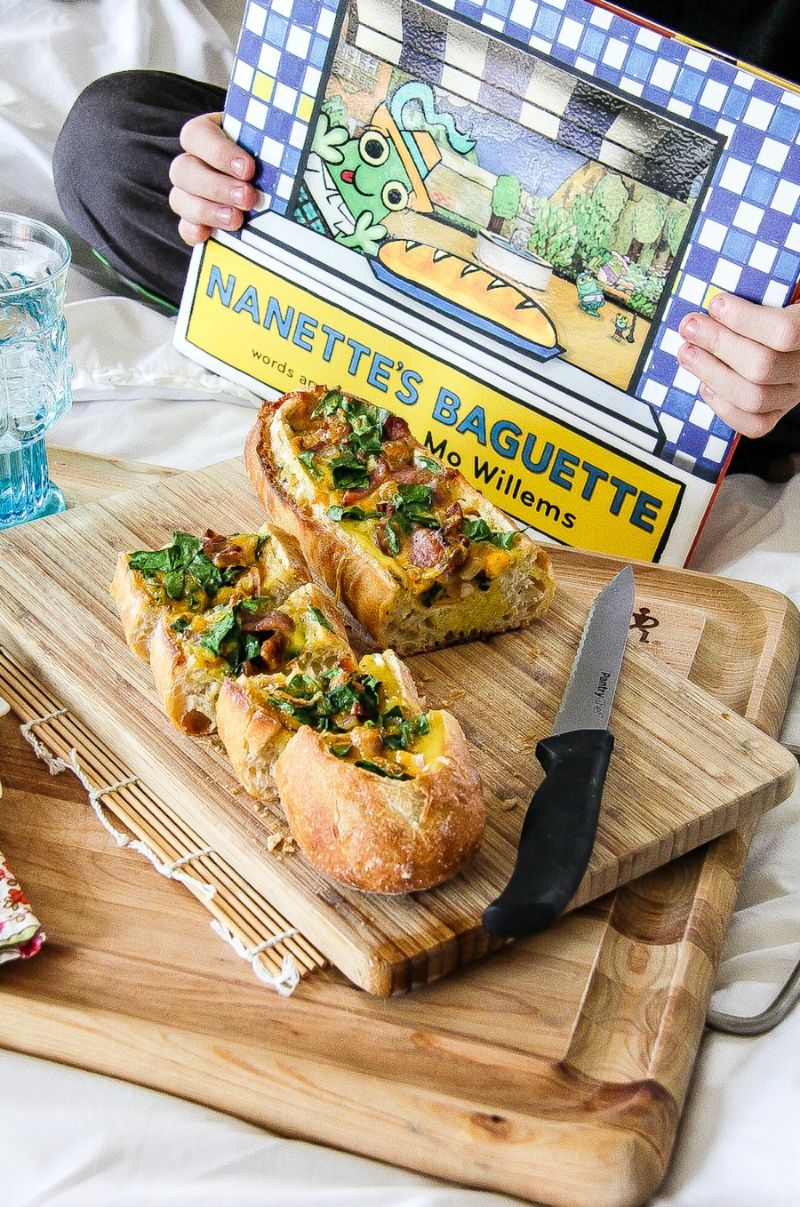 This is a really simple recipe that needs an adult's help, but kids can totally help, and customize the ingredients to their liking, for example, you could add in peppers, asparagus, mushrooms, tomatoes, or even breakfast sausage.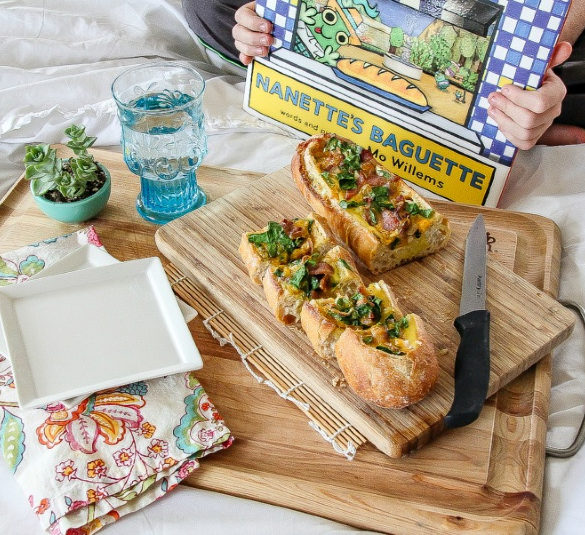 Ingredients
1 demi-baguette
2 large eggs
2 rashes bacon
1/2 shallot
1/2 cup spinach
soft garlic and herb cheese spread
1/2 cup cheddar cheese
2 tsp dried thyme
pinch of salt & pepper
Instructions
Preheat the oven to 350F.
Cook the bacon for a few minutes each side ... you don't want it crispy.
Have the kids crack the eggs into a bowl, add the cheese, spinach (or other vegetables), thyme, and salt and pepper.
Once the bacon is cooled, chop it into pieces and toss it into the egg mixture. Have the kids whisk it all together.
Remove the center from the baguette.
Spread the soft garlic and herb cheese on the inside of the baguette, and then pour the egg mixture over the top.
Pop into the oven for about 20 minutes, or until the egg is cooked.
Recipe: by Tonya Staab tonyastaab.com
Cool just a little before slicing, and then serve warm.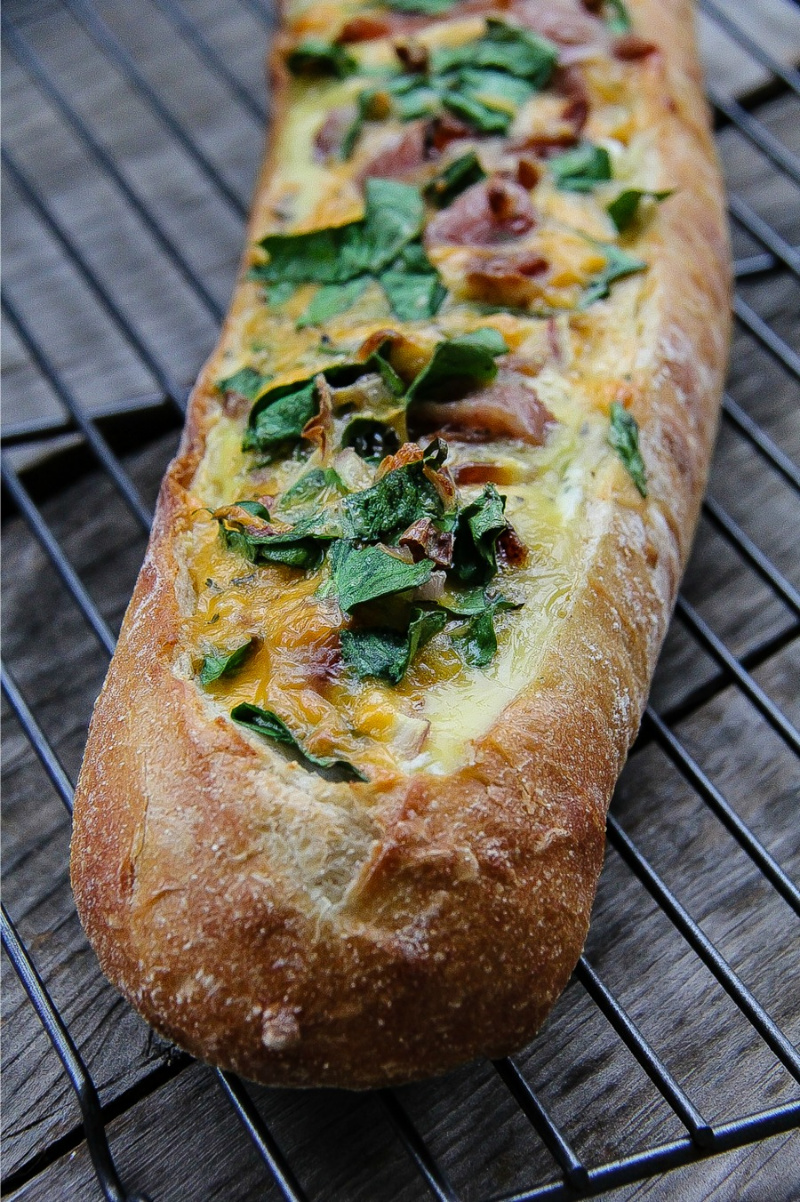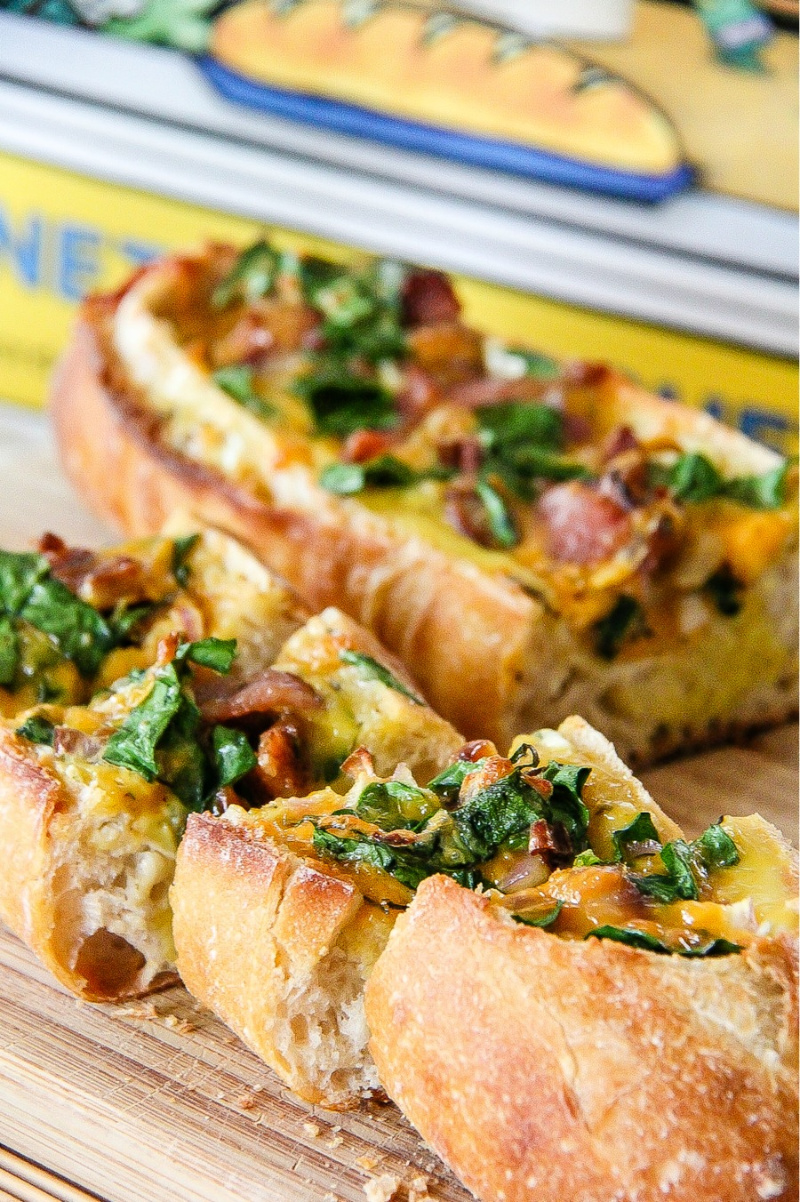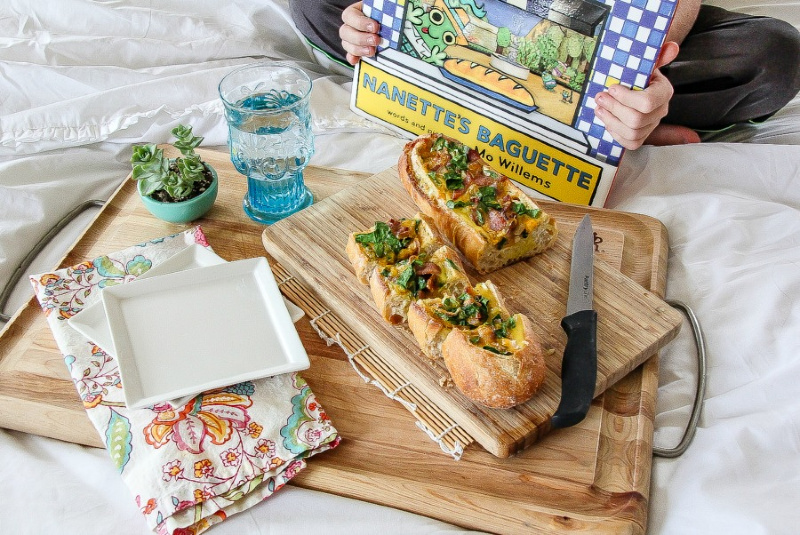 About Mo Willems book Nanette's Baguette available in store October 25th?
Today is the day Nanette gets to get the baguette! Is she set? YOU BET!
Mo Willems' hilarious new picture book, Nanette's Baguette, follows our plucky heroine on her first big solo trip to the bakery. But . . . will Nanette get the baguette from baker Juliette? Or will Nanette soon be beset with regret?
Set in a meticulously handcrafted-paper-modeled French village, the uniquely vibrant laugh-out-loud world of Nanette's Baguette may be Mo's best creation yet. Get set to krack into an irresistible tale you won't soon forget!
WATCH THE TRAILER HERE:
ABOUT MO WILLEMS
Mo Willems, a number one New York Times best-selling author and illustrator, has been awarded a Caldecott Honor on three occasions, for Don't Let the Pigeon Drive the Bus!, Knuffle Bunny: A Cautionary Tale, and Knuffle Bunny Too: A Case of Mistaken Identity. The celebrated Elephant & Piggie early-reader series has been awarded the Theodor Seuss Geisel Medal on two occasions (for There Is a Bird on Your Head! and Are You Ready to Play Outside?) as well as garnering five Geisel Honors (for We Are in a Book!, I Broke My Trunk!, Let's Go for a Drive!, A Big Guy Took My Ball! and Waiting Is Not Easy!).
Learn more about this great title and other Mo Willems books here:
PigeonPresents.com | @DisneyHyperion @The_Pigeon on Twitter | Instagram #NanettesBaguette
Pin for later: