The military spouses club I volunteer for held a Cookie Exchange this month. A very generous military spouse opened up her beautiful home to us. We sipped wine and enjoyed some wonderful appetizers, we chatted and laughed, made new friends and didn't eat any cookies. Can you believe it. A cookie exchange where no cookies were eaten. Thank goodness we had boxes and bags on hand though because we all bundled up cookies from each platter along with the recipe cards and took them home to enjoy. And while we were collecting up those delicious cookies, we all enjoyed cups of my delicious hot chocolate.
Here are a few photographs from the party. We had such a great night.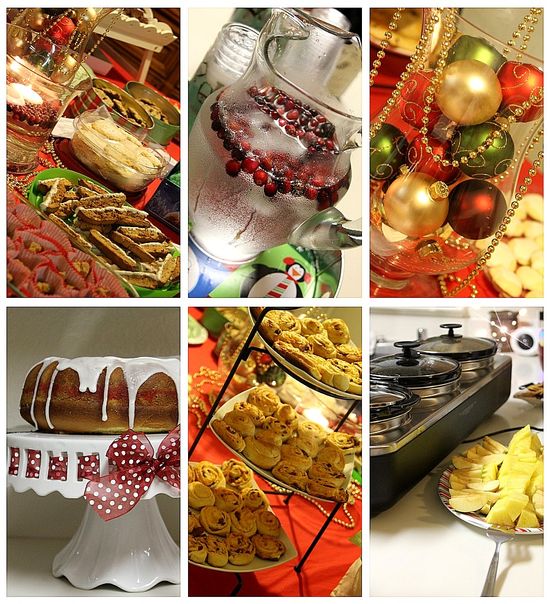 My contribution to the Cookie Exchange:
VANILLA, PISTACHIO AND WHITE CHOCOLATE BISCOTTI
Ingredients:
4 cups white whole wheat flour
2 teaspoons baking powder
1 1/2 cups brown cane sugar
1/3 cup butter (softened)
4 eggs (room temperature)
2 teaspoons lemon zest (finely grated)
2 cups pistachios (roughly chopped)
4 teaspoons vanilla extract
2 cups white chocolate (melted)
Preheat oven to 325F. Cover a cookie sheet with parchment paper and set aside.
In a medium bowl combine flour and baking powder. Set aside.
In another medium bowl beat sugar and butter with a mixer. Add eggs, lemon zest and vanilla and blend. Add flour mixture and pistachios and mix using a wooden spoon. Continue mixing until a dough forms. If it is too sticky, add more flour.
Place dough on the cookie sheet and shape into a log approx 1 1/2" high. Bake for 40 minutes until golden and cracked on top. Set aside to cool. Turn oven up to 425F.
Using a serrated knife, slice width-wise into 1/2" slices. Place on fresh parchment paper and bake for 3-4 minutes each side.
Melt white chocolate in the microwave. Dip biscotti into the white chocolate and leave on wax paper to set … or drive to the party with the air conditioning blasting and the biscotti still on the cookie trays, praying that they set before you arrive, then transfer them to a serving dish in the back of the car before walking into the party. Not that I'm saying that's what happened or anything.
Note: This recipe makes approximately 35 biscotti
With thanks to Smart and Final and Collective Bias, not only was I able to purchase the ingredients to make my own recipe, but I was also able to put together a bag of baking goodies (containing items such as a cookie tray, parchment paper and the ingredients for my biscotti recipe), which I provided as a gift (via a raffle) to one of the military spouses at the event I attended.
Disclaimer: I was compensated for this post and a gift card was provided to purchase these #holidaybaking supplies and gift bag with thanks to Smart & Final and Collective Bias as part of the Smart & Final Pay It Forward Campaign.