The very best ideas for a cowboy and cowgirl birthday party for twins'.
The twins' turned 5 on Sunday. 5! I can hardly believe it. Marisol wanted to ride a horse for her birthday (as she does most days). So, we decided to have a Cowboy and Cowgirl themed party. Flynn tends to just go with the flow, he generally thinks everything is a great idea … unless I'm taking him shopping, of course, he tends to voice his opinion on that subject.
It didn't take me long to find a location for the party. A quick google search of horse riding in San Diego took me to the Mega Arte Riding Academy; this wonderful place also hosts parties. The party was split into three parts – horse riding, feeding the animals, and then party time. Each portion lasted about an hour.
Before I share a ton of photographs, here are my birthday kids.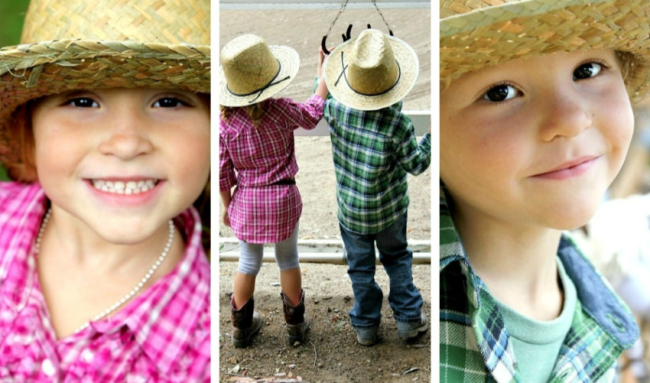 Horse Riding
There were three instructors to look after the kids. They took them around the ring, through cones, over small jumps, and some kids even trotted. Flynn thought trotting was hysterical, he couldn't stop laughing as he bounced up and down around the ring.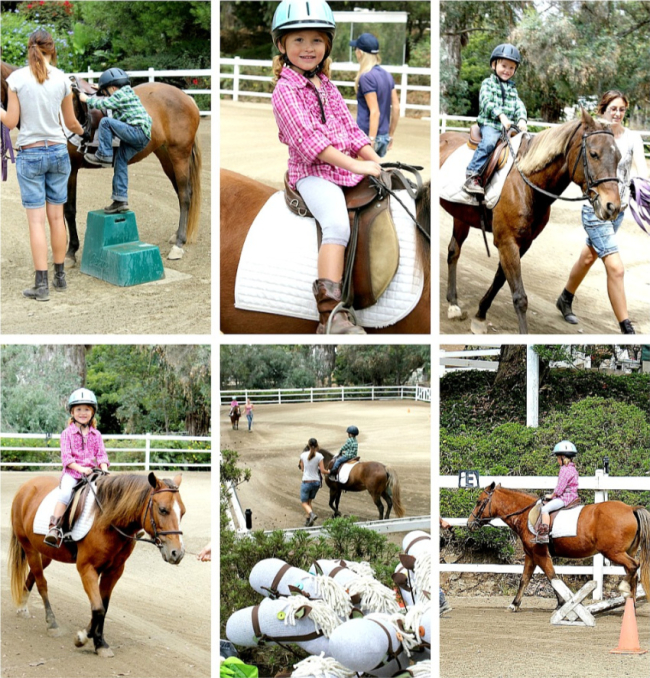 Animal Feeding
The kids were each given a bucket of food for the animals (which needed to be topped up numerous times throughout our tour – the animals were very well fed). There were pigs, roosters, horses, llama, peacocks, bunnies and goats to feed.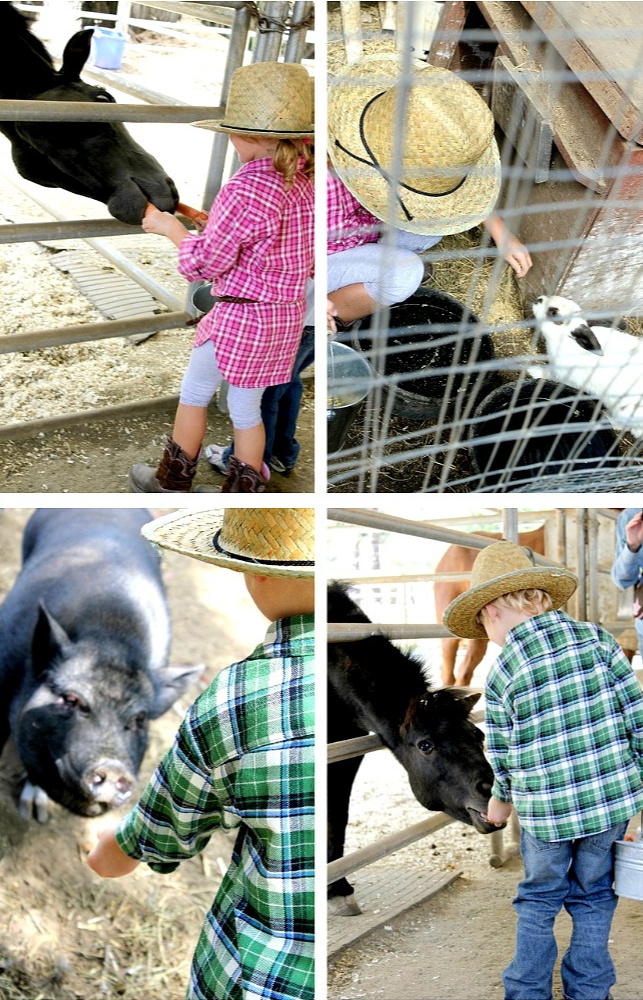 Activities
I had set up a number of activities for the kids.
There were wooden horses to throw hoops over, horseshoe toss, tin cans to knock down, and a playground with swings, a slide, and toys to play on.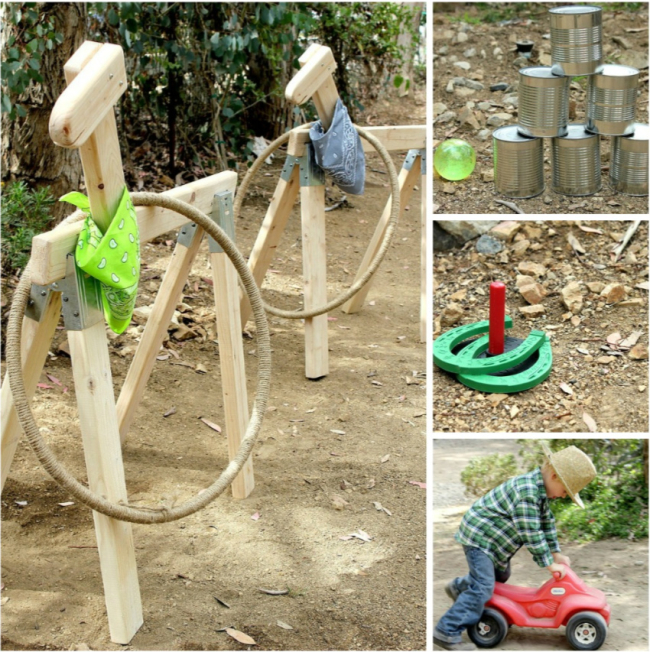 The wooden horse idea came from Growing Home (which I found via Ohdeedoh). I contacted a friend (who was also a party guest) who's dad loves making things with wood and had him make a couple for me – you can contact them at Nana's Tutu Trunk.
We had the token mustache photo station which is popular at the moment.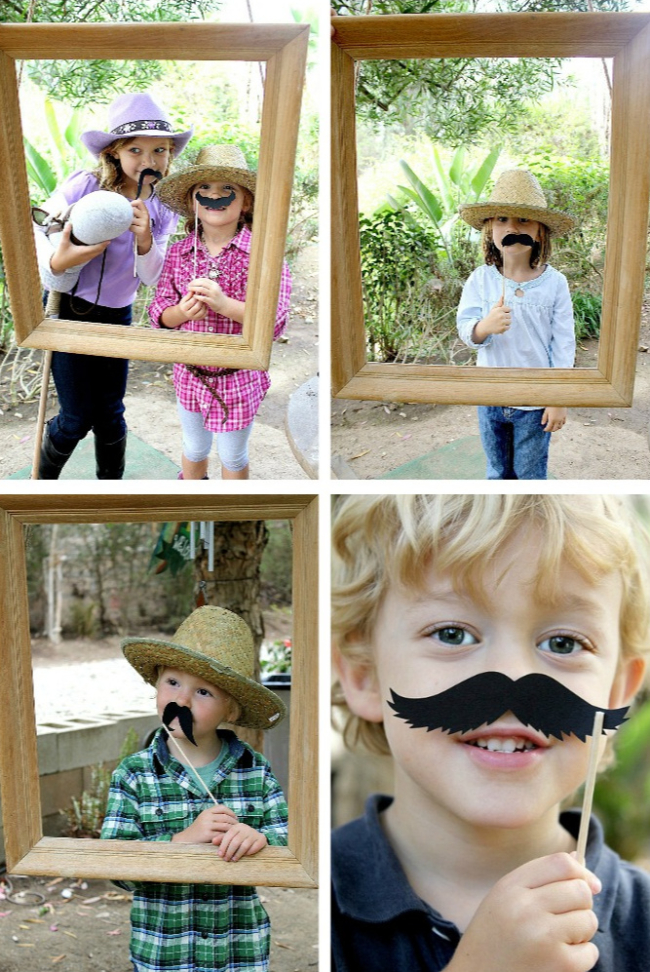 I purchased the mustaches from Piccadilly Party Co on Etsy. The frame I found at a thrift shop for $1.99 and I had my husband hang some rope from it. I put the collection of mustaches in a silver bucket along with a bandanna for those wanting to use that in photographs too.
I lined all of the tables with brown paper and set out buckets of crayons for the kids to draw. There was also a bucket of western themed coloring book and crayon packs (that the kids could also take home with him), and we had cookie decorating.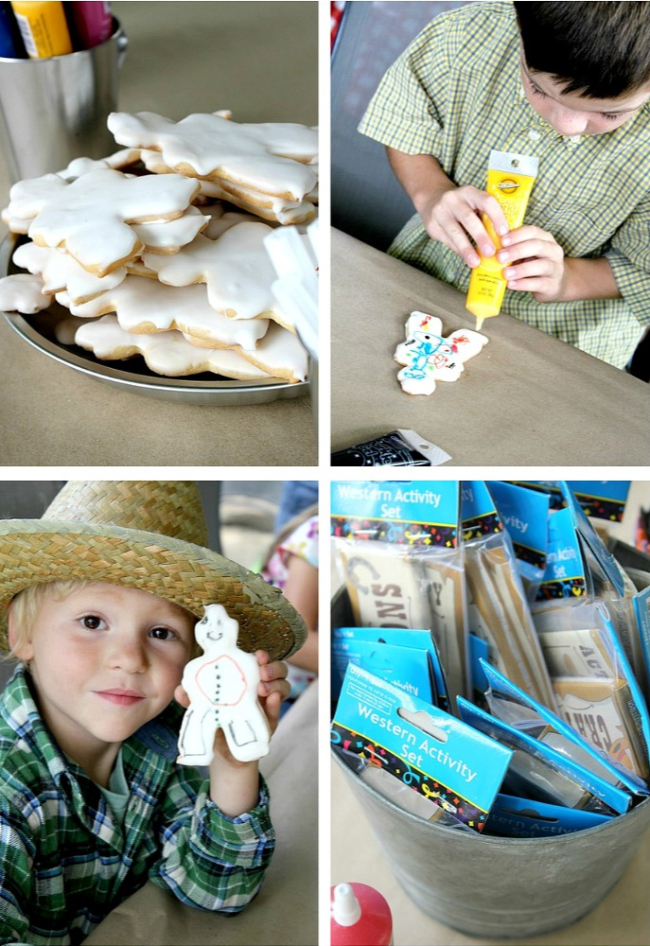 For the cookie decorating I had the Edelweiss Bakery I have been using for years make cowboy cookies for me with plain white icing. I set out an assortment of Wilton Sparkle Gel and Edible Color markers in buckets for the kids to decorate their cowboys.
The Mini Western Activity Kits were purchased from Oriental Trading.
Food and Drink
The twins are not allowed to drink soda, so we decided to go with milk and water for the party. For those who didn't want plain milk or water though I set out containers containing chocolate powder and crystal light to fancy their drinks up a bit.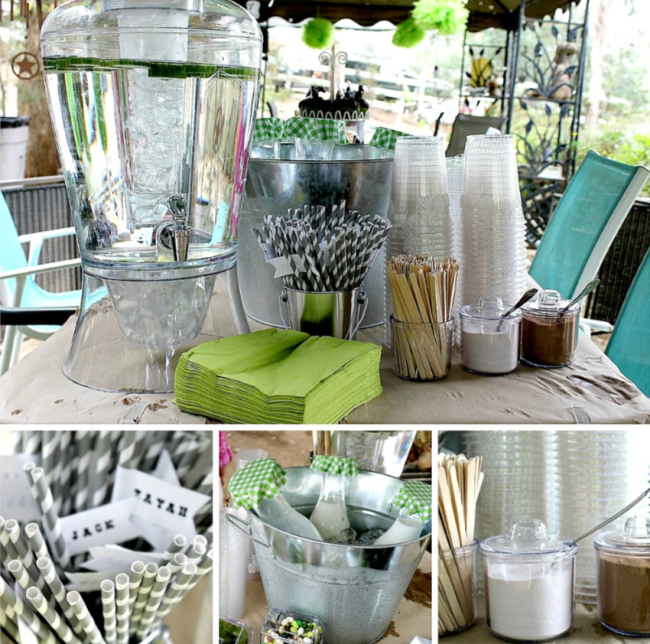 I found the great idea for the personalized party straws on Pinterest, they were made by On To Baby. I simply took large address labels, folded them (before peeling off the backing), used some mini western themed letters and stamped the names on, then cut a small triangle in the side of each, peeled the backing off and attached them to the straws.
The milk bottles are actually wine carafes I purchased at World Market. I was worried about bugs getting into the milk though so I made little covers for them. I simply cut out a circle of oil cloth, turned it upside down and placed it over the top of the bottle. Then I stitched a thin piece of elastic together to make a circle and slipped it over the top of the oil cloth and bottle. While it was on the bottle I hand-stitched the elastic onto the oilcloth every centimeter or so. Once stitched together I flipped it inside out and put it over the top of the bottle as a lid.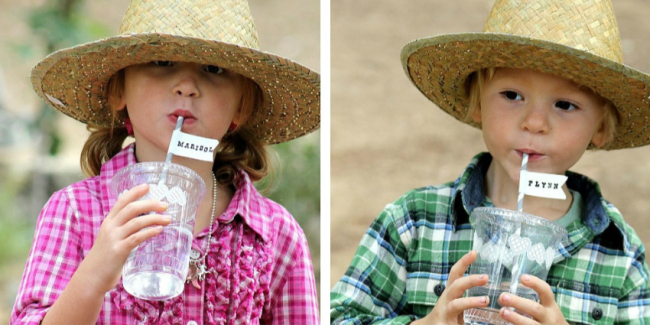 The biodegradable gray and white paper straws were purchased from Amazon.
The drink cups and lids, as well as the containers for the drink mixes, were purchased from Smart & Final.
We ordered Subway sandwiches for our guests for lunch. There was also plenty of candy, horseshoe-shaped cookies, grapes, meringues, cupcakes, popcorn, pretzels, cowboy cookies, and dip with veggies.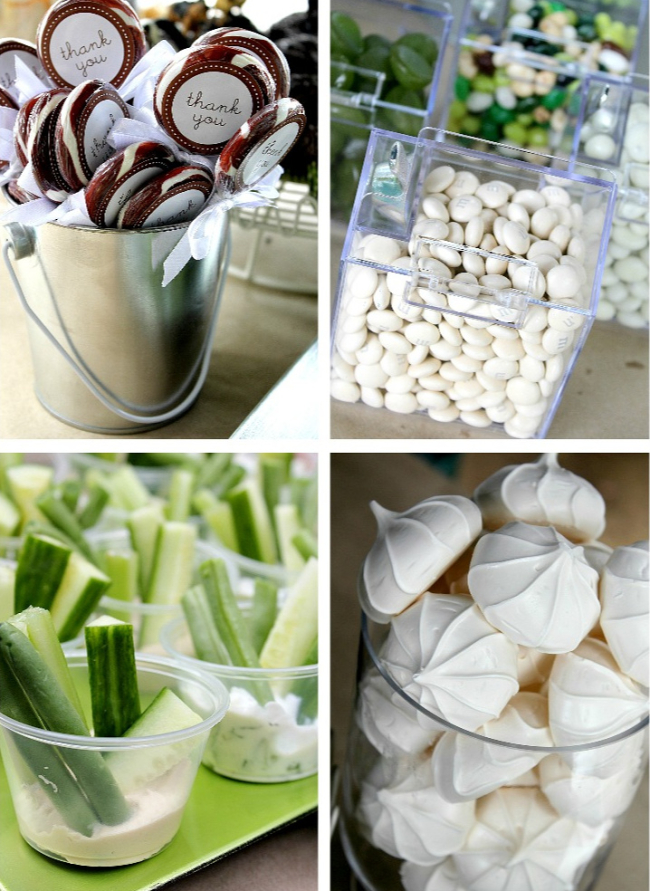 The lollipops were purchased from Party City, you can customize your own labels for them.
The adorable farm house candy holders with little silver scoops were purchased from World Market. They were filled with jelly lollies, jelly beans, M&M's and yogurt covered raisins.
The dip and veggie cups were very easy to make. I put a spoonful of hummus, yogurt dip, or tzatziki dip in alternate souffle cups then popped a few green beans, celery sticks, and cucumber sticks in each.
The Cupcakes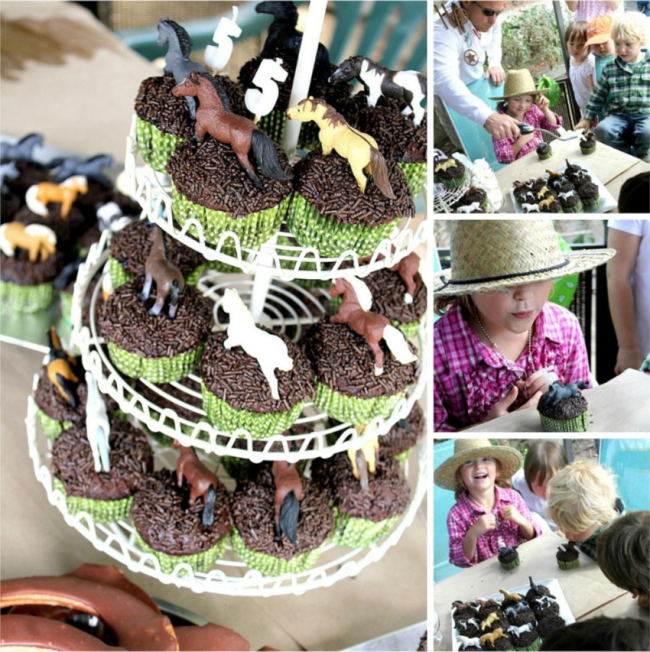 I made yummy chocolate cupcakes with chocolate icing and dunked each into a bowl of chocolate sprinkles. Each cupcake was topped with a horse. I found tubes of horses at Joann's. Most places carried tubes of assorted farm animals so I was ecstatic when I found ones with just horses in them.
There was a very cheeky girl who somehow managed to sneak a second cupcake.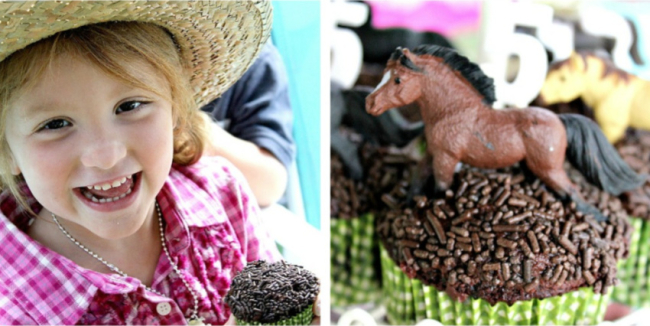 Party Favors
Each guest went home with a handmade hobby horse, cowboy hat and a bandanna on a stick to fill with decorated cookies, a horse from their cupcake, gifts from the 'pass the parcel' game, lollipops, and Mini Western Activity Kits.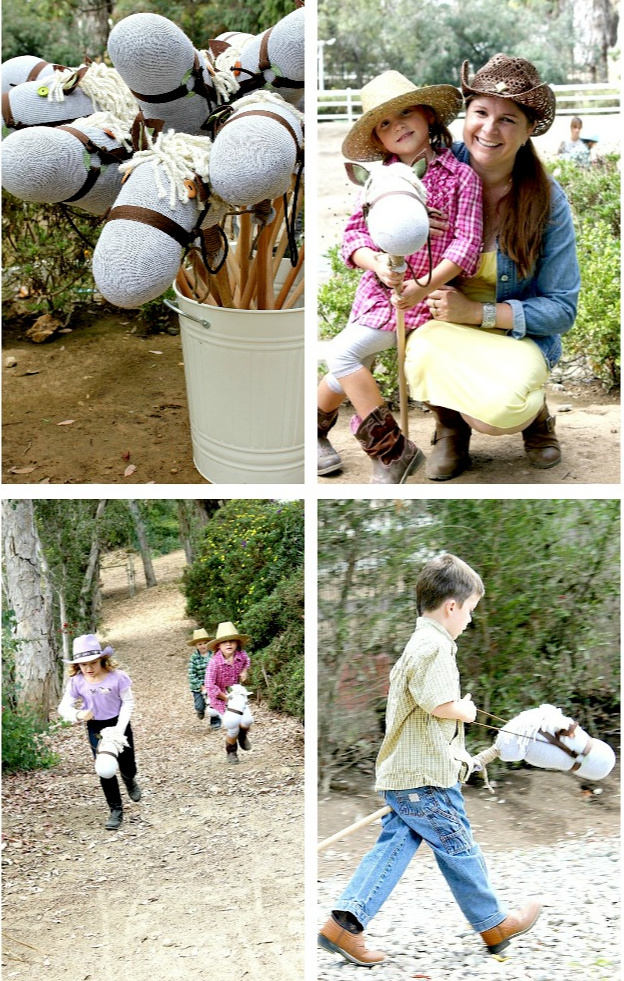 The hobby horses ended up being a lot of fun for the kids to play with during the party too.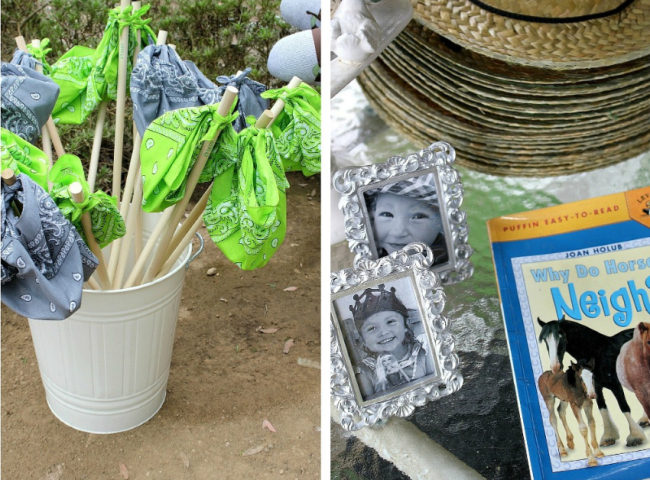 The Hobby Horses – my husband purchased the pre-cut sticks at Home Depot. The horse heads were made out of socks. I found the idea on Dandee however made a few changes. I used regular buttons for the eyes. I used a combination of rope, grommets (found at Beverly's), and canvas straps (similar to what you would use for a bag handle). The mane was made out of Lion Brand Wool-Ease in wheat. I used leftover rope from the hula-hoops to wrap tightly attach the sock onto the stick (along with gorilla glue).
The bandannas on sticks – The sticks were the exact same ones we used for the hobby horses. The bandannas were purchased from Amazon.
The cowboy hats were purchased from Oriental Trading.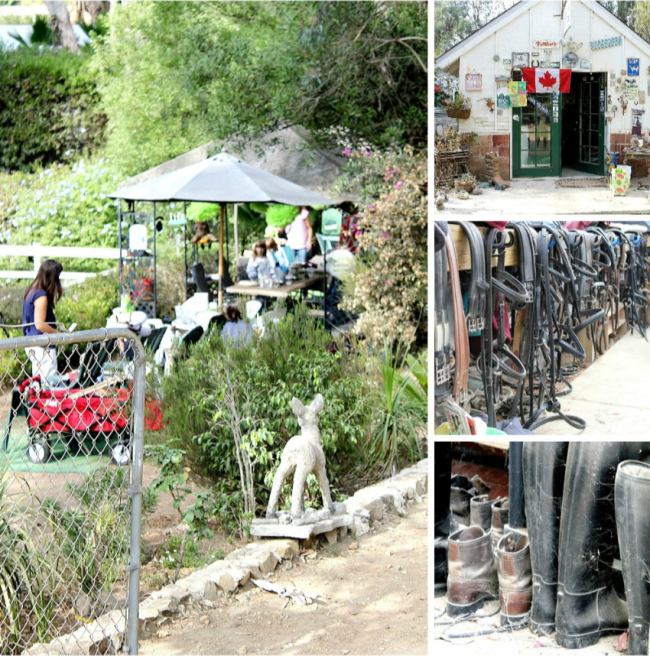 Invitations were sent using Punchbowl. They have a lovely horse invitation that has twin horses on it.
Please pin this post for later: