We love pasta in our house.  Ask Marisol what she would like for dinner any day of the week and she would tell you pasta, her favorite being Penne.  The hardest thing I find with serving pasta for dinner is taking out certain ingredients from dishes to suit each person.
I'm also a huge fan of getting the kids involved in the kitchen.  We normally have one night a week where it's a 'make your own' night.  Whether it be putting your own toppings on pizza, or making tacos or burritos.  So last night I decided to set up a pasta bar in the kitchen and let everyone choose their pasta, their toppings and their sauce.  Everyone loved it.  For the first time there was no-one picking out what they didn't want to eat, no-one complaining about the type of pasta I used and everyone ate all of their dinner.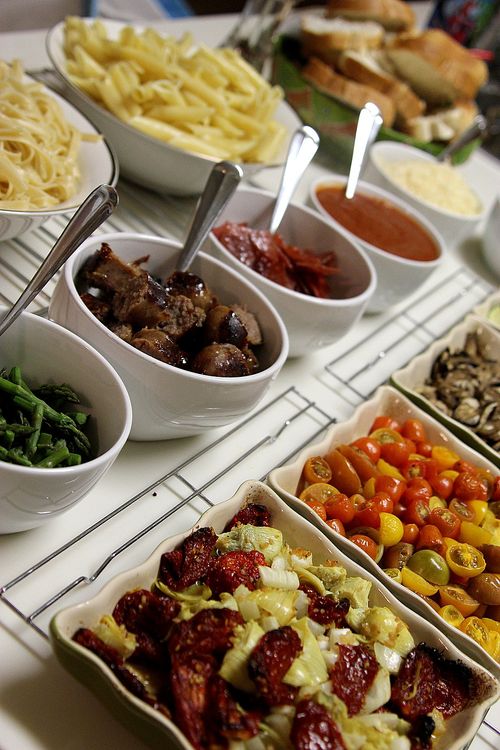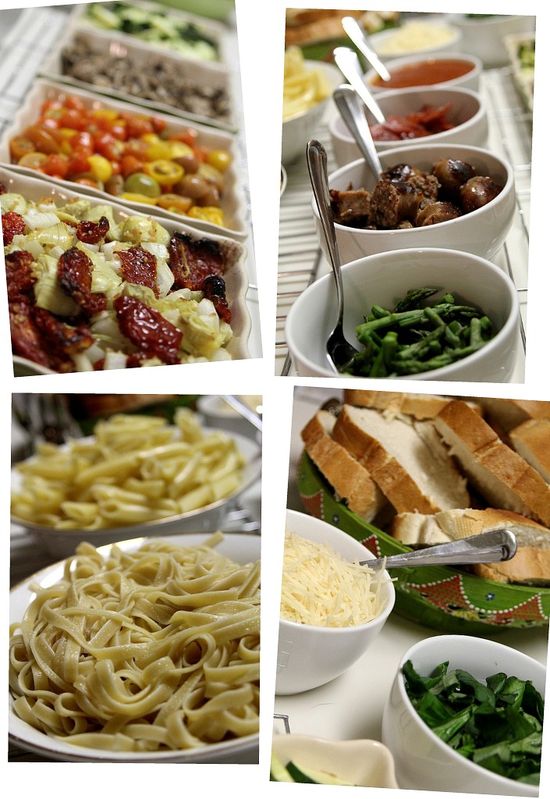 Pasta:
La Romanella Organic Penne Rigate
La Romanella Organice Fettucine
Toppings:
Grilled Sweet Italian Sausages (cut into bite-sized pieces)
La Romanella Salami
Zucchini (sliced and halved)
Mushrooms (sliced)
La Romanella Roasted Garlic Pasta Sauce
Sun-dried Tomatoes
Mini Heirloom Tomatoes (halved)
Artichoke Hearts (diced into smaller pieces)
La Romanella Shredded Parmesan Cheese
Garlic (crushed)
Onion (diced)
Fresh Basil
Salt & Pepper
Accompaniment
French Bread – sliced and warmed in the oven
Here is my biggest tip.  You are not going to be able to fit everything on the stove so that it is all warm when dished up.
Grill the sausages ahead of time, put them in a baking dish, cover with foil and pop into the oven to stay warm.
Use individual baking dishes (I have a collection of small Culinary Colors Bakeware Dishes), put in a little olive oil and separate the vegetables into each and pop into the oven for roasted vegetables.  I was a couple of dishes (and space) short so I combined the sundried tomatoes, artichoke, garlic and onion into one which I used in place of the pasta sauce for my pasta dish.
On the stove, you then have space for 2 pots for pasta, a steamer for any vegetables you don't want to grill (which I used to steam the asparagus) and a pot to warm the pasta sauce.
This would make a great casual dinner party idea with friends too.
Disclosure:  I was compensated for this post (and received a giant box of La Romanella products) as part of the #LaRomanella #sfsmarties campaign for Collective Bias.


La Romanella products are available at Smart & Final.
Smart & Final are on Twitter and Facebook
AS SEEN IN:
Weddings Illustrated