These chocolate filled ebelskiver are perfect for every event, from a death by chocolate night to Sunday brunch.
Last week we held a Death By Chocolate event for local military spouses. There's nothing quite like women, wine, and chocolate.
My contribution to the event, besides my slowly becoming famous Hot Chocolate, was: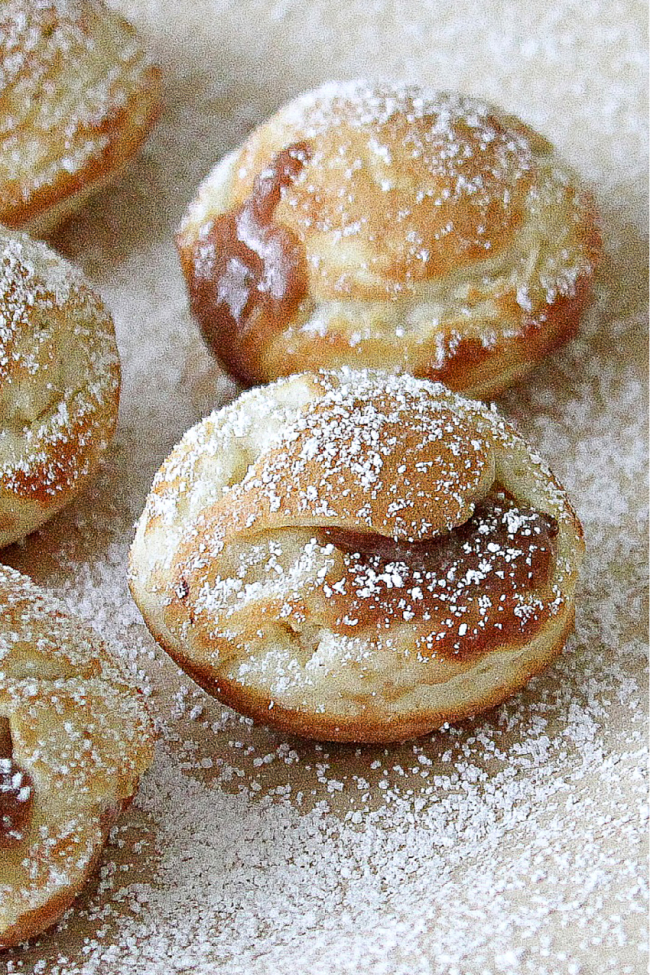 Chocolate filled Ebelskiver – or as they are otherwise known: little mini pancakes (or Danish pancakes) are made in an Ebelskiver pan. The gist of making these is that you only use egg whites instead of whole eggs and whip them before folding them into your pancake mixture. You then put a small spoonful of mixture into the ebelskiver pan, top with a filling and then put another spoonful of pancake mixture over the top, you cook until the mixture bubbles and then flip using Ebelskiver Turning Tools. I'm not terribly good with following directions, so here is how I made these.
Ingredients for Ebelskiver:
2 cups buttermilk
2 tsp vanilla
2 cups all-purpose flour
2 tbs white sugar
1 tsp baking powder
1/2 tsp baking soda
Pinch of salt
3 egg whites (set egg yolks aside)
2 tbs butter (melted)
Combine all ingredients except for the egg whites in a bowl and mix with a wooden spoon. Beat the egg whites until peaks form, then very gently fold them into the pancake mixture.
Carefully spoon pancake mix into the Ebelskiver pan until approximately 3/4 full. When the mixture begins to bubble, very gently flip the little pancakes using the Ebelskiver tools and cook on the other side (just like regular pancakes).
Note: Make the filling below BEFORE you cook the pancakes.
Ingredients for the chocolate filling:
1 cup white sugar
1 1/2 cups heavy whipping cream
3/4 cup buttermilk
3 tbs cornstarch
3 egg yolks
1 block Lindt chocolate
1 tbs butter (melted)
1 tsp vanilla
In a saucepan over medium heat combine 1/2 cup of cream, sugar, buttermilk, cornstarch, and salt. Whisk until smooth, bring to the boil and continue whisking occasionally until the mixture thickens. While this is cooking, break the chocolate into small pieces and melt in the microwave and beat the egg yolks.
Pour a little of the mixture from the saucepan into the egg yolk and mix. Then pour that back into the saucepan and whisk again over medium heat until the mixture is thick and it will be thick. Transfer to a bowl and whisk in the melted chocolate, butter, and vanilla. Pop it into the freezer to cool down. While it's cooling, whip the remainder of the cream in a bowl until very thick. Once the chocolate mixture is cooled, but not cold, gently fold in a little of the cream at a time. We want to make the consistency of the mixture more like a thick sauce and less like a paste.
Now it is time to cook those pancakes. Once cooked and cooled slightly, fill a dessert decorator with the chocolate mixture and using the longest tool attachment gently inject some chocolate into the center of each pancake. Do it slowly though as you don't want it squirting out all over the place.
Sift a little confectioner's sugar over the top. You can serve with the leftover whipped cream too.
********************
Looking for some other ideas of what you could serve at your own Death By Chocolate event. Here are a few things served at ours.
Chocolate covered fruit (pineapple was a big hit).
Chocolate covered pretzels
Brownies
Chocolate Dip
Ice-cream cake
Chocolate cake
Cookies
Alcoholic and non-alcoholic chocolate beverages
Martha Stewart had a fantastic round-up of chocolate ideas recently: Quick Chocolate Dessert Recipes
Please pin this post for later: