All you need is a basic cake, a few supplies, and you can make a fantastic Spider-Man cake in no time at all with these tips.
Last week my oldest (you know, the one who recently moved out of home, sniff) asked me to make a birthday cake for his girlfriend.
All I knew is she loves red velvet cake and Spider-Man.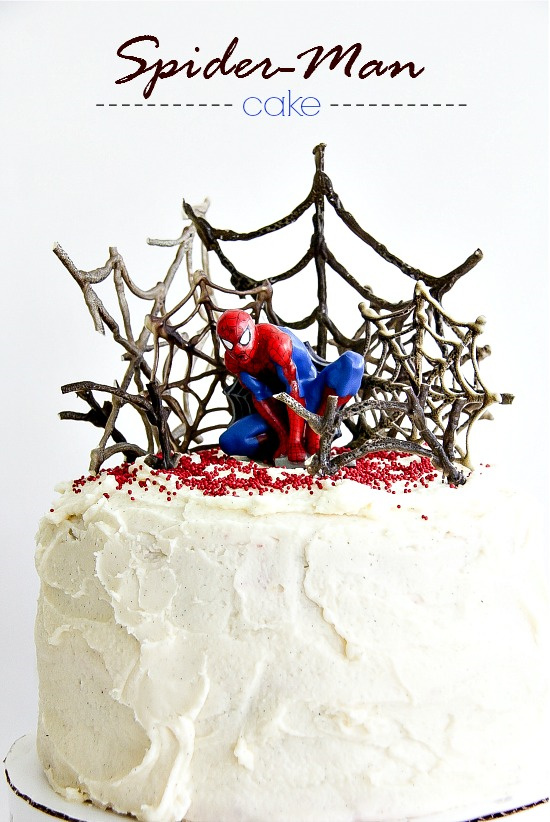 I would love to share a fabulous red-velvet cake recipe with you, but things have been busy lately. I didn't have time to experiment in the kitchen as I would normally do and I don't have a tried and true recipe on hand for red velvet cake. So, I made this cake using a couple of boxes of cake mix, substituting the oil for apple sauce, and then made my own vanilla icing.
This cake took two boxes of red velvet cake mix which I divided between three 8″ round cake pans.
What you need
3 8″ round cake pans (or just bake each layer separately to re-use the one pan
2 box red velvet cake mix
Vanilla frosting
Applesauce (for cake mix instead of oil)
Butter and flour (for greasing the pan)
Red nonpareils
Spider-Man toy
Parchment paper
White chocolate
Wilton piping tip No.2
Piping bag
Black edible food spray
Instructions
Preheat the oven, and then follow the cake mix instructions substituting the oil for applesauce.
I don't normally use baking paper in cake pans. Instead, I grease them by brushing melted butter around the base and sides and then shake flour over the top, moving the pan around until all of the butter is covered in a thin layer of flour. I then shake the excess out.
I didn't know if she liked fondant and didn't want to run the risk of her hating it so I decided against doing a tiered Spider-Man cake. Instead, I put icing between each of the cake layers, leveling each of them with a knife before stacking them. I then did two layers of icing around the outside – a crumb layer which I refrigerated until firmer and then added a top layer.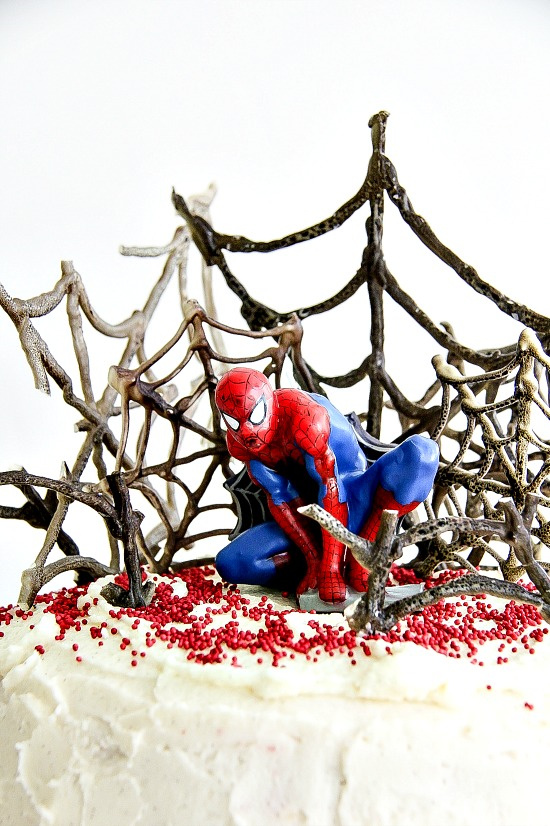 I then added red sprinkles to the top of the cake and a Spider-Man candle.
Edible spider webs
To make the webs I drew spider webs on a piece of parchment paper in various sizes, turned it over and piped melted white chocolate over the top using a piping bag with a No.2 Wilton tip. The white chocolate was set in the refrigerator and then sprayed with black edible color. I didn't want it to look perfect so sprayed some webs with a second coat and others with a very light coat.
Unfortunately, some of the webs began breaking as they softened which I actually decided made them look more realistic because I was able to place broken pieces of webs around Spider-Man.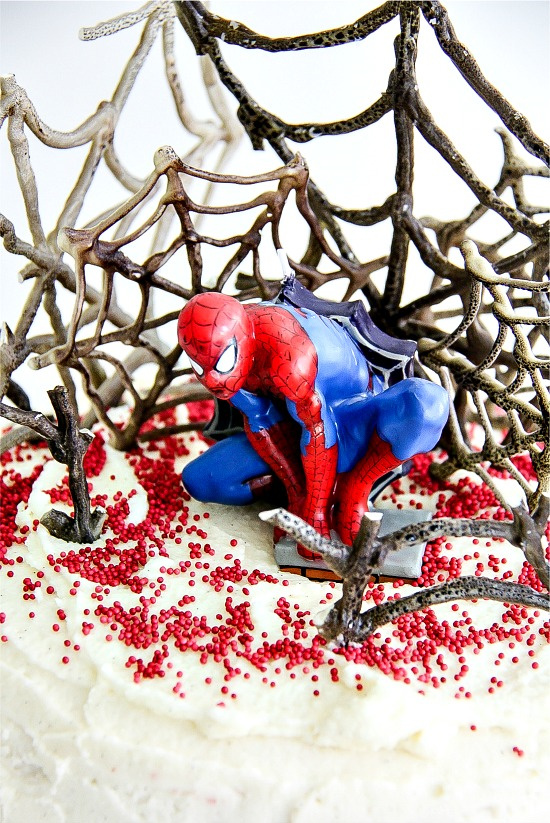 She was thrilled with her cake. And I'm so glad I was able to put smiles on both of their faces.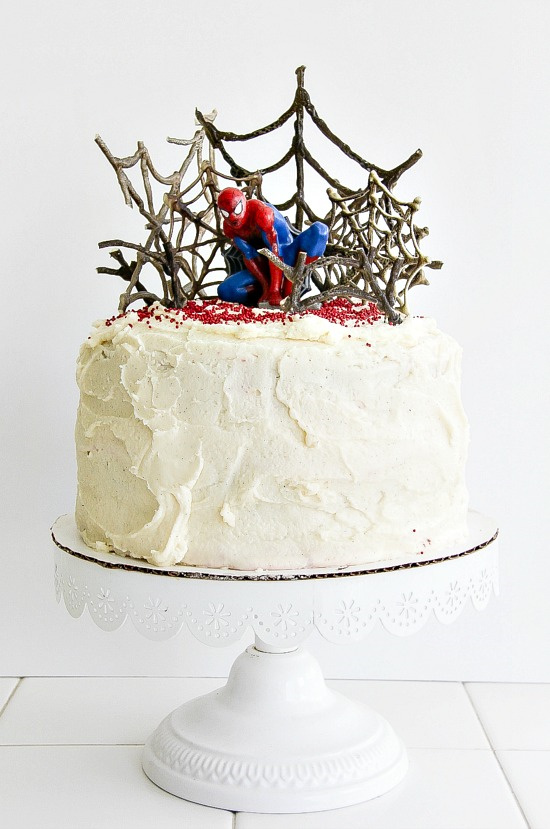 The spider webs would be perfect for a Halloween cake.
If you have a child who celebrates their birthday around Halloween and are looking for a party theme, then this is perfect. Kids love superheroes, and what could be better than adding the 'spider' touches to make it a kid-friendly Halloween party.
Please pin this post for later