These red, white, and green candy-filled ornaments are a fun craft for the kids to make, gift, and hang on the tree this Christmas.
If you are looking for a simple DIY holiday decoration or gift idea, I've got the perfect one, and it's so easy that kids can do it.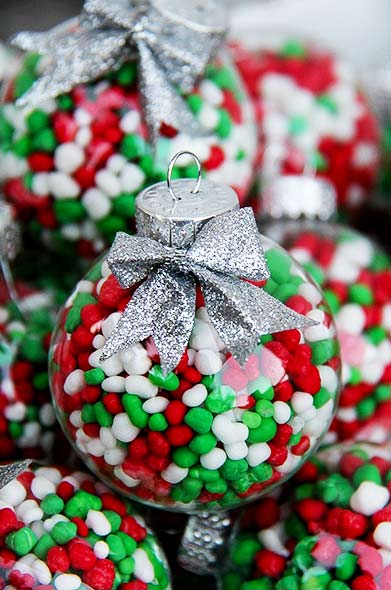 Note: I originally created the instructions to make these candy-filled ornaments for the Nestlé site, Simply Celebrate, however that website has been taken offline.
Candy-filled ornaments
Candy-filled ornaments are perfect for holiday celebrations – as gifts or Christmas tree decorations, they bring festive cheer to neighbors, friends, and classmates.
Supplies
Wonka® Frosty Nerds®
Clear plastic or glass ornaments (choose appropriately for not only ages filling but also for recipients)
Funnel
Small pre-made bows
Glue – such as E-6000
Instructions
Remove the hanger from the ornament and then, using the funnel, fill the clear ornaments with Wonka® Frosty Nerds®.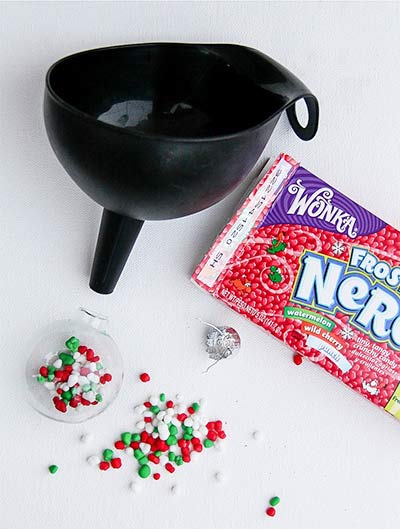 Pour the Wonka® Frosty Nerds® very slowly into the funnel so that it doesn't get clogged. If it does get clogged flip it upside down and use a skewer or lollipop stick to push them back out.
Smaller children may require help to hold either the funnel or the ornament. However, if you purchased a multi-pack of ornaments, leave them in the pack, remove the hanger from each, make sure the opening is facing upward and hold the funnel over the top for pouring.
Place the hanger back onto the ornament. Use the glue to attach a small bow to the top of the ornament and set it aside to dry.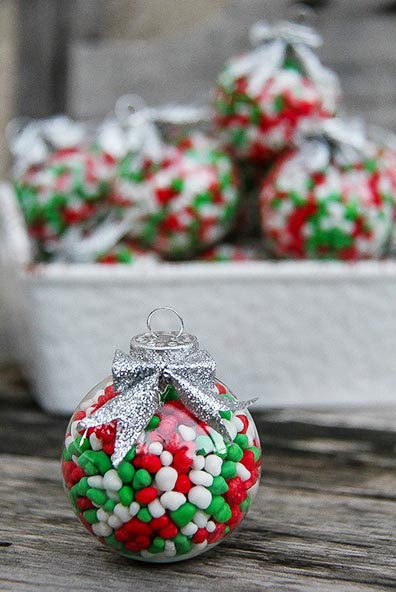 It only takes a few minutes to make each candy-filled ornament, and this is the perfect activity for kids to help with. They will love making these fun treats to not only hang on the Christmas tree but also to give as a classroom or neighbor gift. You could also put a candy-filled ornament next to place cards for holiday parties, or leave a basket of them by the door for guests to take home.
Looking for more Nestle candy holiday activities to do with the kids?
Please pin this post for later: