This holiday candy centerpiece using Wonka Christmas Nerds is a fun holiday project for the kids to do.
Organizing holiday celebrations for friends and family can become overwhelming. With so much to prepare getting the kids involved will not only ease some of your workload, but also give them a sense of accomplishment.
My teenager created this fun candy-filled holiday centerpiece. It is simple enough that younger children can do it too; they will just need a little help securing the twine and cutting the flowers.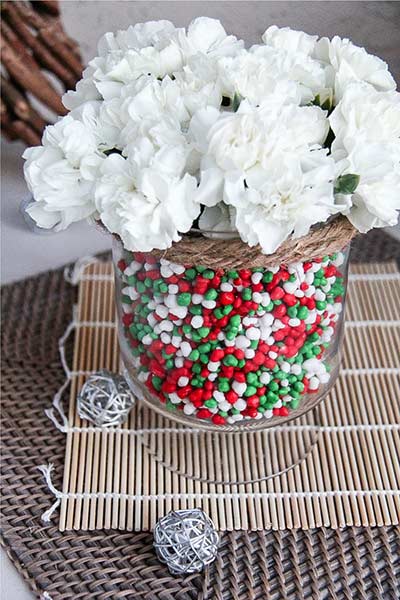 Note: I originally created this idea for the Nestle Simply Celebrate website, however, that site is currently offline.
What you need
Glass vase or glass hurricane for candles
Drinking glass or canning jar
Wonka® Christmas Nerds® Rope– quantity depends on the size of holder you will be using
Twine
Flowers
Instructions
When choosing the size glass to place inside the holder, you want to allow a minimum of half an inch between the glass and the holder – enough space for the candy to fit in-between.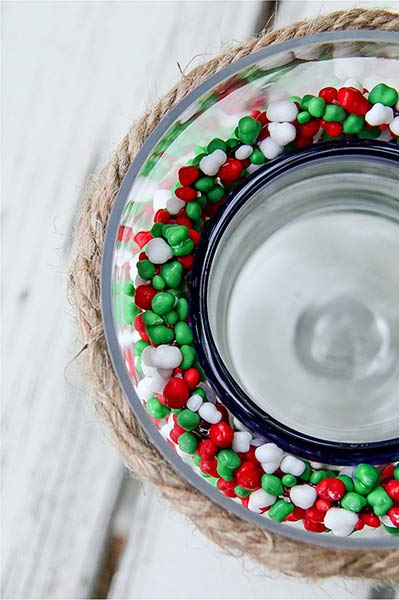 Before filling the space between the glass and holder with candy, put water in your glass, so that water doesn't splash on the candy and make a mess.
Wrap a piece of twine around the top of the holder where the candy ends and where you would possibly see the flower stems if your glass is a little shorter than the holder like ours is. Trim flowers so they fit snuggly into the glass and so you cannot see the stems.
Looking for more Nestle candy holiday-inspired projects to do with the kids?
Please pin this post for later: