Homemade cauliflower alfredo sauce is delicious served with fettucine, and is the perfect way to sneak in a little veggies for the kids.
Disclosure: This is a sponsored conversation written by me on behalf of Black Box Wines. The opinions and text are all mine.
Do you cook with wine? I do, especially when I make sauces for pasta, or skillet dishes.
This Fettuccine with Cauliflower Alfredo Sauce sneaks in veggies for the kids. They will never know it unless you have a big mouth like I do and tell them as soon as they've taken their first mouthful.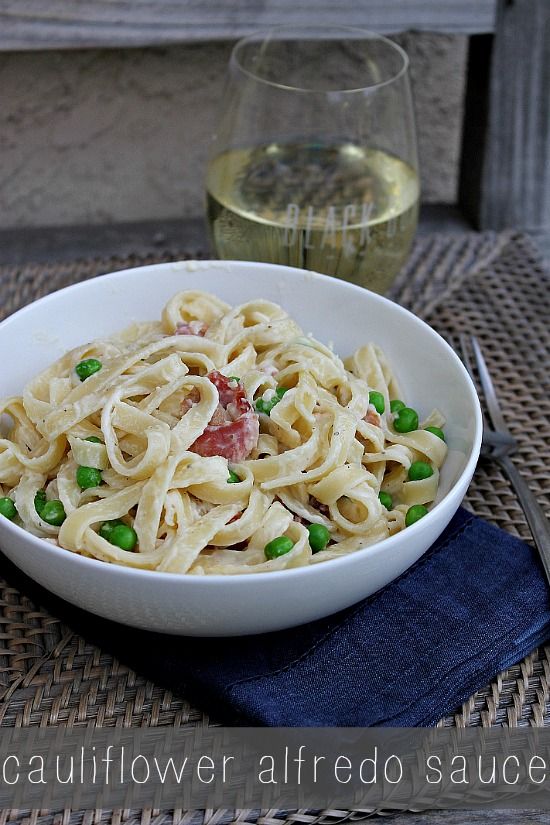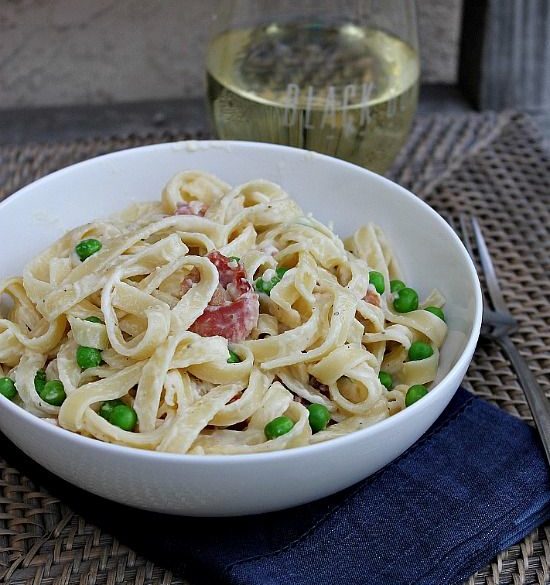 Ingredients
Alfredo Sauce Ingredients:
2 cups Cauliflower
1.5 cups Vegetable Broth
1 cup Water
1 cup Heavy Whipping Cream
1 cup Black Box Wines Sauvignon Blanc
2 tbs Butter
2 tsp Chopped Garlic
1.5 cups Parmesan/Romano cheese
1 tsp Thyme
1 tsp Nutmeg
Salt & Pepper
Other ingredients:
Fettuccine (we used 2 boxes)
Bacon
Peas
Extra Parmesan/Romano Cheese
Red pepper flakes (optional)
Instructions
Bring a large pot of water to boil for the fettuccine. Once boiling add your fettuccine and cook according to the package directions.
Add the vegetable broth and water to a medium-sized pot, along with cauliflower florets, and bring to the boil. Continue cooking until the cauliflower is softened. You will have time to make the next step while it boils.
In a pan, add the butter and garlic and stir for about 30 seconds. Add 1/4 of the wine to the pan to deglaze it, allowing it to reduce for a couple of minutes. Add the cream and the remaining wine and bring to the boil. Toss in the cheese and immediately reduce the pan to a simmer, stirring frequently while the cheese melts. Add the thyme, salt and pepper, and nutmeg, and allow to simmer for a couple of minutes.
Transfer the cauliflower to a blender using a slotted spoon. Add in a couple of small scoops of the broth it was cooked in. Blend until smooth. Pour in the cream mixture and continue blending until combined and the sauce is thick. Add more broth mixture if it's too thick. Stir every now and then, it will thicken a little as it's left there.
Pop bacon on the grill and some peas into a small pot on the stove.
By now your pasta should be done and drained. Pour the sauce over the top and toss to combine thoroughly. Add chopped bacon and peas and toss lightly again.
Serve with extra cheese and red pepper flakes (for those who want a little kick)
Serve your pasta with a glass of Black Box Wines Sauvignon Blanc (for grown-ups only).
Head on over to Black Box Wines to take a look at their selection and grab great summer entertaining ideas from their Summer Guide.
Black Box Wines is available in ten delicious varietals and two sizes (3L and Tetra). They will have you ready to lose the bottle and is perfect for all your summer gatherings! They even have Moscato, and you know how much I love Moscato.
Looking for more delicious Black Box Wines ideas? Check these out: