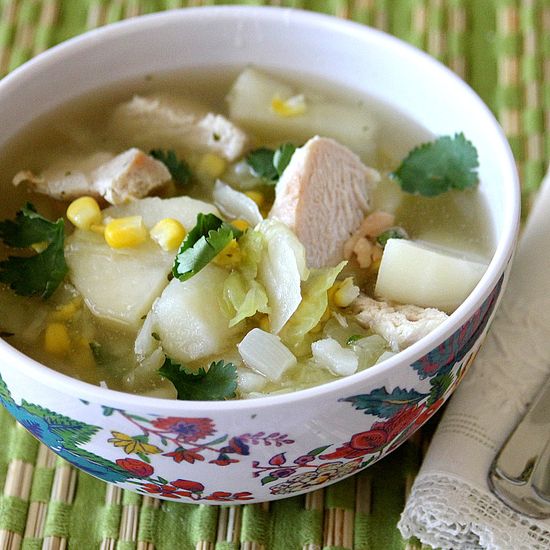 CHICKEN AND POTATO SOUP
Ingredients:
4 chicken breasts cooked (roughly cut, they don't need to look perfect). I cooked mine in the oven on about 350 for around 30 minutes with a little olive oil spray and seasoned with Trader Joe's 'Everyday Seasoning'. Alternatively, to make this a one-pot dish, use a pre-roasted chicken from the grocery store.
5 baking potatoes (cut into 1 inch pieces)
10 cups chicken broth
3 serrano chiles – finely chopped
3 cups green cabbage – chopped
2 cups corn kernels (I steamed corn and then using a knife sliced the kernels off the cob)
1 small onion – chopped
1 tsp crushed garlic
cilantro
salt & pepper
Add the 10 cups of chicken stock to a large pot with the potato, onion and garlic.  Bring to the boil.  Once you can put a fork in the potatoes, but they are not mushy, add the remainder of the ingredients.  Turn the heat down to about medium and cook for a further 10 minutes. 
Once served top each bowl with a little extra cilantro.
Note:  This soup has a little kick to it so if you do not like spice, reduce the number of serrano chiles.