Surprise your neighbors with boo bags this Halloween. We have lots of boo bag ideas including non-candy Halloween treats.
We all love a good treat, especially over Halloween, but do we really need so much candy? Between trick-or-treating, class gifts, parties, and special treats it can become very easy to over-indulge.
Boo bag ideas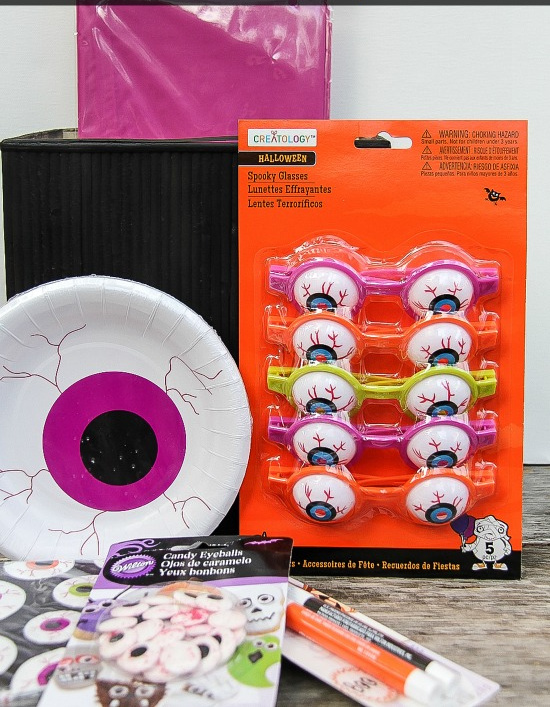 I created the above monster eyeball goodie bag a few years ago. It doesn't contain candy but does contain a few items such as edible eyes and food writing pens so that families can create their own allergy-friendly treats. You can get all my instructions at The Centsible Life including free printables.
Here's a great list of non-candy Halloween treats that kids will love just as much and get far more use out. These alternatives are the perfect Halloween goodie bag ideas to hand out to school friends and parties too.
Coloring pages and crayons
Print out Halloween-themed coloring pages, roll them up with twine and attach a small box of crayons.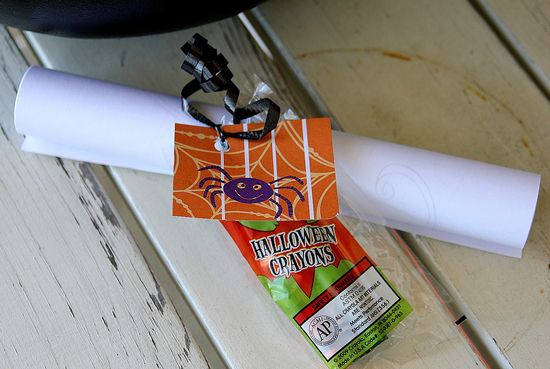 Better yet, melt broken crayons in the oven, pour them into Halloween candy molds, and put them into the freezer to set.
I have made crayons from the kid's broken crayon pieces before, but I decided to try something a little different this time around.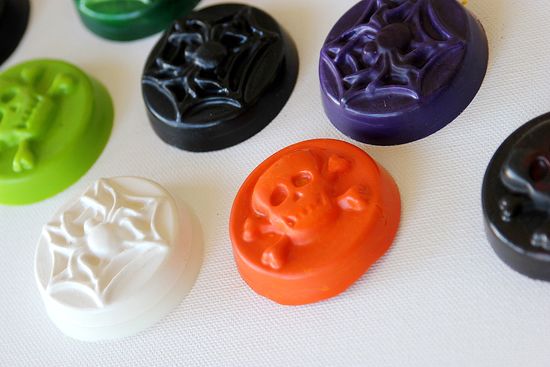 Supplies
Broken pieces of crayon
Silican muffin pans
Candy molds
Instructions
Preheat the oven to 250F.
Put the broken pieces of cryaon into the muffin pans (break larger pieces in half).
Put the muffin pan into the oven for about 20-minutes. Note, the muffin pans in the center of the tray will take longer to melt than the ones around the outside.
The crayons turn into liquid (it's okay if there are a few small chunks too).
Very carefully (because it's very hot) pour the liquid into candy or ice-cube molds.
Place the molds into the freezer until the crayons are hard, and then remove from the mold.
PLAY-DOH AND COOKIE CUTTERS
Multi-packs of Play-Doh are everywhere right now. Pop one into a bag with a Halloween-themed cookie cutter, or cookie stamp. Kids will love making their own Play-Doh creations.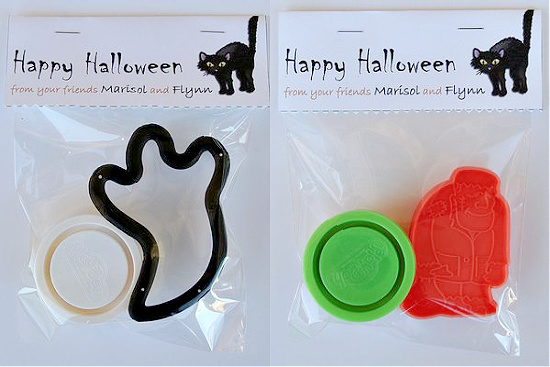 Supplies
Medium-sized (4.75″ x 6.75″) transparent archival bag
Card stock
Play-Doh tub
Cookie cutter
Stapler
Instructions
Put a cookie cutter and small tub of Play-Doh into the bag.
Either make or have the kids decorate a card to attach to the top.
Fold the card over the top of the bag and staple it in place so that the goodies inside don't fall out.
Temporary tattoos
Kids love tattoos. You can put them into Halloween bags, boo bags, or set up at 'tattoo station' at your front door for trick-or-treaters. Have a sponge and water ready to apply the temporary tattoos.
Glow sticks
Glow sticks, bracelets, and necklaces are a big hit, especially if kids can wear them as they trick-or-treat!
Halloween slime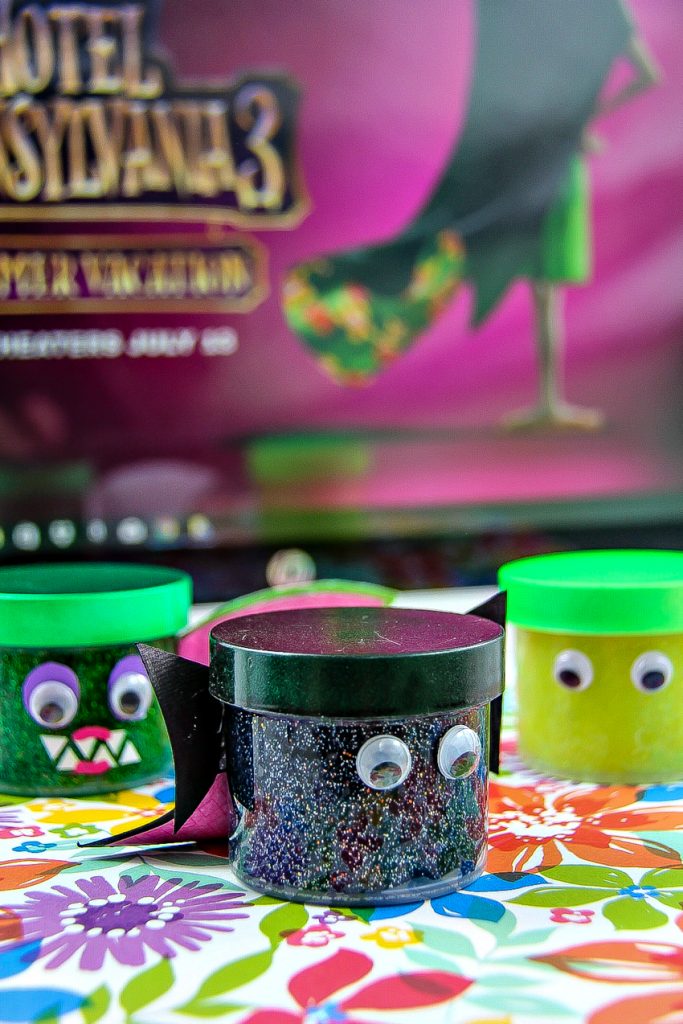 What kid doesn't love slime? Make your own, or buy multi-packs of mini slime containers. I have instructions to make these Hotel Transylvania slime containers at Lady and the Blog and glow-in-the-dark slime at Kids Activities Blog.
Halloween popcorn bags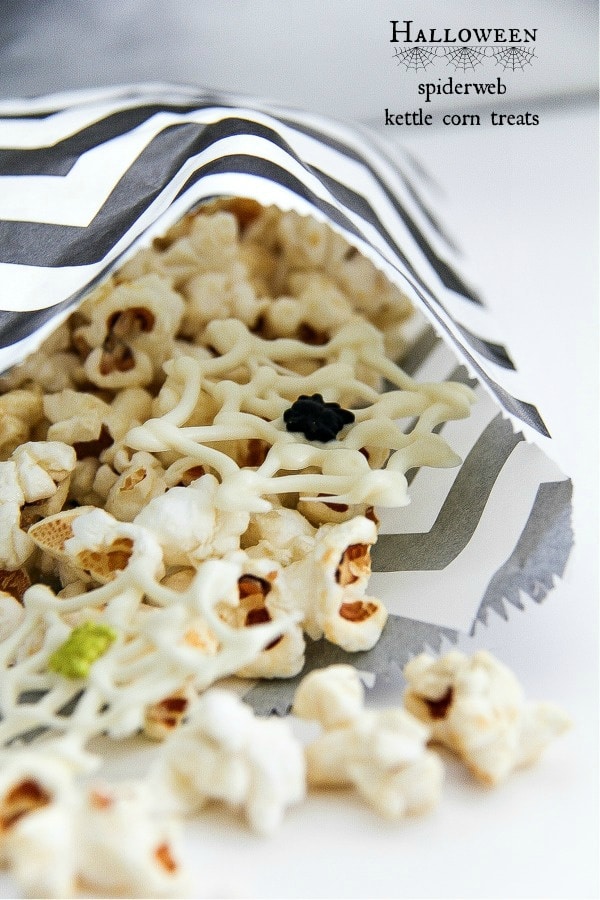 Mini popcorn bags are the perfect snack for kids to enjoy once they get home and are settled in front of a Halloween movie. Put popcorn into clear treat bags, tie the top, and then turn it over and use a permanent marker to draw on ghost features. We have a yummy Halloween popcorn mix idea if you are looking for ideas.
Halloween juice boxes
Wrap colored paper around mini juice boxes to turn them into ghosts, pumpkins, Frankenstein, and other fun Halloween characters. Draw on fun faces with a Sharpie. Put fun Halloween stickers over the labels of water bottles saying things such as 'witches brew', or 'poison'. Kids will enjoy having a drink while trick-or-treating, or while enjoying some of their other Halloween treats.
Fruit leather mummies
Wrap packets of fruit leather up in bandages, and draw on eyes to make fruit leather mummies.
Jack O'Lantern oranges
My kids are absolutely loving oranges right now. Draw a fun Jack-O-Lantern face on them and place them in a big fruit basket or cauldron to hand out. You can see how these look on my Halloween school lunch post.
Non-candy Halloween treats
Items such as squishy eyeballs, stretchy mice, spiders, fake fingers, glow-in-the-dark bats, and vampire's teeth are sure to have kids squealing in delight. 
Do have any other ideas for candy-free Halloween treats?  Leave them in the comments to build upon this list.
Please pin this post for later: