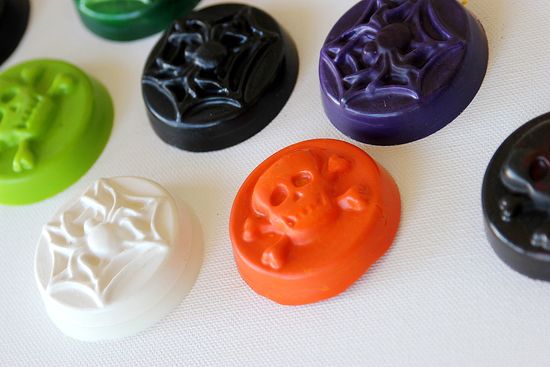 I have made crayons from the kids broken crayon pieces before, but I decided to try something a little different this time around.
You will need:
Broken pieces of crayon
Silican muffin pans
Candy molds
To make:
Pre-heat the oven to 250 (F)
Put the broken pieces of crayon into the muffin pans (you may need to break larger pieces in half)
Put the muffin pans into the oven for about 20 minutes.  I recommend using the muffin pans around the outside of the tray and leaving the center ones empty as they take longer to melt.
The crayons turn into liquid (if it has a few small crayon chunks in it too, that's okay).
Very carefully (it's hot) pour the liquid into the candy molds – the possibilities are endless here, you could make these for every occasion).
Place the candy mold in the freezer until the crayons have hardened, then remove.
These are great for adding to Boo Bags or for classroom gifts.
P.S.  If you don't know what a Boo Bag is then you need to start one in your neighborhood.  There are some great instructions over at Skip To My Lou on how to get started. 
This post linked to:
 As soon on: