UPDATE: THIS GIVEAWAY HAS ENDED.
The 2 WINNERS drawn by Random.org are:
*******************************
This is the face of a very happy little girl.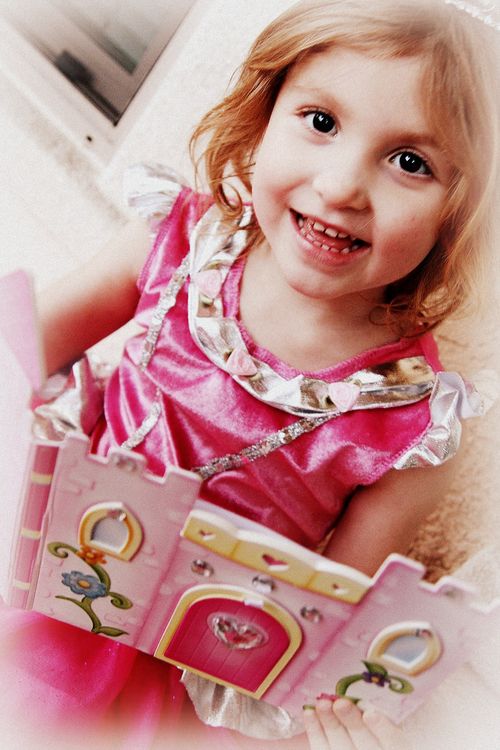 Last week she opened up a box that had been delivered, and inside, she found these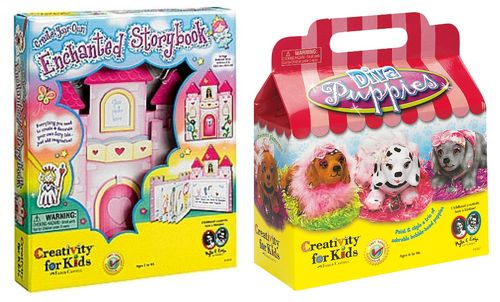 She couldn't wait to get started on them and very quickly got to work on the Diva Puppies.
The pack came with 3 adorable little bobble-head puppies ready to be painted and made glamorous.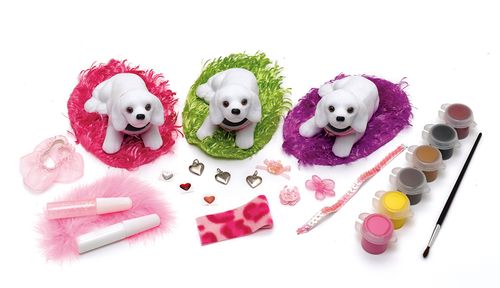 So she painted them and decided what outfits and accessories each required and I helped her add on a few of the finer details.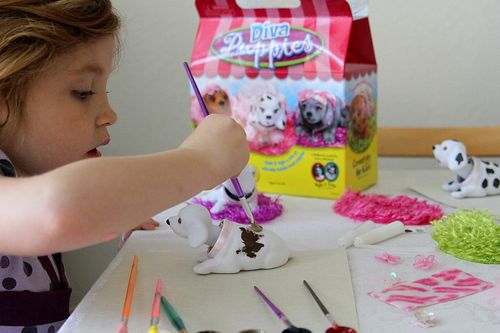 There is a great You Tube tutorial on decorating these too.  My recommendation though is to help the little ones by using a hot glue gun to attach the accessories, because impatient little ones + a brother constantly tugging at accessories = drama.


Next, she worked on the Create Your Own Enchanted Storybook.  This one was my favorite activity.  I'm sure you are aware of my love of handmade storybooks (just look at these ones that the kids made in the Spring, or these that I made them for Christmas a couple of years ago).
This kit came with everything she needed to create her very own fairytale story.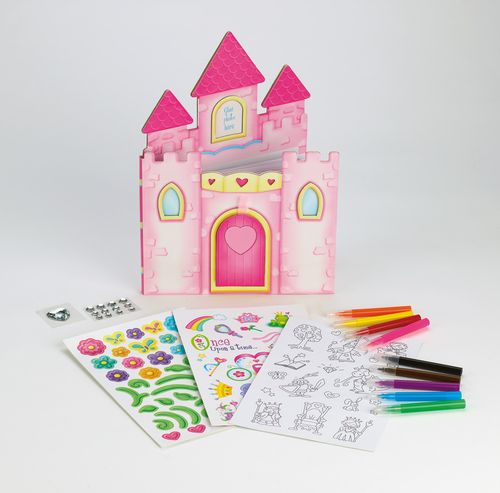 This is the story she came up with:
The story of the Rainbow Fairy.

Once upon a time, there was a King and Queen

Who had a pet dragon

One night a knight stole the dragon

So the King and Queen asked the rainbow fairy to help

She asked her friend Unicorn if she'd seen the dragon. No.

So she asked her friends the Butterflies.  No.

So then, she asked her friend Frog.  Croak. No.

The wizard cast a magic spell and brought the dragon home. 

The end!
With the holidays coming up – did you know there are only 60 days left until Christmas?  I'm not kidding.  Anywho, I decided to host a few giveaways over the coming weeks to help out with gift giving.
This week 2 WINNERS will each receive BOTH the Creativity for Kids Diva Puppies and Create Your Own Enchanted Storybook kits.
I don't like to make you jump through hoops though to enter.  Let's make it easy shall we.
Visit the Creativity For Kids website and tell me 1 other kit you think your kids would love.
That's it! 
If you do decide to send off a little tweet though sending people over here to enter I sure would love it, and of course if you leave another comment telling me you did so and leave a link to the tweet I'll throw in an extra entry.
P.S.  Creativity for Kids are also on Facebook and Twitter so please follow them to get all of the latest information.
This giveaway is open to all US Residents over the age of 18 and will be drawn by Random.org on Sunday 7th November 7pm PST. 
Disclaimer:  I was provided with each kit as part of this promotion.