Do your kids love Despicable Me? These free printable tattoos are perfect for movie nights, parties, and stocking stuffers.
Disclosure: This Despicable Me 2 party post was sponsored by Universal Pictures.
2 DAYS LEFT until Despicable Me 2 is released!
It's the last Monday before the release, which means Despicable Me 2 tutorial day. Today I have a free tattoo printable, courtesy of the lovely Juliann Law.
Supplies
Printable tattoo paper – I found Silhouette brand at Dick Blick Art Materials
Inkjet printer
Vinyl decal application tool (or similar product)
Instructions
Follow the instructions on page one of the download to print your tattoos.
Cut out your tattoos. If you don't want the square look, carefully cut around each tattoo, leaving a few millimeters around the printed area.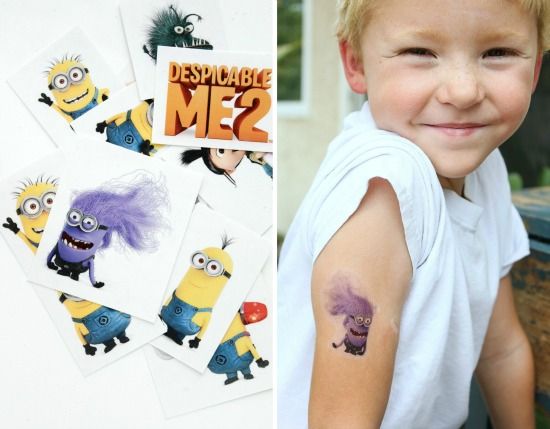 We were invited to an advance screening of Despicable Me 2 last weekend and you are going to love it. Will you be seeing it on Wednesday?