Host the best Despicable Me Minion themed party or movie night for your kids with these great ideas. We've got food, favors, and more.
Disclosure: This Despicable Me 2 party post was sponsored by Universal Pictures.
I was recently asked to create a party table for the upcoming Despicable Me 2 movie being released on July 3, 2013.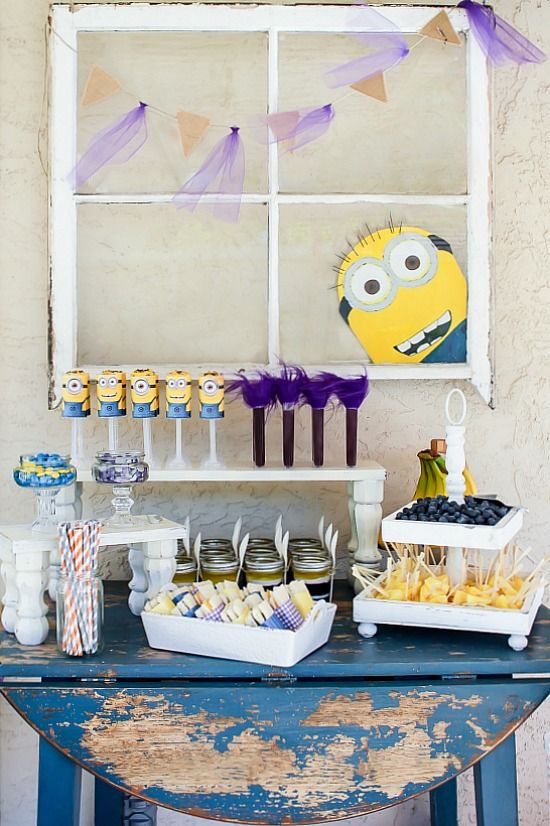 With summer vacation coming up, host a pool party, or a backyard screening of Despicable Me 1 before heading to the movie theater to see Despicable Me 2? If you want another Despicable Me pool party idea, check out this Despicable Me ice-cream pool party too. Here's a sneak peek: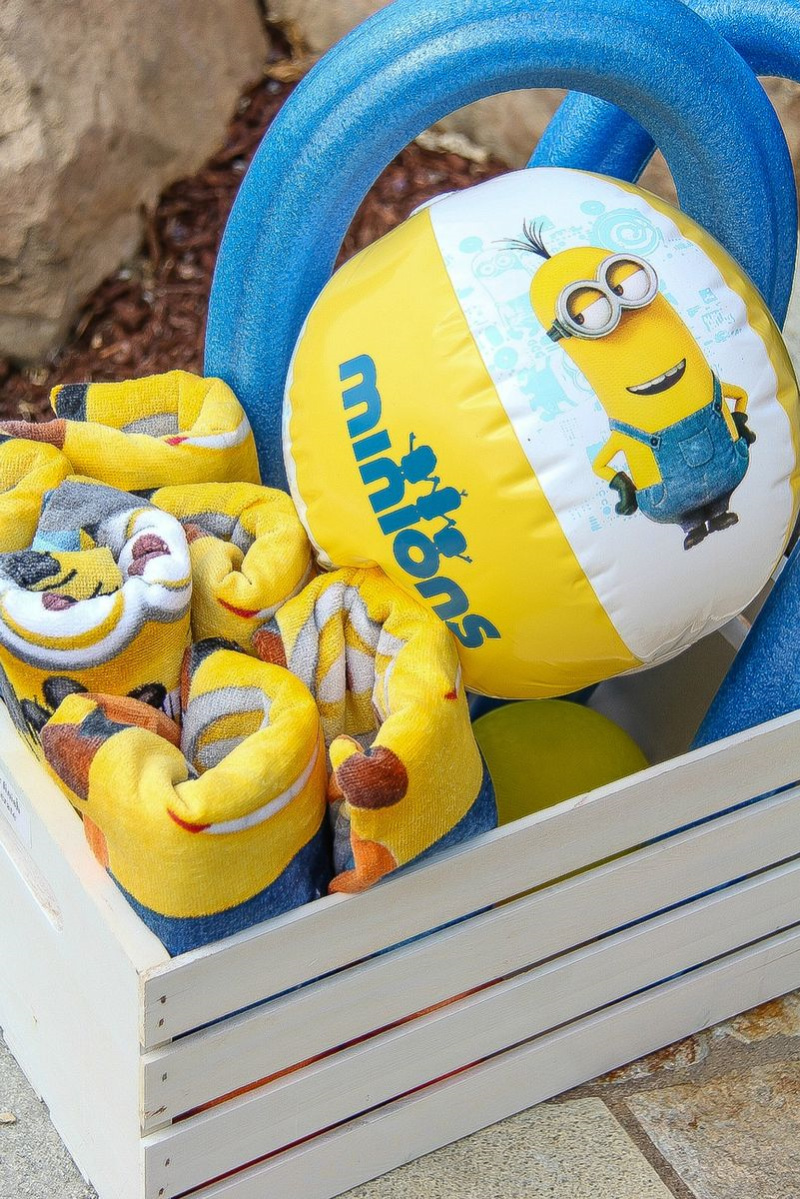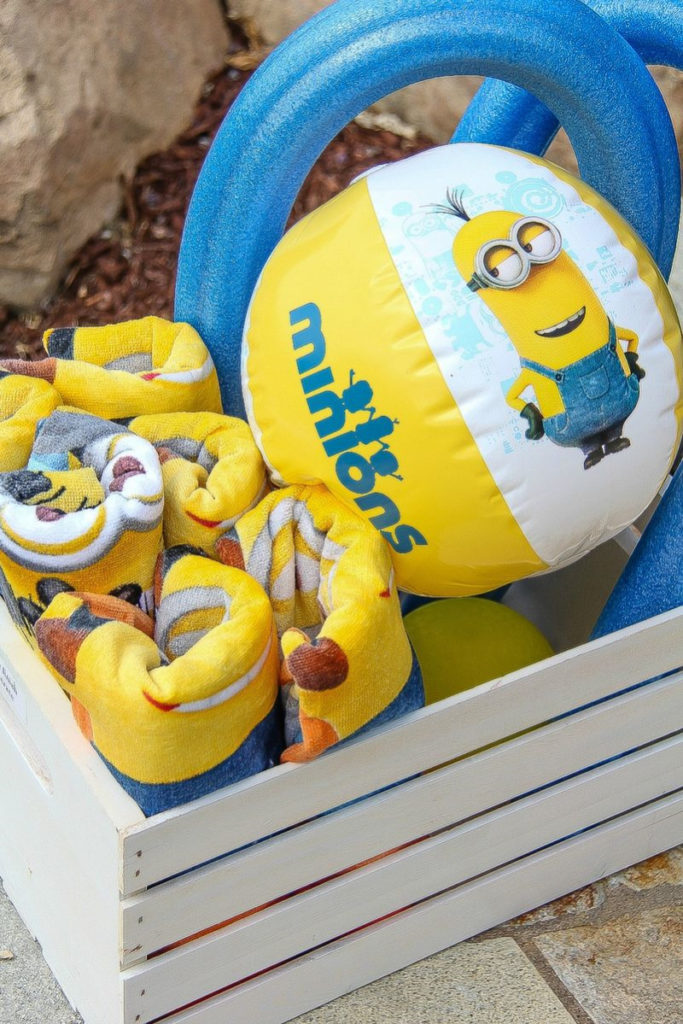 Table and party setting
Bring furniture including shelving and tables that are normally indoors outside. Mix and match pieces, you don't need everything to match perfectly. When working with small spaces you want to place your food on different levels so that everything is visible and you can add as much as possible to your party table. I used these small white weathered wood tables to do that.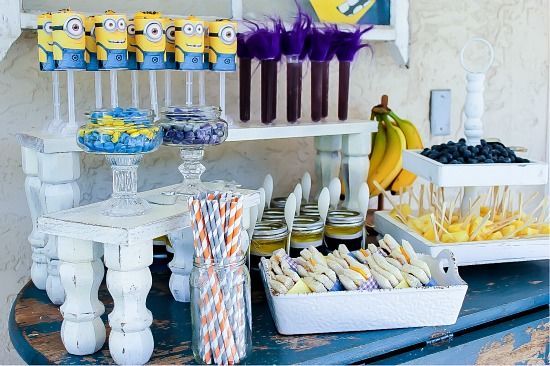 Above the table, I hung an old window that I picked up at an architectural salvage store. I sketched and then painted a Minion peeking through the window. Above that, I made a simple banner using twine, tulle, and burlap.
Food and drink
I wanted the food and drinks for the Despicable Me 2 party to be a mix of healthy options as well as special treats, and for them to be served in an environmentally friendly way.
I didn't want to use plates that would be thrown out afterward with lots of plastic utensils, instead, I placed a stack of plastic baskets out for food to be placed in, these are washable and re-useable.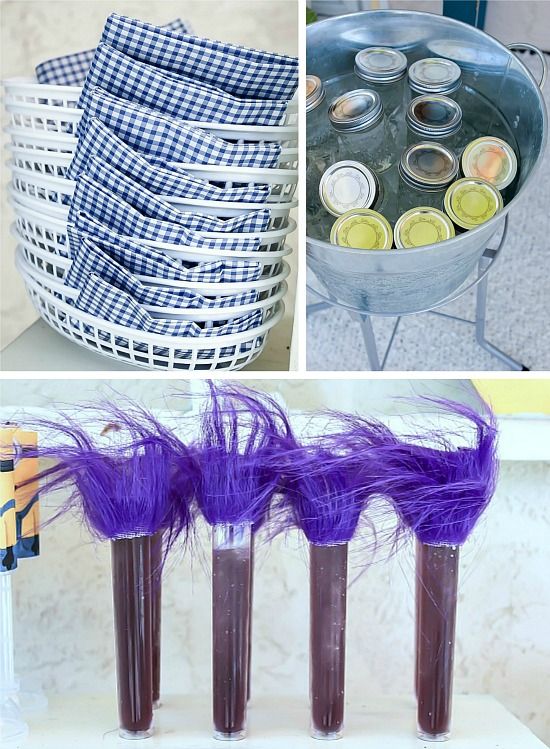 Beverages
For beverages, we filled canning jars with filtered water and placed them in ice to keep the water cool. The fun beverage treat was Purple Evil Minion slushies in re-usable test tubes. Paper straws were placed in an old jam jar.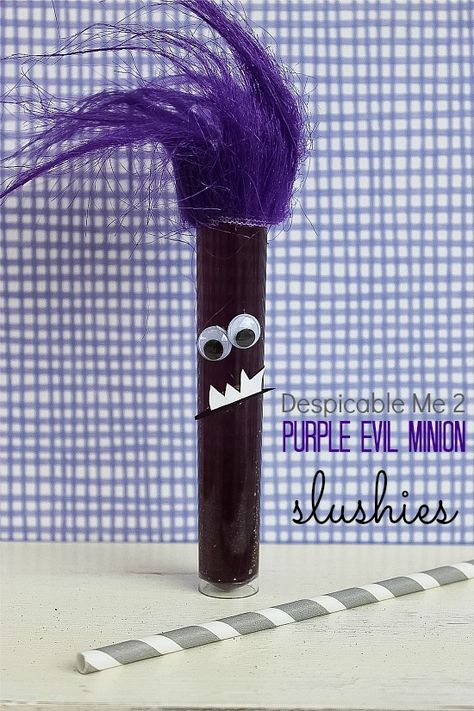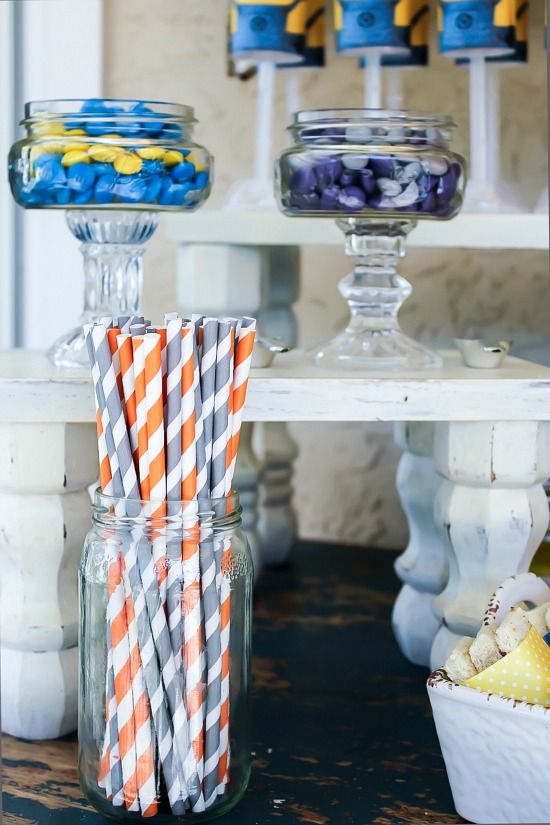 Cupcakes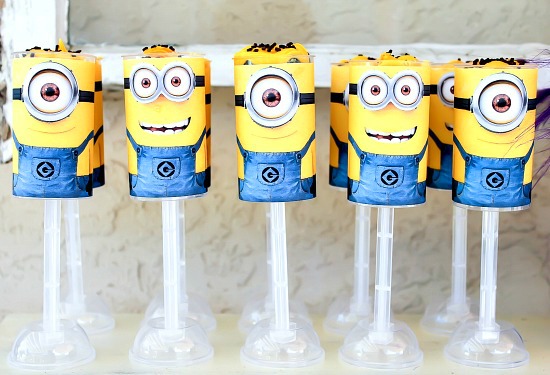 Instead of creating a large cake, traditional cupcakes, or cake pops I decided to do something a little different and made Minion push up cupcakes instead. There's a free printable wrapper (created by the amazing Juliann Law specifically for this party).
Fresh fruit
Blueberries were placed in the top section of a 2-tiered tray, along with a small re-usable scoop for serving, and fresh pineapple pieces were placed in the bottom with picks for easy snacking. Bananas were left hanging on a banana holder.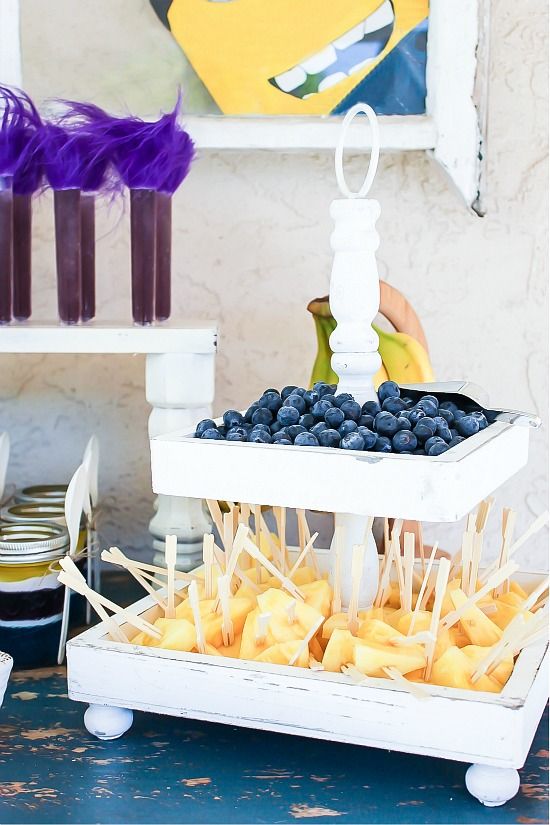 Sandwiches
Three-layer tea party sandwiches were served with a variety of fillings – Nutella, peanut butter and jelly, and ham and cheese. Each variety of sandwiches was wrapped in a different colored paper to make it easy for guests to choose the filling they prefer.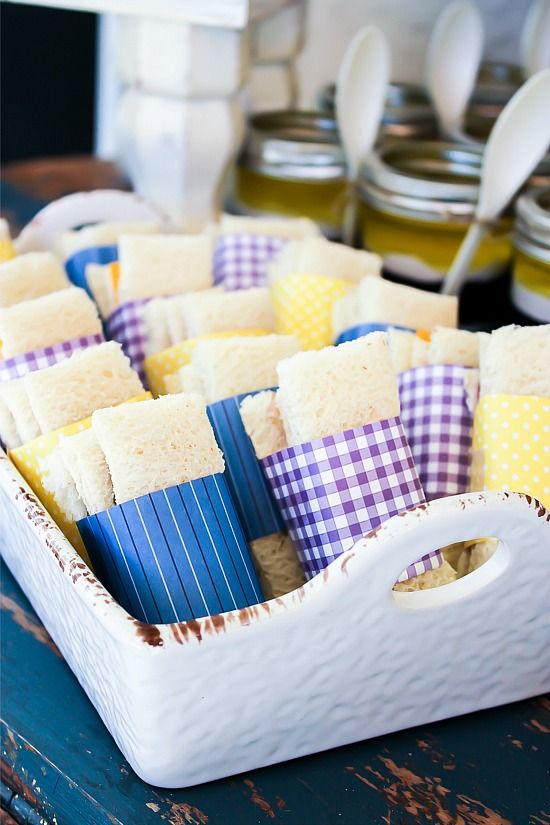 Jelly jars
When I came across a set of rainbow jelly glasses on Pinterest by Glorious Treats I just knew I had to create layered jelly in jars to match my Despicable Me 2 party color scheme. I wanted to keep them simple to serve though so attached an environmentally-friendly spoon (made from plants) to each with a piece of twine.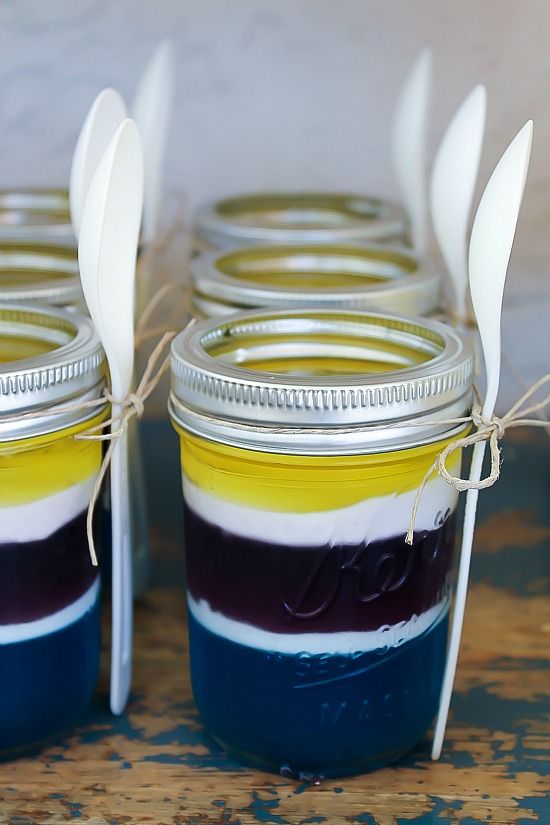 Popcorn bar
It wouldn't be a movie-themed party without popcorn. I placed two varieties, kettlecorn and Chip-Zel-Pop (which is gourmet treat that contains chips, pretzels, and popcorn dipped in chocolate) into two large jars. Each had a large scoop for easy serving.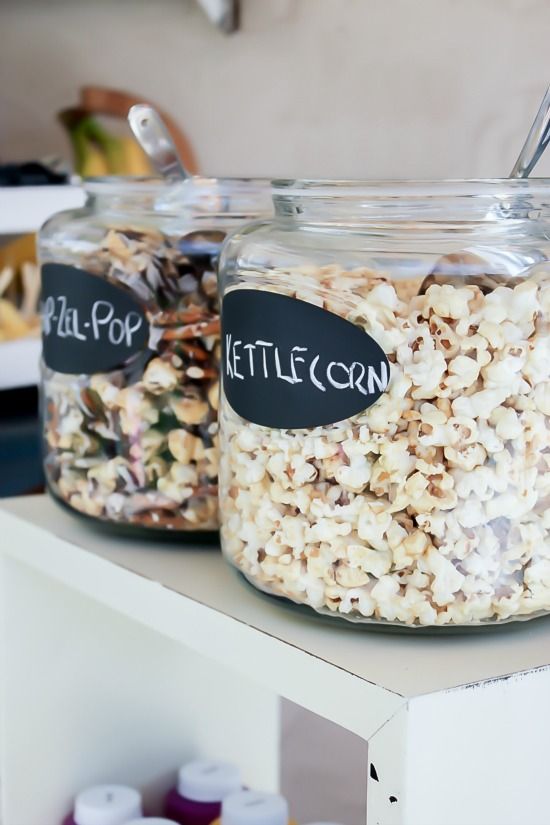 Candy
Too many parties at the moment offer a dessert or candy table and although they look lovely, it's just too many sugary treats for me (and my children). I did want to offer a little candy though so placed blue and yellow (minion) M&M's in one jar and purple and grey (evil minion) M&M's in a second jar. I picked these fun canning jars up at a re-sale store recently. The brilliant person who made them had simply glued a canning jar to a glass candlestick holder. I added a small silver scoop next to each jar so that little fingers weren't digging into the candy.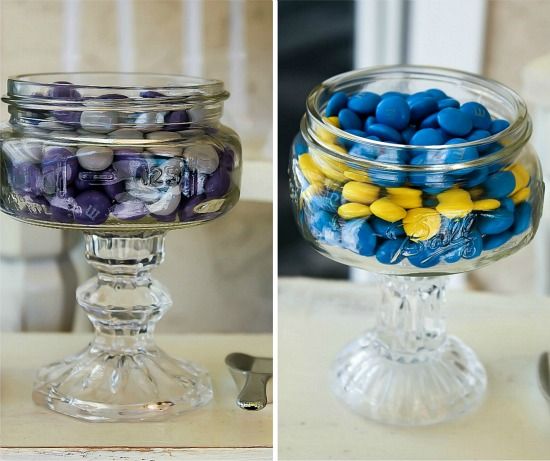 Party Entertainment and Favors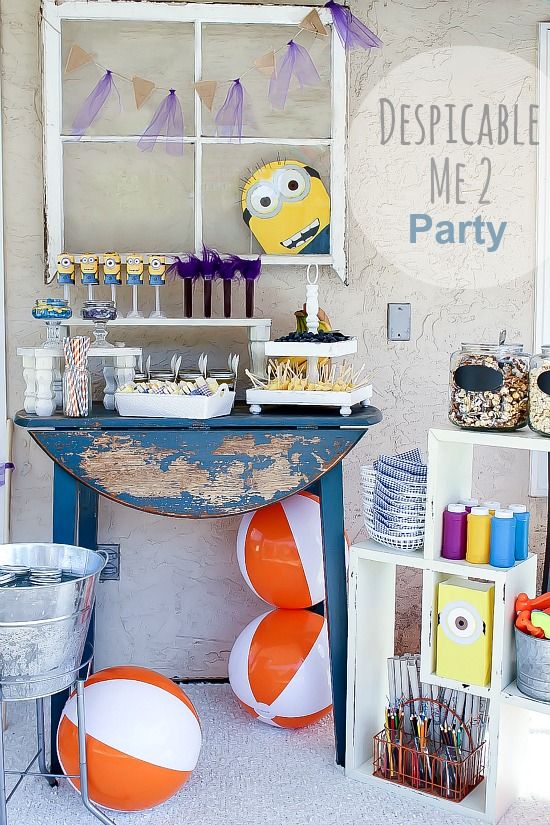 Freeze rays, bubbles, and beach balls
The bubbles are the Target Spritz brand and are only $1 each. Target were also selling three water pistols for $1. I found them in blue, yellow, and orange which matched perfectly with the color scheme.
Party City have 13″ orange and white beach balls for 99c each.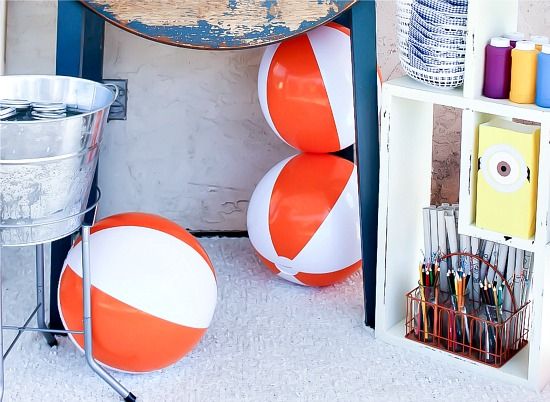 I cannot stand plastic party bags filled with tiny trinkets and candy. All of the items we put out can be used during the party, but also make great party favors.
We also had Despicable Me printable tattoos. These were such a big hit and they are so easy to make. We have a free printable page for you. These are perfect for putting inside the piñata with candy too.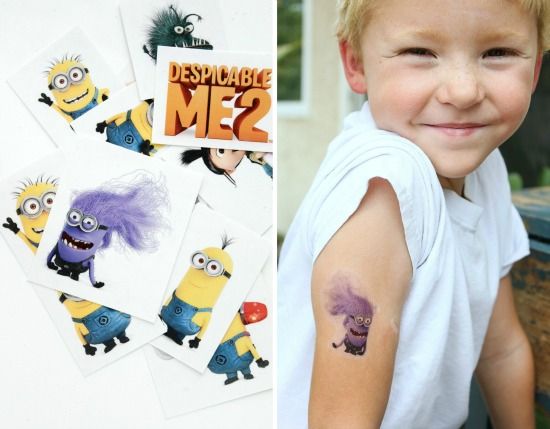 Coloring pages
At Michael's craft store I picked up a Despicable Me 2 coloring book for $1. I pulled each page out of the book, rolled it, wrapped it with twine and placed it into a cutlery holder with jars filled with pencils.
Piñata
In case you missed the announcement on the Despicable Me Facebook page, there will be Purple Evil Minions in Despicable Me 2.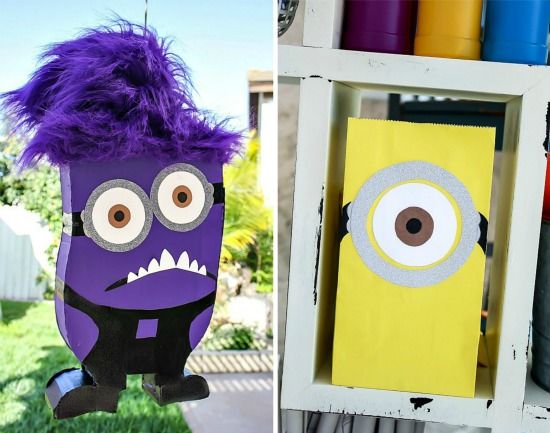 Click the link for the full tutorial to make this Purple Evil Minion piñata and bags for collecting candy. Don't you just love that crazy purple hair?